A popular Chinese dish made healthier; we could not ask for more than this Tofu Stir Fry with Crunchy Veg! This dish substitutes traditional rice or egg noodles with zucchini noodles, adding even more veggies and nutrition to the dish, and losing the extra carbs and calories!
This tofu stir fry dish takes just under an hour and is simpler than you might think. It consists of an Asian inspired sauce with oriental flavors from the soya sauce, oyster sauce, mirin, and coriander, garlic, and ginger.
Tofu Stir Fry: Perfect for the Vegetarians  
This dish is loaded with vegetables, and the main protein in it is tofu, making this dish completely vegetarian. Since the sauce does contain oyster sauce, the vegetarians (non-pescatarians) might want to swap it out for some Worcestershire sauce instead. Vegetables in this dish include red and green pepper, white and red cabbage, onion, and carrot. And, let's not forget, the noodles (or in this case 'zoodles') are made from zucchinis! Zucchini is a versatile and great alternative for rice or egg noodles as it has a much lower carb content and calorie count. It also has a high amount of fiber. Zucchini is also packed with vitamins and minerals as well as antioxidants. It is rich in vitamin B6, which helps with the regulation of blood glucose, and can therefore help with diabetes too!
The only steps required to make this Chinese full-bodied meal is to fry the veg and the tofu, cook the ingredients for the sauce, and combine in a wok to continue to cook for another few minutes. The Zucchini noodles can be made by using a spiralizer or a julienne peeler. To prepare them, simply boil the 'zoodles' in a pot for a few minutes until soft, and then drain them. You can also just pan fry the zucchini noodles with the rest of the veg if you would like to save some time!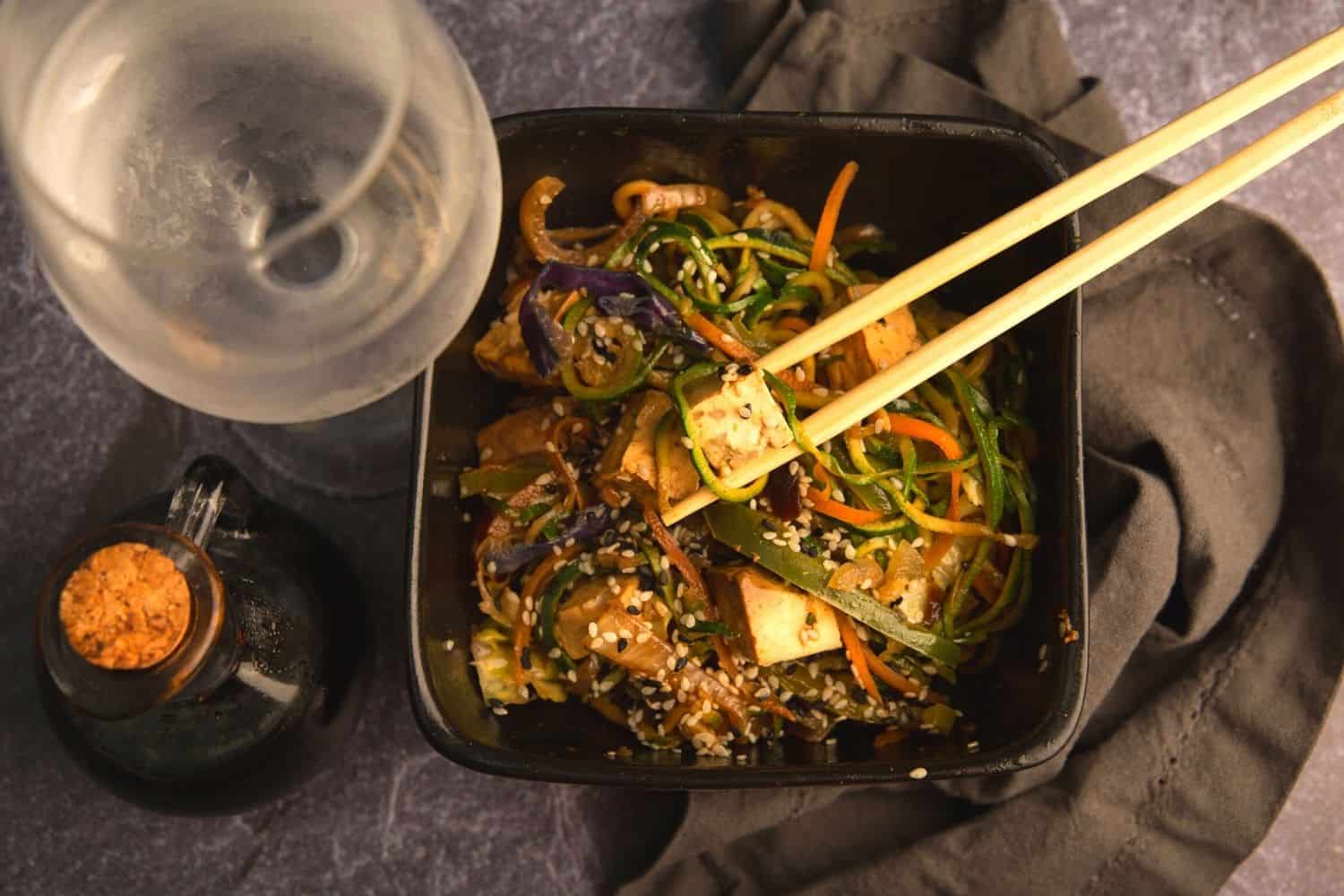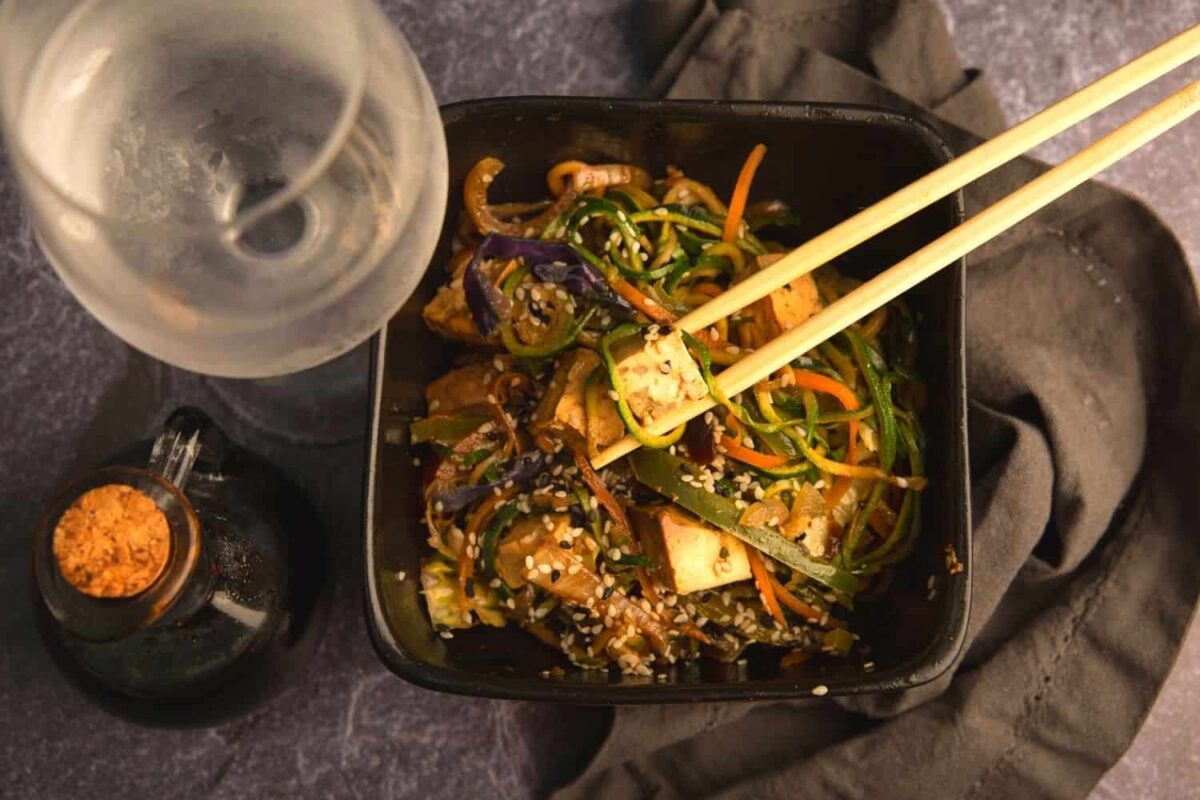 Ingredients
For the Sauce
30

ml

Soya Sauce

5

ml

Oyster Sauce

10

ml

Mirin

5

g

Coriander

Finely chopped

5

g

Garlic

Finely chopped

4

g

Ginger

Finely chopped
For the Crunchy Veg
20

g

White Onion

Sliced

40

g

Red Cabbage

Shredded

40

g

White Cabbage

Shredded

40

g

Carrot

Julienne

40

g

Red Pepper

Julienne

40

g

Green Pepper

Julienne
For the Tofu
1

g

Tumeric

1

g

Fine Salt

120

g

Tofu

Cubes
Remaining Ingredients
5

g

Bay Leaf

80

g

Zucchini Noodles

Pan fried

15

ml

Olive Oil
Instructions
For the Sauce
Fry coriander, ginger & garlic in olive oil over low heat for 3 minutes.

Add remaining sauce ingredients, bring to a boil & cook for 5 minutes
For the Crunchy Veg
Heat oil in a large frying pan. Fry all veg until cooked, with a crunch.
For the Tofu
Heat oil in a large frying pan. Lightly pan fry tofu until golden & season with salt & pepper
To Finish
Heat oil in a wok/large frying pan.

Add tofu, crunchy veg & zucchini noodles to the hot pan. Cook for a few minutes.

Pour in sauce & continue cooking for 2 minutes while stirring to combine