All of these dishes are actually creations of the population of Cape Malay slaves who were shipped to Cape Town by the Dutch during their earlier settlement in South Africa.
The Cape Malay cuisine is a cuisine peculiar to Cape Town and is typically a mix of traditional South African dishes, especially of the West Coast, with Malaysian, or Eastern influences.
This recipe is a traditional classic in South Africa and served mainly with hot cross buns or freshly baked bread.
Typical Cape Malay Spices
Turmeric. Cumin. Ground Coriander. Masala – A blend of many spices, similar to curry powder.
The Cape Malay cuisine is usually aromatic, with distinct flavours of a myriad of oriental ingredients.
Course: Main Course
Cuisine: Cape Malay, South African
Ingredients
1 kg Fresh Hake or Yellowtail (any firm fish will do)
2 large Onions sliced in to rings
5 cloves Garlic chopped
375 ml White Vinegar
250 ml Water
375 g Sugar (sweetener to taste, optional)
10 whole Coriander seeds
2 tsp Ground Cumin
1 tbsp Masala (use Fish Masala if you can)
5 ml Turnmeric
4 whole Bay Leaves
8 whole Peppercorns
5 ml Salt
1-4 tbsp Flour for sprinkling on the fish before you fry it lightly
2 ml Fine Ginger (fresh Ginger finely chopped if possible)
1 whole Chili chopped (optional)
30 ml Cornflour
15 ml Curry Powder (add more if you like it hot and you can experiment with different curry mixes)
30 ml Water to make a paste with the flour
Olive Oil
Instructions
Start by filleting the fish and sprinkling lightly with salt and pepper and fish spice, (fish rub, optional)
Preheat the oven to 180 to 190 C (350–375 F)
Sprinkle the fish with flour, shake off excess flour, then fry slightly in oil until light brown, place in oven glass dish.
Add the cornflour and bring to a boil.
Now add the sauce to the fish in glass bowl.
Bake for 30 minutes in pre-heated oven.
Note: Pickled fish is best served a day or two after its made.
Serve with fresh bread and butter.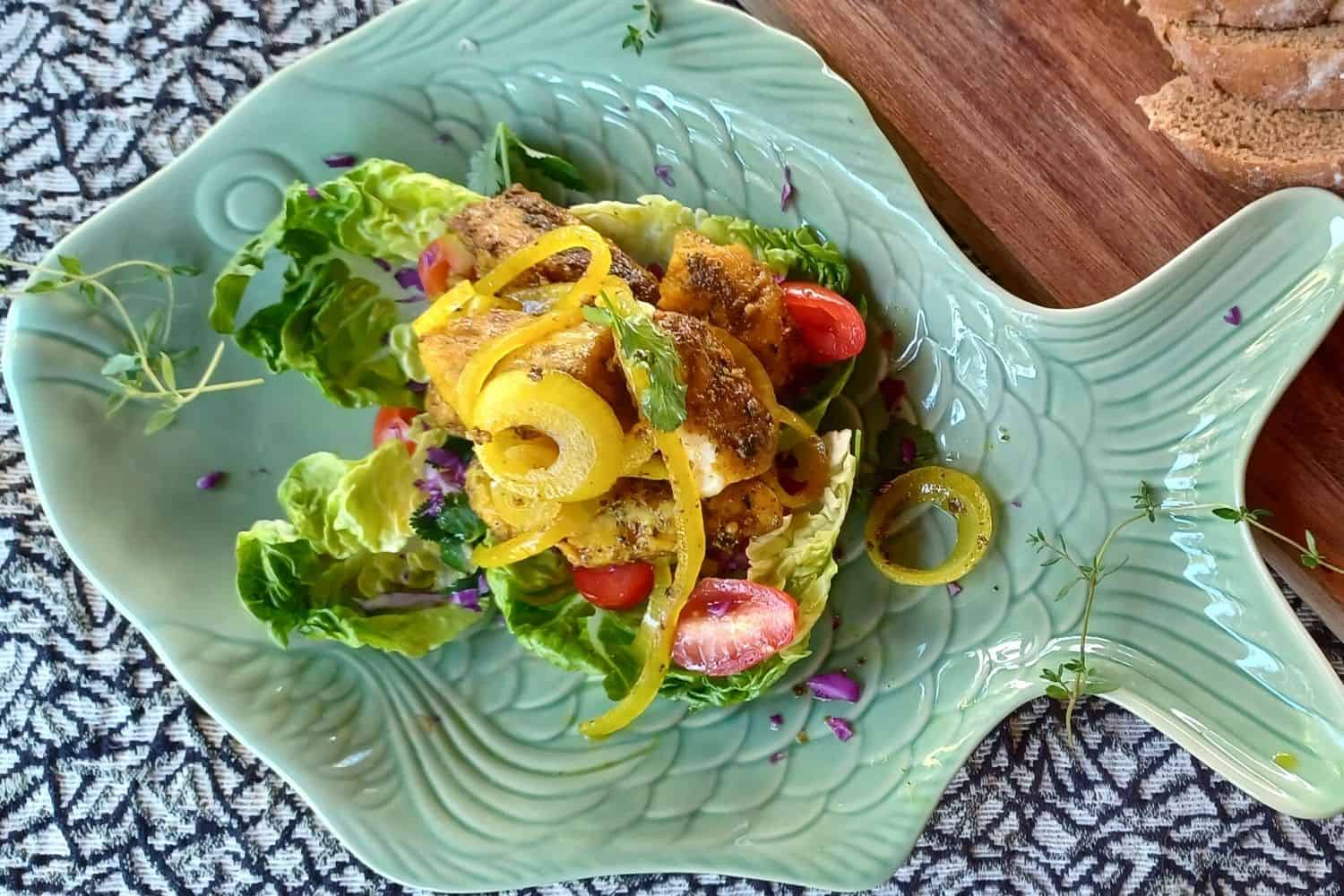 Ingredients
500

g

firm-fleshed white fish fillets, skinless

5

ml

sea salt use more as needed

80

ml

fish masala use more as needed

40

ml

seafood rub

80

ml

sunflower or vegetable oil use more as needed
Blanched onion rings
400

g

onion rings, 5mm slices approximately

approximately 2 large brown onions

15

ml

sea salt

6

cups

water

1500 ml
Pickling marinade
2

cups

white grape vinegar

500 ml

1

cup

water

250 ml

⅔

cup

fine granulated sugar

160 ml, taste the sauce then adjust to personal taste

5

ml

sea salt

adjust to personal taste

3

bay leaves

8

ml

cumin seeds dry roasted

8

ml

coriander seeds dry roasted

5

ml

fennel seeds dry roasted

6

peppercorns dry roasted

6

cloves dry roasted

6

allspice berries dry roasted

2

ml

ml turmeric powder

8

ml

fish masala
Garnishing
Coriander lettuce and thyme
Instructions
Masala fish: If using frozen fish, defrost completely
Cut the fish into desired squares, wipe dry with a kitchen towel, you should have 12 pieces.

Place a sheet of foil or parchment on a baking tray and arrange the fish pieces then sprinkle over half the salt and fish masala spice and seafood rub.

Flip the fish pieces over and sprinkle the other side with the remaining salt and fish masala and seafood rub.

Cover the dish with cling wrap and refrigerate until ready to fry when the pickling mix goes onto the stove.

Heat a frying pan on medium-high and add enough oil to cover the base. Fry the fish on both sides until cooked through, put the fried fish onto a tray lined with foil.
Blanching the onions
Slice the onions into 5 mm wide rings and sprinkle over 15 ml sea salt.

Rub the salt into the onions and let sit until required.

Bring the 1500 ml water to a boil in a medium-sized pot and blanch half of the onion rings for 10 seconds then remove to a colander.

Repeat with the rest of the onion rings, discard the onion water and rinse the pot then put it back on the stove.
Pickling marinade
To the pot on the stove add the vinegar, water, sugar, and spices and allow to simmer for 10 minutes to allow the flavors of the spices to permeate the pickling marinade.

Remove from the heat and add the onion rings to the pickling marinade.
Layering the Cape Malay pickled fish
Lay half the fried fish into a glass casserole dish then cover with half the onion rings.

Repeat with the rest of the fish and cover with the remaining onion rings, pour over all the juices and oil left on the foil.

Pour over the hot pickling marinade and allow to cool at room temperature then cover with a lid or plastic wrap and refrigerate, allow the marinade to infuse the pickled fish overnight before eating (The longer it is refrigerated the more delicious it gets).
To Serve
Garnish and serve with fresh bread and butter, or minnie flat bread.