An easy, versatile, and tasty dinner, these Roasted Garlic, Rosemary Baked Meatballs are packed with deliciously pungent flavor and are nutritious too! These succulent meatballs are best served fresh, but you can make them in advance and store them in the refrigerator for up to a week, or in the freezer for up to 3 months!
The Simplest Steps! 
These garlic and rosemary meatballs are so simple to make. All that is required to make these balls of succulence is to roast the garlic cloves, mix all of the ingredients together such as the beef mince, pork mince, egg, minced onion, breadcrumbs, minced rosemary, Worcestershire sauce, salt and pepper, and the roasted garlic. The mixture is shaped into evenly sized balls, placed in an oven dish with the extra raw garlic cloves in between and fresh sprigs of rosemary on top, covered with aluminum foil, and baked for 35 minutes. If you are looking for a grain free or low carb version of this recipe, substitute the breadcrumbs for almond meal or any other mildly flavored ground nut meal.
The Benefits of Garlic 
While these meatballs seem more indulgent than nutritious, they are loaded with garlic, which has multiple surprising health benefits! Studies have shown that garlic can lower blood pressure, stop pain and inflammation, and may help lower cholesterol. Garlic is also full of antioxidants which fight free radicals in the body that might cause cell damage, eventually leading to serious diseases such as cancer. Scientists also believe that garlic might help strengthen immune function, as it contains antibacterial and antiviral properties. What's more, garlic also makes other nutritious foods such as vegetables taste amazing!  
These Roasted Garlic, Rosemary Baked Meatballs can be served with mashed potatoes, roasted broccoli and asparagus, or a fresh green salad of your choice. These meatballs are sure to delight the tastebuds!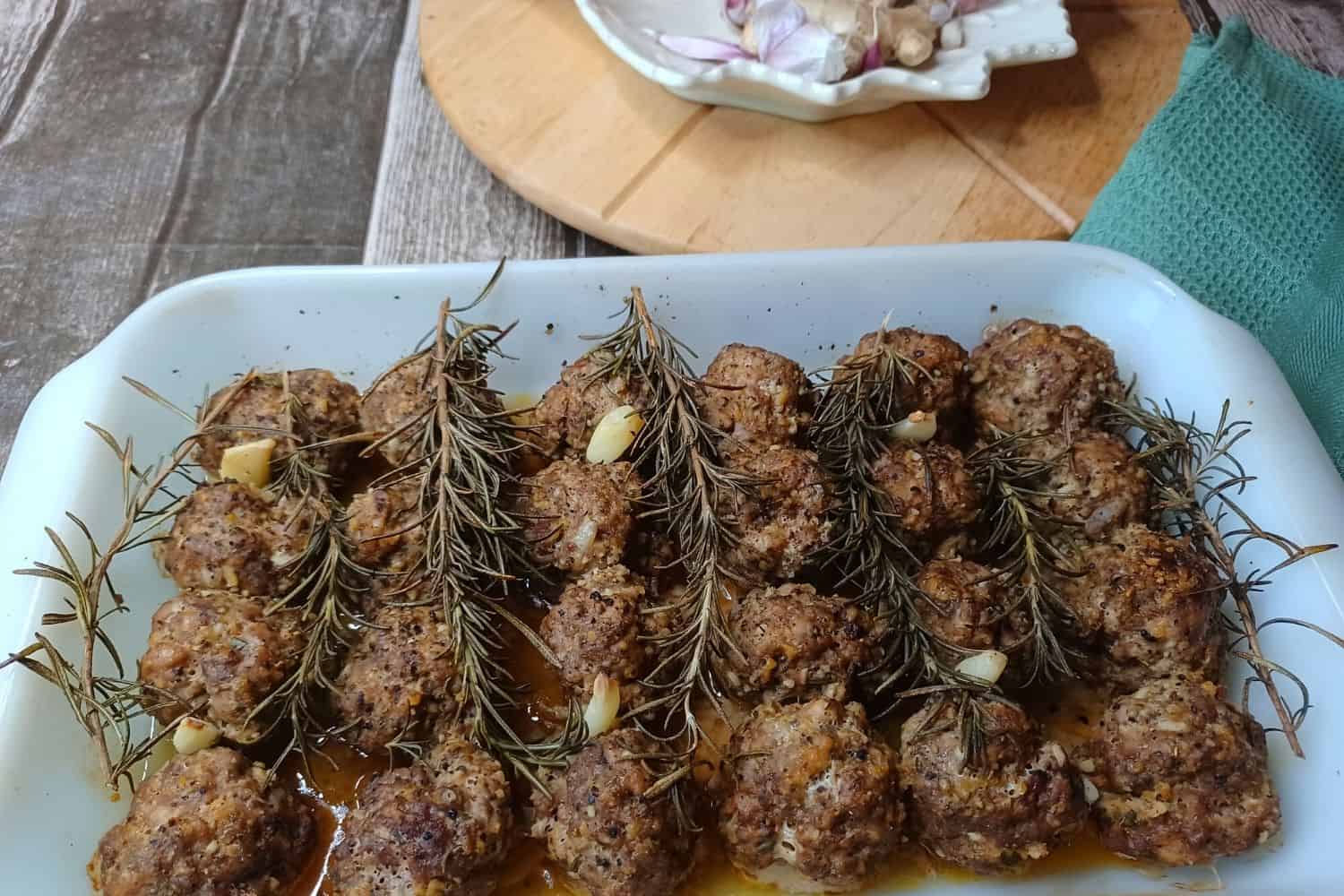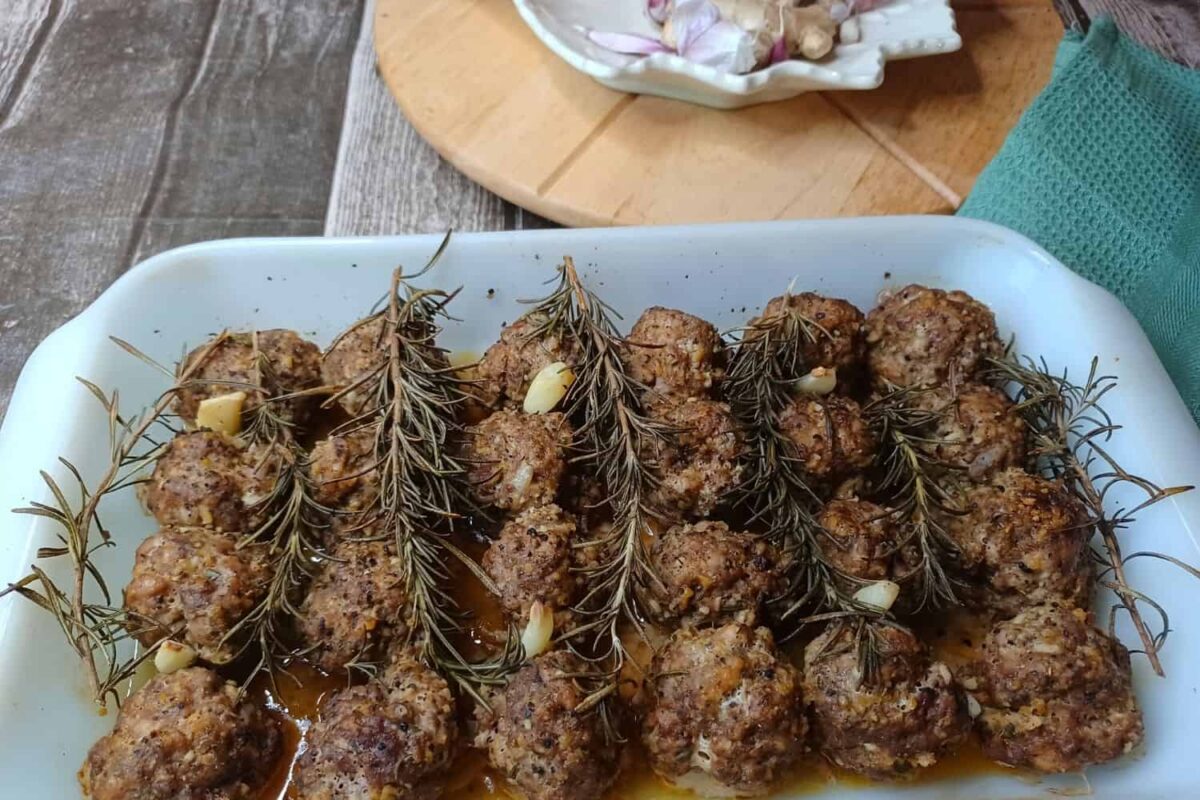 Ingredients
500

g

beef mince

500

g

pork mince 

1

large

egg

½

cup

plain bread crumbs

½

medium

onion finely minced or grated

1

medium

bulb of roasted garlic

1 spring of fresh rosemary, chopped finely 

1

tsp

Worcestershire sauce

salt & black pepper

6

fresh rosemary sprigs

6

raw garlic cloves

1 – 2

tbsp

olive oil to add to the  baking dish
Instructions
Very important, roast the garlic, otherwise the fresh garlic will be too powerful.
To roast garlic: 
Take loose skin off the garlic bulb and cut off the tip of the garlic cloves, still in the bulb. Rub a garlic bulb with a little bit of olive oil and wrap it in aluminum foil. Preheat the oven to 400 F / 204 C, place wrapped garlic on a baking sheet and bake for 30-35 minutes, depending on the size of the garlic bulb. (This  can be made the day before and you can just refrigerate roasted garlic until ready to use.)
Method
Preheat the oven to 350F / 180C  and rub the casserole dish with some olive oil.

In a large mixing bowl, combine ground beef, ground pork, egg, bread crumbs, minced onion, minced rosemary, Worcestershire sauce, salt and pepper. Carefully peel roasted garlic and take out the roasted garlic cloves. Add them to the bowl. Mix very well, until all ingredients are completely incorporated.

Roll about 1.5 inch meatballs and place them snugly in the casserole dish.  Very easy way to make equal sized meat balls, is to add mince to the palm of your hand, press down like a patty, then roll. 

Stick individual, raw garlic cloves in between meatballs and add rosemary springs on top.

Cover the casserole dish with aluminum foil and bake for 35 minutes.

Take off the foil and bake for another 10-15 minutes. Remove from the oven and check if the mince is cooked.