The creamiest vegetables and most tender lamb, encased in a buttery and flakey puff pastry casing, this Pulled Lamb with Vegetable Pie is the ultimate comfort meal for those cold and rainy nights spent by the fire place.
Simple Yet Versatile
This lamb and vegetable pie consists of simple ingredients that you would easily find either at your local supermarket or in your own kitchen or pantry. All that is required is a pre-made puff pastry dough for the pie casing (you can make this yourself with a pinch more time and effort), fresh or frozen vegetables such as onion, carrots, peas, mushrooms, and celery, leftover or freshly cooked lamb (whatever you have on hand), some basic spices, mushroom soup powder, corn flour to thicken the sauce, vinegar, lemon juice, and egg yolk to brush the puff pastry with before it is baked. This will create a golden and shiny pastry casing.
Quick and Satisfying
All that this recipe requires you to do is to cook the vegetables in some oil until cooked through but still crisp (they will cook more in the oven), add the cornflour and mushroom soup mixture to create a thick sauce, and add the seasoning, lemon juice, and cooked lamb. The filling must then be spooned into an oven-proof baking dish, and covered with puff pastry, which is then brushed with an egg yolk and water mixture, and baked for 30 minutes. The lamb and vegetable pie should be ready within +/- an hour!
Serve this scrumptious lamb and vegetable pie with a fresh green side salad of your choice, but it is just as good on its own. It might even be difficult to resist a second helping…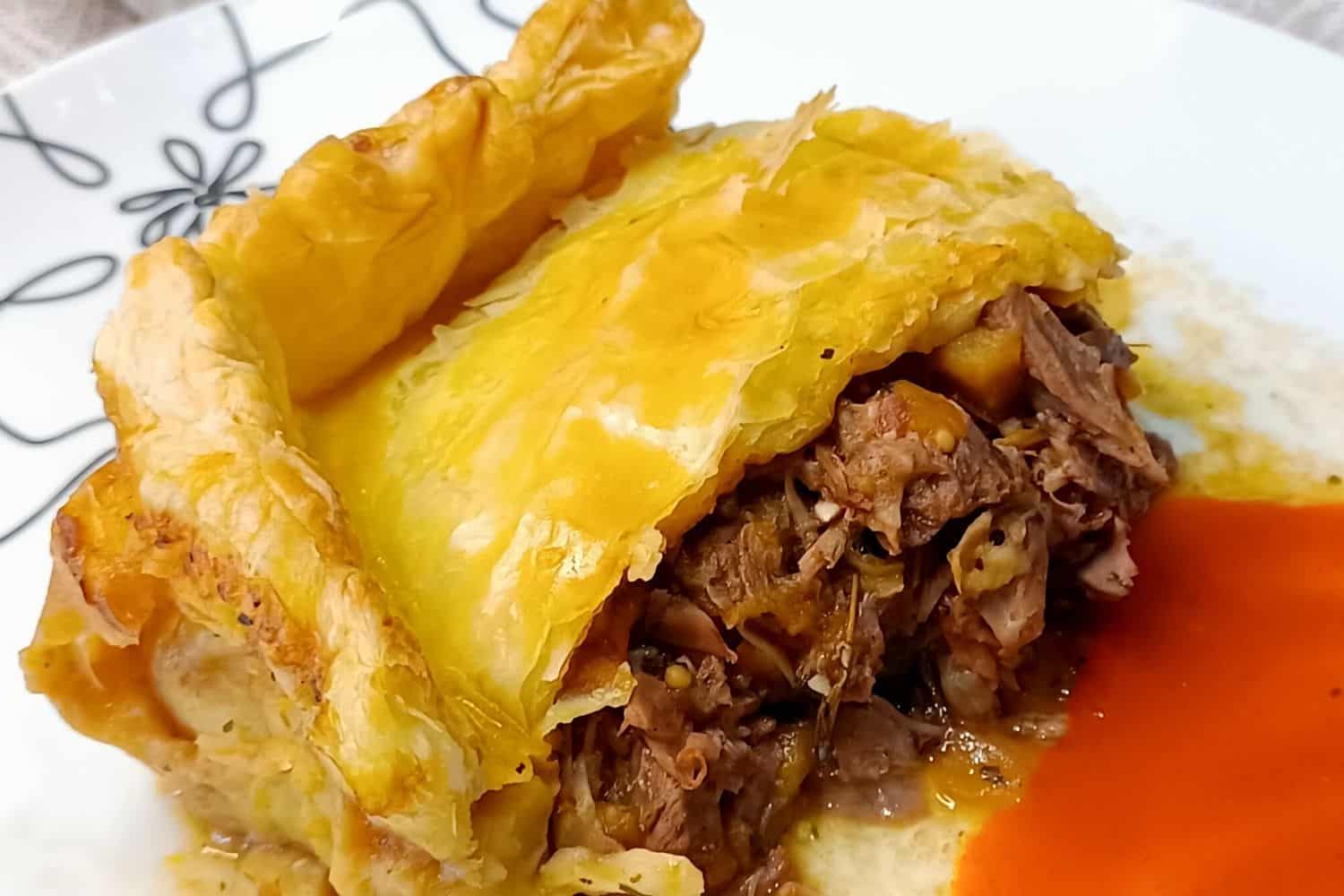 Ingredients
1

kg

leftover lamb 

oil

5

ml

(1 teaspoon) fine coriander

3

ml

(generous ½ teaspoon) mustard powder

15

ml

(1st) vinegar

1

tsp

crushed black pepper

½

tsp

white pepper

1

small onion – chopped

250

ml

water

500

g

frozen vegetables of your choice – defrosted

1

tbsp

mushroom soup powder

2 – 3

tbsp

cornflour

A good shot of lemon juice

1 roll (400g) frozen puff pastry, thawed

egg yolk and water mixture
Instructions
Preheat the oven to 200 ° C / 392  ° F  Prepare a pie dish or bowls with Non-Stick Cooking Spray

Stir-fry the mixed vegetables with the onion in a little olive oil.

Mix the cornflour and soup powder with a little water, when smooth, add the rest of the water,  seasonings,  simmer for about 20 minutes or until the vegetables are hot and cooked through, but still slightly crisp. The sauce must be of thick consistency. Adjust the seasoning to taste.

Finally add lemon juice, ground black pepper, and salt to taste. Mix the vegetables and stock with the cooked lamb.  

Spoon the filling into a large, ovenproof dish or bowls and allow to cool completely.

Roll out the dough thinner and place it over the pie (s).

Squeeze the sides, make a hole or two in the crust and paint with an egg yolk-and-water mixture.

Bake for 30 minutes or until the pastry has completely puffed and is cooked.