Although pasta is commonly associated with the Italian culture, it is a dish that is eaten all over the world. Did you know that you can cook a fancy pasta dish for yourself, friends or family? Get ready to cook and devour the best pasta dish with this Pasta Alfredo recipe.
This recipe takes approximately less than 30 minutes to get ready so it can be a perfect choice for a tasty treat! All the ingredients are common household items so you can cook this dish plus add your creative touch to it with no extra costs!
The combination of the alfredo pasta sauce of your preference alongside other ingredients makes this dish absolutely delightful with its creamy touch and delightful taste. The melting cheese alongside the cream is a velvety delight indeed. Using grated cheese helps quicken this process and ensure an effective taste.
Best served fresh, this pasta alfredo recipe is preferably to be eaten right after preparation to enjoy its rich flavour and crisp savour.
The best part about this recipe is that the sauce is the easiest to create and can be paired with other things apart from pasta! You can serve the Pasta Alfredo sauce as a coating to broccoli, fettuccine, or even some chicken or meat! The sauce thickens while it cools, so make sure to decide and prepare your pairing choice (pasta in this case) beforehand!
You can add your favourite additions to this recipe by adding your favourite herbs, garlic, nutmeg, or even some parsley! In addition, you can garnish the ready alfredo pasta with your favourite additions including parsley or fresh cheese. The dish can be accompanied with a light salad if needed.
Whether you are trying to master the fancy Pasta Alfredo dish for yourself and family or for a special occasion, or are trying to avoid eating outdoors, this recipe is guaranteed to have you aiming for more!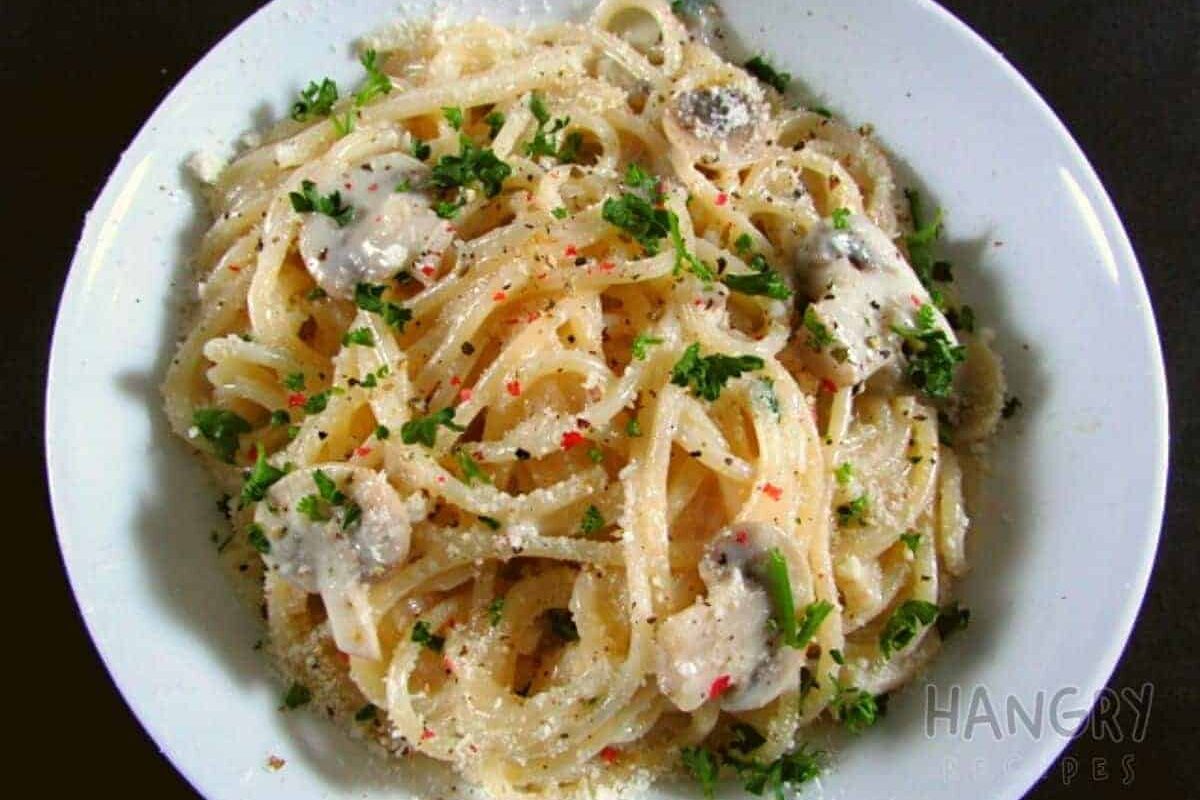 Ingredients
500

gram

cooked pasta of your choice

250

ml

fresh cream

150

ml

parmesan cheese

grated

20

ml

butter

100

gram

mushrooms

sliced

1

clove

fresh garlic

crushed

salt and pepper

Freshly grounded

parsley

chopped
Instructions
In a saucepan, heat the butter on medium heat

Add the mushrooms and garlic

Stir the mixture constantly to prevent burning

Stir the mixture gently, This will thicken the sauce

Season with salt and pepper

Pour the sauce over the cooked pasta, then add the parsley

After dishing the pasta, sprinkle with parmesan cheese

Top with more parsley and serve