Beans and meat minces are great food choices that come across as healthy options that can also help keep you full. Do you need to prepare a midweek lunch for friends or family? Why not combine some black beans with your mince! Get ready to impress your friends and family with this easy Black Bean Chili Mince recipe.
This recipe takes approximately only 30 minutes to get ready so it can be a perfect choice for a healthy, quick, yet delicious meal! All the ingredients are budget-friendly and so this main course dish can be prepared without any special savings!
This Black Bean Chili Mince can hence prove to be a great meal for a quickly prepared supper too!
To further enhance the quality of this recipe, you can increase the cooking time so that the chili and sauces can be even more appealing!
Generally served with cheese or crème fraîche, you can present this mouth-watering Black Bean Chili Mince with rice, corn bread, baked potatoes, pasta, rolls, or with hot chips! The combinations are endless and you can boost up the delight with further toppings of your choice – some ideas include sour cream, lime, or chopped green onions.
… and Healthy too!
This meal has great amounts of protein and serves as a prompt way to eat healthy. In fact, the benefits of black beans include beans being a great way to manage diabetes and lower blood pressure. Black beans also promote healthy digestion, aid weight loss, and can prevent heart disease and cancer. They are rich in fibre, folate, potassium, iron, and other nutrients that also support healthy bones.
On the other hand, chili is also a substantial source of protein. This dish hence boosts your protein due to the combination of both beans and chili! Moreover, chili is rich in Vitamin C, fibre and iron. The capsicum additionally reduces cravings for fats and sugars. Thus, it can help regulate blood sugar as well as boost the immune system. Finally, chili nurtures endorphins and serotonin – thereby improving your mood!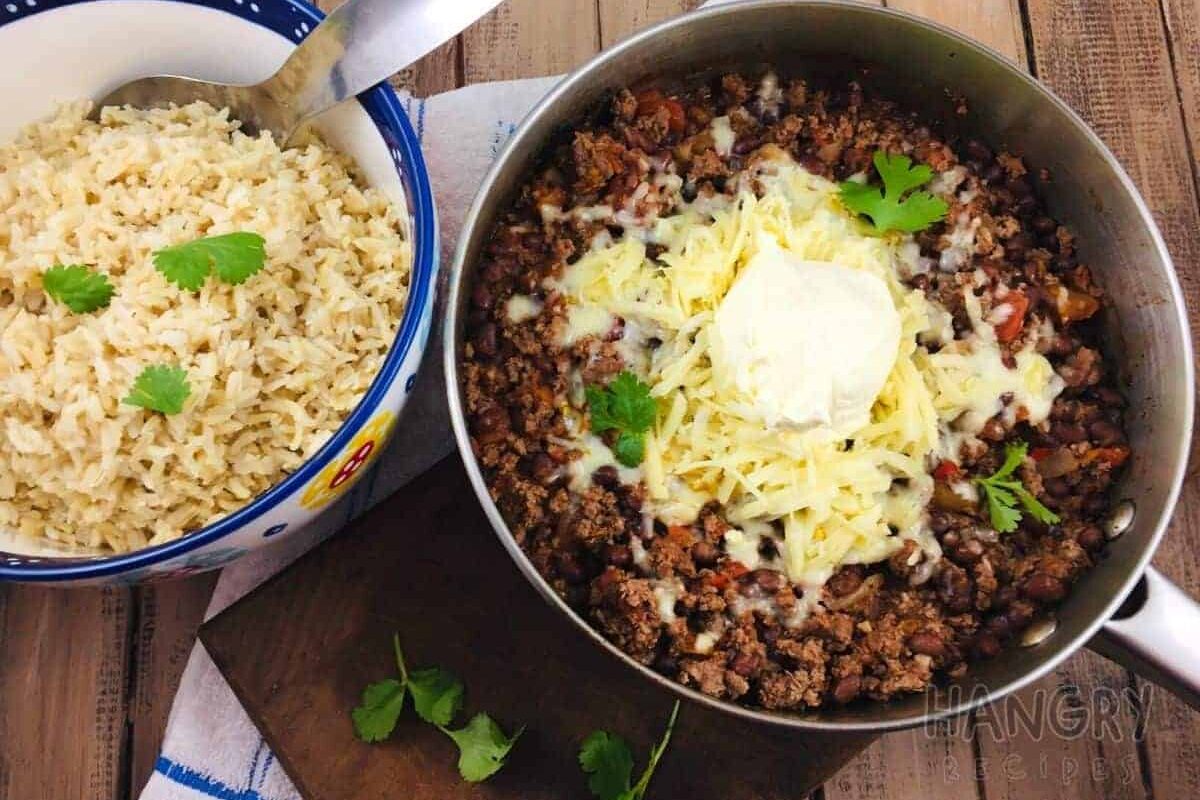 Ingredients
1

medium onion

chopped

3 – 6

cloves

garlic cloves

chopped

500

gram

lean beef mince

3

tbsp

Worcestershire sauce

3

tsp

cumin

3

chillies

deseeded and chopped

2

tsp

dried oregano

1

can

diced tomatoes

1

can

black beans

drained and rinsed

1/2

cup

crème fraîche

1

cup

cheddar cheese

grated

salt and freshly ground black pepper

to taste
Instructions
Place a heavy bottom stockpot on medium heat

Add onions and garlic and cook until tender

Add mince, stirring continuously to avoid burning

Cook until the meat is done

Add chillies, salt and black pepper, tomatoes and black beans

Reduce the heat and allow to simmer for about 20 minutes

Serve with crème fraîche and grated cheese