Biscuits are not only great snack options but can help save trouble when you need something quick to eat or cook for moments with unexpected guests or the lack of time. Get ready to impress your friends and family and explore a new baking possibility with this unique Caramel Chili Biscuits recipe.
This recipe takes approximately 90 minutes to get ready so it can be a perfect choice for a tasty snack! All the ingredients are budget-friendly and so these special biscuits can be prepared without any additional costs!
The combination of the sweet caramel and chili makes these biscuits the optimal sweet yet spicy treat!
Caramel Chili Biscuits can also be stored in air-tight jars or containers, making this special biscuit recipe useful for your long-term tea time or party adventures! To keep the crispness and freshness of the biscuits, it is recommended that you snack and serve them within two weeks of baking.
Although this recipe leads to sweet, warm, and delightful biscuits, you can further personalize this recipe by adding in some ginger or cinnamon according to your liking.
Caramel is known to make any dessert more luscious and combined with the chili in this recipe, these biscuits can provide some health benefits. Chili improves digestive health and metabolism, alleviates migraines, prevents cancer, aids in the treatment of flu and other infections, and fights inflammation thus helping with joint pain. It also supports heart health and can help in diabetes prevention and management.
Whether you choose to use this caramel chili biscuits recipe to add a creative spin to your snacking options, to explore a new world of flavor combinations, to present something appealing to your friends or family, or to add a touch of health benefits as an alternative to regular biscuits, we have you covered!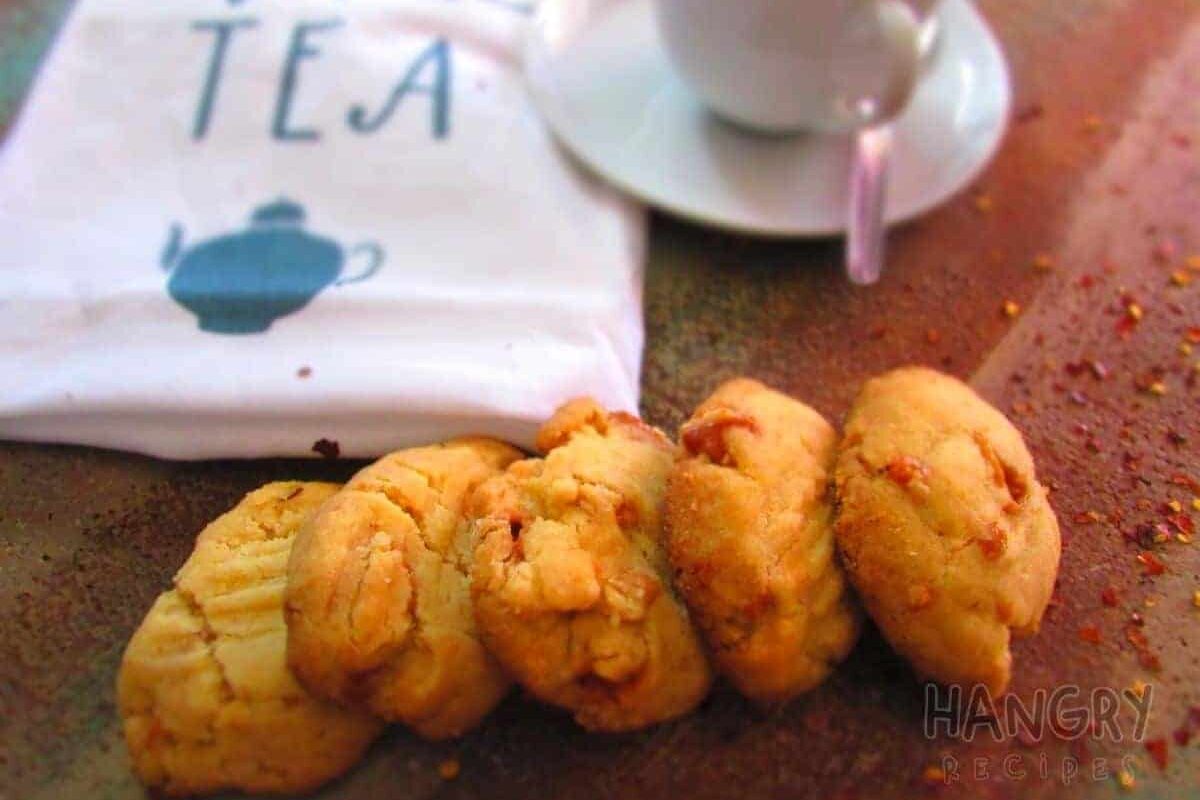 Ingredients
1

cup

soft butter

3/4

cup

sugar

3

cups

self-raising flour

1

tsp

ginger powder

1/2

tsp

chili flakes

2

cups

caramel sweets

chopped
Instructions
In a bowl, cream the butter and sugar well

Add the rest of the ingredients

Make a ball with the dough, wrap it in plastic, and place it in the fridge for 1 hour

Divide the ball into 4 equal parts, and each part to make 8 balls

Place the balls on a greased baking tray, 3 cm apart

Press gently down on each ball with a fork

Bake at a 170 °C preheated oven for 12 minutes