The best pork roast with tender meat and super crispy pork crackling is like a dream coming true. When this perfectly cooked roasted leg of pork is served with homemade gravy a million extra flavors are added to the dish.
Making the weekend crispy roasted pork leg is pretty simple and takes about 90 to 120 minutes to be served. The main secret behind the huge success of this recipe is the perfect golden crisp and it's not that difficult as it sounds so.
All you have to do is follow up the simple trick to put deep cuts on the pork meat and dry the skin well. You can use take the oven flame to your advantage and switch the flame from high and low to attain the crispy coat to the tender and juicy port meat. Different type of pork meat is best suited for different recipes, at the same time the leg of pork is considered to be the best for roasting dishes and when making the roast even crispier the leg is the best option available. The oily crunch cracklings are filled with dozens of flavors and aromas which fill up the cooing space and make the mouth water long before it can taste the roasted pork.
Pork meat is full of beneficial vitamins and minerals such as iron and zinc. while been crowned with high-quality proteins, the pork amazing taste is a plus always. Crispy roast pork is a famous and admired dish around the globe while during the event days it is made in large quantities so that everyone can enjoy the yummy recipe. This is a perfect fit for Christmas dinner and thanksgiving hangouts. The dish is easy to make and all the ingredients are easily found so anyone, anytime can enjoy the dish.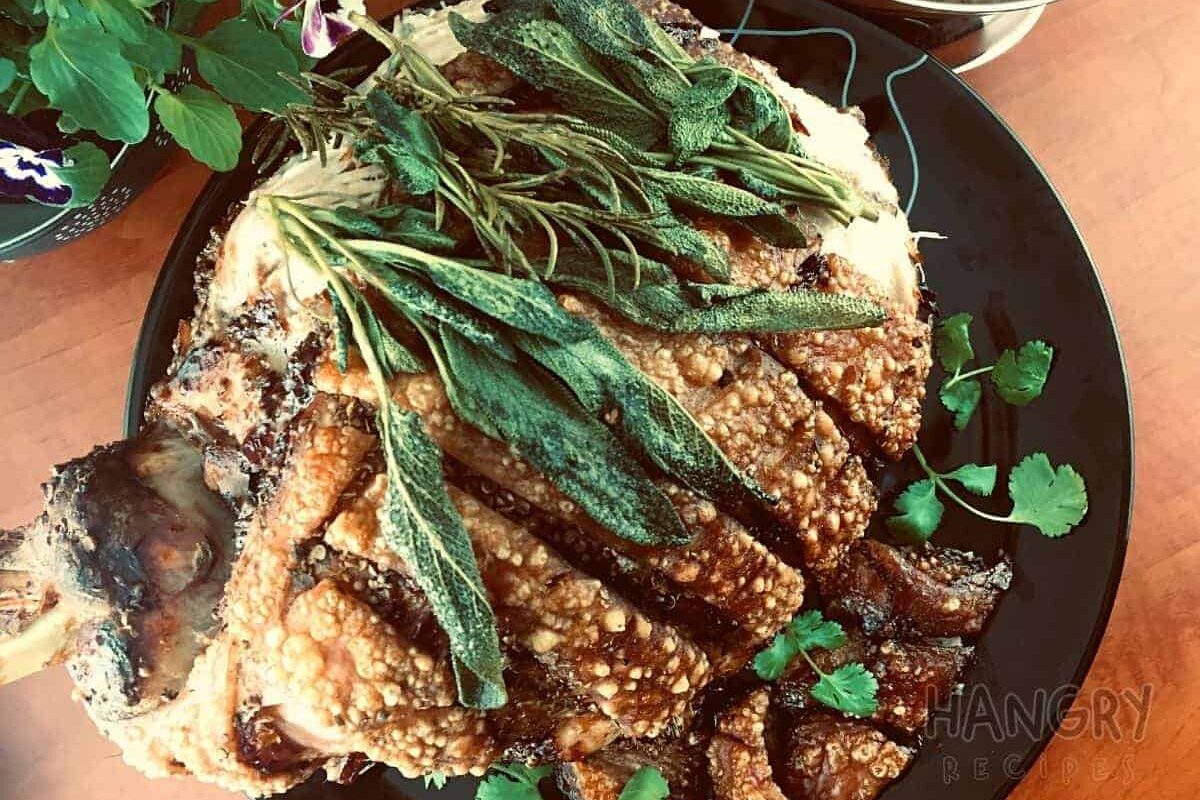 Ingredients
2 – 3

kg

leg of pork

keep the bone and skin on for the best flavors

coriander

2

tbsp

black pepper and sea salt

freshly grounded

3

carrots

cut in halves

1

bulb

garlic

keep the skin on, break them into cloves

3

red onions

cut in halves

3

sticks

celery

halved

4

Bay Leaves

600

ml

water

1/2

bunch

fresh sage

1/2

bunch

flat parsley

Few sprigs of rosemary
Instructions
Preheat your over to 220 C

Place the pork on a clean work surface, with a sharp knife make scores in diamond shapes or small squares a few centimetres apart through the skin into the fat but be careful not to make it too deep

In a mortar, ground the coriander, salt, and pepper

Rub the salt into the scores pulling the skin apart to make sure the salt is in

Make sure you brush off the excess salt, turn it over

Then season with a pinch of salt and pepper again

Place the pork, skin-side up in a roasting tray, and place it in the preheated oven.

Roast for 30 to 45 minutes, until the skin of the pork, has started to puff, and you can see it turning into crackling

At this point, turn the heat down to 170C and cook for about 41/2 hours or until the meat on the sides pull apart

Sprinkle the sage and rosemary with olive oil and sprinkle on the roast, place the roast back in the oven and let these herbs become crispy (This is optional)Remove the leg to board, cover with tin foil and allow to rest while you make the sauce
Gravy
Place the roasting tray on the hob over medium heat, add the flour and stir it into the juices so you get a sticky paste

Slowly add a little water until you have a lovely rich sauce, add a little butter if you like it to be a little richer

Pour the contents of the tray into a jug or bowl, the mustard and parsley, and blitz to a sauce with a stick blender

Season the sauce to perfection