Moroccan cuisine tries to blend in several cultural influences in its food – this makes Moroccan dishes appealing to almost anyone! Do you want to cook a meal that is unique? This could be for a special occasion, family dinner, or a gathering with friends. Get ready to impress your friends and family after trying this Moroccan Honey Lamb and Date Tagine with Butternut Couscous.
This recipe takes approximately under 2 hours to get ready so it can be a perfect choice for a healthy, distinctive meal! All the ingredients are easily available so you can buy them to cook this special dish.
This stew dish is absolutely flavorful and aromatic, and can easily become the new family favorite or treasured meal for special occasions.
Some aromatic spices used include turmeric, cumin, ginger, cardamom and cinnamon. These spices add an appealing touch to the dish alongside garnishing ideas including harissa and preserved lemons. The softness of the fluffy couscous and sweetness of the honey, dates, and other ingredient combinations is bound to make this dish a unique blend of flavors.
Once the lamb is tender and you add the dates, you can top it with your preferred items such as sprinkling coriander or pomegranate seeds. You can also top the couscous with almonds alongside the butternut.
… and Healthy too!
The blend of different ingredients in this recipe makes it a very beneficial meal choice. Lamb is a rich source of iron, Vitamin B, and protein. It has anti-inflammatory characteristics that help it support the immune system. Honey is also an ample source of several important nutrients, and it supports digestive health. On the other hand, butternut lowers and prevents high blood pressure, prevents asthma, boosts immunity and digestive functions, as well as helps manage diabetes.
Let's get cooking, it's time for Moroccan Honey Lamb and Date Tagine!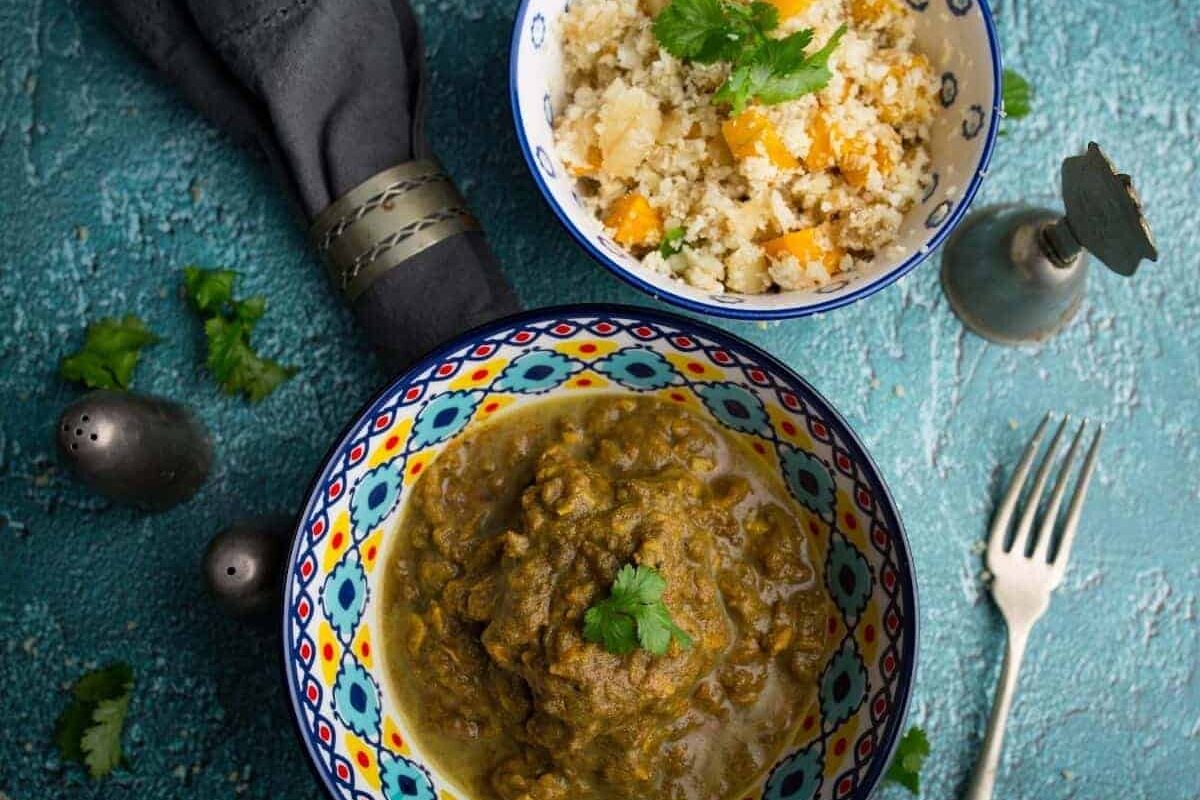 Ingredients
For the tagine:
180

g

Lamb, goulash

5

ml

Oil, olive blend

40

g

Onion, white

2

g

Garlic, chopped

1

g

Spice, garam masala

1

g

Spice, cumin, whole

1

g

Spice, mustard powder

1

g

Stock, chicken

1

g

Spice, coriander, whole

0.5

g

Spice, coriander, ground

0.5

g

Spice, paprika, smoked

1

g

Sugar, castor

7

g

Dried fruit, dates

10

g

Honey

15

g

Nuts, almond, flaked

10

g

Herb, coriander
For the butternut couscous:
65

Butternut

5

Oil, olive blend

1

Spice, turmeric

1

Spice, salt, fine

5

Onion, white

1

Garlic, chopped

80

Couscous

1

Sugar, castor

250

ml

water
Instructions
Heat 15ml oil in pan, add Lamb in batches, cook stirring continuously until browned, drain on absorbent paper

Heat remaining oil in same pan, add onions, garlic and spices, cook stirring until onions are browned

Return Lamb, cover with stock & water simmer for 2 hours

Remove lid, reduce until sauce is thick stir in dates, honey nuts and coriander
For the butternut couscous:
Add the water into a pot and wait until boiling. Once boiling add in the couscous and cook for 5-10 minutes until all water is cooked through

Chop the butternut into cubes and cook for 10-15 minutes in a separate pot until soft

In a bowl add the couscous along with the butternut, onion, spices, sugar, garlic and olive oil and mix until everything is combined