Cooking with creativity always leads to a great experience. Do you need to whisk up a quick yet impressive dish either as a stand-alone or as a side-dish to your main course? Why not use some sweet potatoes to help add a creative inclusion for your needs!
Sweet potato wheels are tasty potato wheels based on common items which you can use to cook up not only a quick but delicious meal!
Personalize your sweet potato wheel with your favorite extra stuffings, sauces, or even further sweetness with ideas like marshmallows! The combinations to further spice and sprinkle up this versatile dish are endless. The general combination of cinnamon and sugar is the ultimate appealing sugar and spice style.
As sweet potatoes come in different colors you can decide to create a dish of colored sweet potato wheels to add to the presentation.
The comfort of this excellent side dish is further supported by the fact that this is an easy side-dish for meals that include chicken, fish, or meat. While those meals might take longer preparation time, these sweet potato wheels can be prepared in under an hour. This time is further reduced if you can use ready-made puff pastry, but keep cautious of the puff pastry defrosting – you can keep it cool and use it only when it is required. This is because we do not want the pastry to break up before we can wheel it up!
These sweet potato wheels can also be served as dessert!
Concerned about the sweetness?
Worry not; these vegetables despite their name are healthy alternatives to regular potatoes. They are a highly nutritious source of fiber as well as other vitamins and nutrients. They also are high in antioxidants so can prevent your body from chronic health conditions. Sweet potatoes can hence also protect your gut, support healthy vision, and even help strengthen your immune system!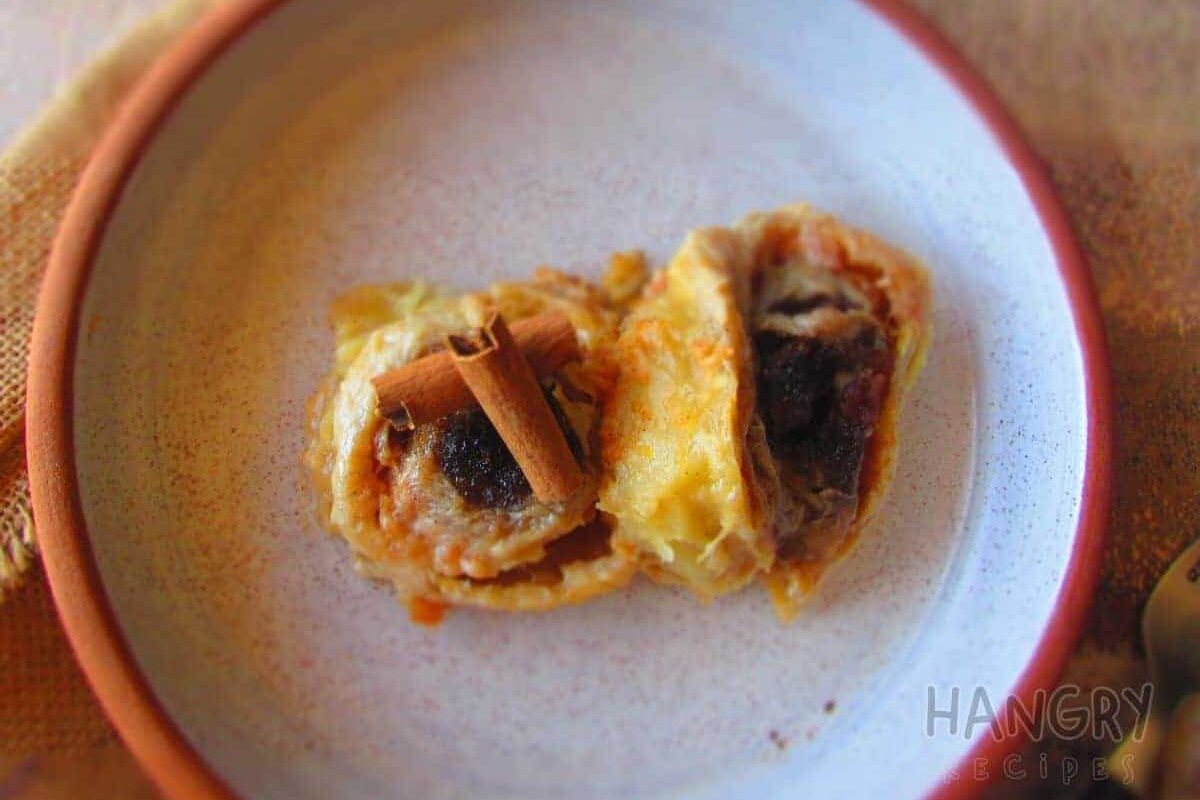 Ingredients
2

large sweet potatoes

cooked

1

roll

puff pastry

10

ml

cinnamon

10

ml

custard powder

100

ml

brown sugar

200

ml

milk

250

ml

fresh cream
Instructions
Mash the cooked sweet potatoes when cooled

Add the cinnamon and custard powder

Unroll the puff pastry but do not remove the plastic and do not roll out the pastry

Spread the sweet potatoes evenly over the pastry

Roll the pastry again and cover tightly

Place in the freezer for 2 hours

After 2 hours, remove from the freezer and uncover

Slice in even rolled discs

Place in a greased oven dish and distribute the sugar evenly over each sweet potato wheel

Mix the cream and milk and pour over the dish

Bake in a 180°C preheated oven

Make sure the sugar melts and the pastry is cooked