Looking for an exciting, colourful, and flavourful salad that is quick and easy to make? This is just the salad for you! The highlight of this grilled sweetcorn salad is, indeed, the sweetcorn! Bursting with colour and packed with fiber, as well as vitamin B, iron, and potassium, sweetcorn is not just tasty, but it is nutritious too. The vegetable also contains utein and zeaxanthin, which are two phytochemicals that help promote healthy vision.
This salad sure has its health benefits, but don't get us wrong, it has some seriously decadent features too, such as a creamy salad dressing that pairs with the coleslaw, and some crunchy grilled bacon bits. This dish does not require many spices as it is definitely not lacking in the flavour department, however, add whichever spices you enjoy for a personal twist. You can also garnish this dish with whichever herbs you enjoy, be it parsley, coriander, or chives.
What makes this salad really great is that the ingredients are simple and cost effective. They are possibly also items that you might already find in your fridge or pantry at home!
Put together this grilled sweetcorn salad as a quick lunch option for yourself or as a complementary starter featuring in a full course meal for friends and family!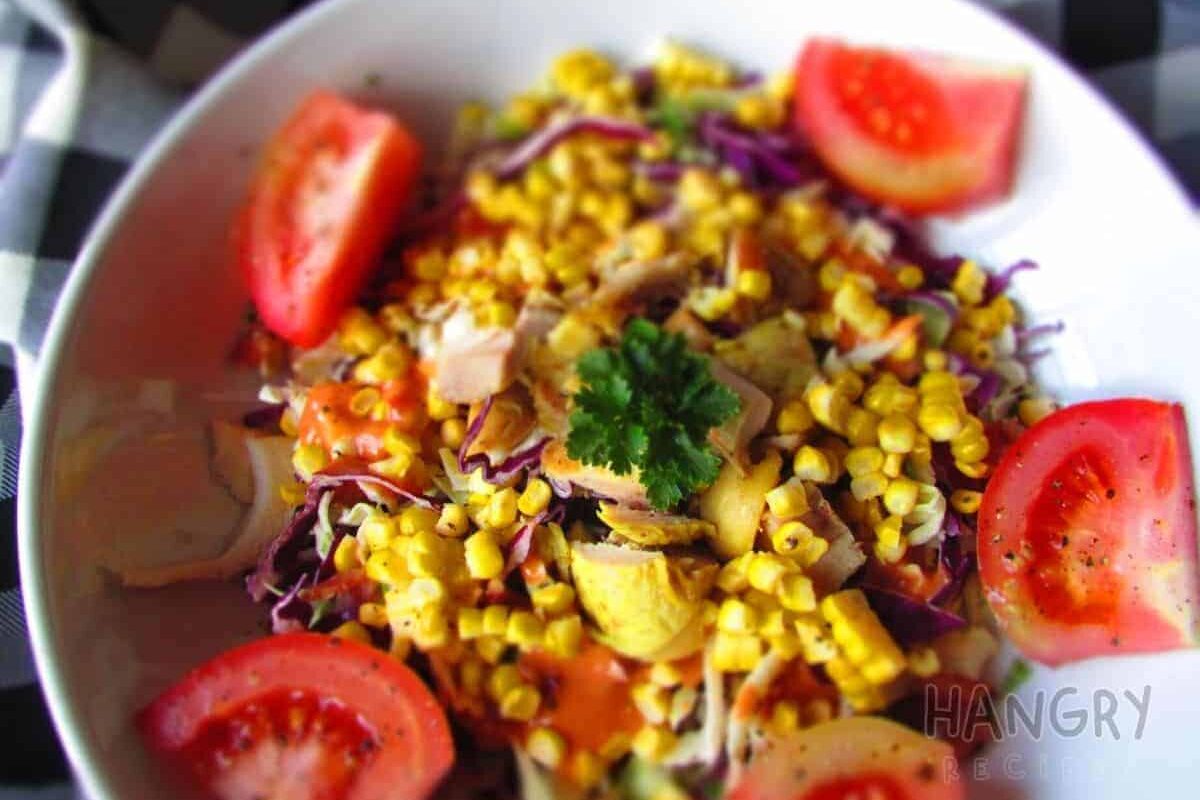 Ingredients
2

large

grilled corns

2

cups

white and red shredded coleslaw

1

large

tomato (quartered)

1

large

onion (thinly sliced)

1

chicken breast (cubed or shredded)

1/2

cup of

bacon (grilled, drained & diced)

1/2

cup

creamy salad dressing

1/2

tsp

BBQ spice

salt & pepper
Instructions
In a large salad bowl, add the coleslaw

Drizzle the salad dressing over the coleslaw

Layer the shredded or cubed chicken, bacon bits, and onions

Arrange the sliced tomatoes around the dish

Remove the corn kernels from the corn by cutting them off

In a bowl, mix the corn kernels with salt, pepper, and BBQ spice

Sprinkle the corn mixture over the salad