Perfectly refreshing for a hot day (and super duper nutritional), this Exotic, Tropical Pomegranate and Strawberry fruit salad will tick all of your fruit salad boxes!  
This fruit salad consists of multiple fruits such as strawberries, pomegranate, pineapple, star fruit, dragon fruit, and granadilla. The fruit salad boasts freshness and exoticness, and all comes together with a slightly sour drizzle of lime juice, creating a perfect balance of sweet and tart. Needless to say, this salad bowl is extremely nutritious, and is packed with vitamin C from all of the different fruits. Dragon fruit in particular is regarded a nutrient-dense fruit as it is packed with magnesium, iron, and contains a high amount of fiber. It is also low in calories!
If you are serving this dish at a lunch for friends or family and are wanting it to not only taste good but look like a showstopper too, we suggest that you follow all the steps to cut and prepare the fruit accordingly. If you are wanting to go the extra mile, save your dragon fruit skin shells and serve the fruit salad inside them as per the tropical theme!
This tropical fruit salad will have you feeling like you are on an exotic island in no time!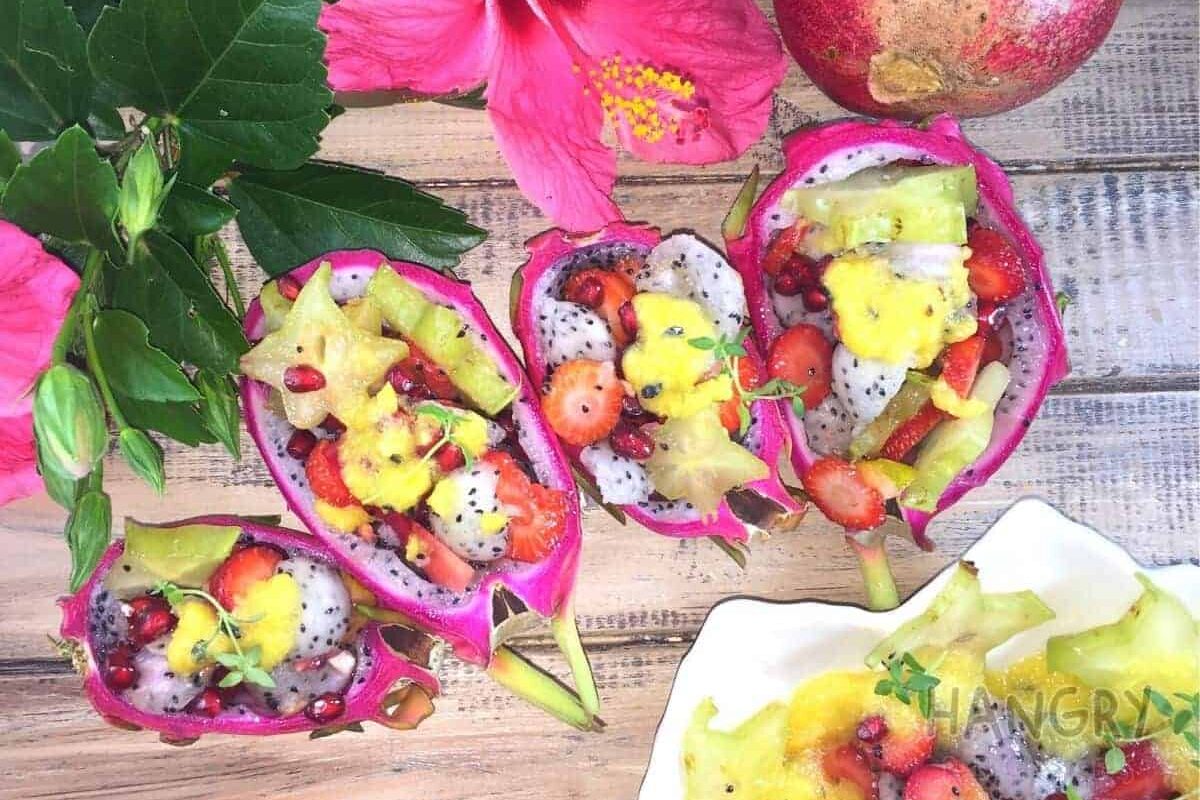 Ingredients
2

Star fruit

1

punnet

Strawberries

1

Pomegranate

1

Pineapple

2

Dragon fruit

32

tbsp

Clementine's lime juice

1

granadilla

Fresh thyme
Instructions
Star Fruit – slice thinly

Strawberries – remove the stem and slice

Pomegranate – depict the pomegranate, set aside

Pineapple (ripe) –  Place the fruit on a cutting board and lay the pineapple on its side. Secure the pineapple with one hand, and then slice off the top, about 1/2-inch down from where the green crown and flesh meet.  Stand the pineapple up on the bottom side. Carefully trim the thick fibrous skin, starting from the top to the bottom, being careful to preserve as much of the sweet flesh as possible. Cut around the pineapple, following the natural curve of the fruit until all the skin is removed.  Cut pineapple in chunks.   Place pineapple chunks into your blender and blend until smooth.

Granadillas –  Prepare the passionfruit by cutting the fruit in half with a sharp knife and scoop out the edible seeds.  Add to the pineapple.

Dragon fruit – To prepare dragon fruit, simply slice it in half, and then carefully scoop out the slightly firm flesh with a sharp spoon, set aside to add to the fruit salad. 

Clementine's – cut in halves with a sharp knife.

Combine all the prepared fruits in your favourite bowl,  carefully mix them together.

Add the lime juice to the pineapple and passionfruit.

The juice can be served separately in a jug or mixed directly into the salad.