Take a trip to one of the most culturally rich locations in the globe with this classic Indian Butter Chicken dish!
Butter Chicken is a classic dish that has been around for decades. It is one of the most popular Indian curries ordered at restaurants around the world and for good reason! The indulgent creamy sauce paired with the aromatic spices as well as tender chicken pieces create the most perfect chicken dish that almost anyone would love.
The sauce is made with butter, chutney, buttermilk, and flavoured with spices such as garam masala, ginger, garlic, and chili. If you prefer a milder curry add less chili, and vice versa. This recipe calls for buttermilk as the base for your butter chicken sauce, however you can choose to go the more traditional route and add plain yoghurt or heavy cream. When choosing your chicken, you can opt for a leaner and healthier chicken breast or you can choose a more tender chicken thigh. The results of this dish are incredible, and the cooking process is simpler than you might think, and can take under an hour!
Needless to say, we are major advocates for this alluring Indian Butter Chicken dish! Serve it with fluffy jasmine rice, naan bread, or some crunchy sambals, and enjoy the ultimate Indian cuisine experience!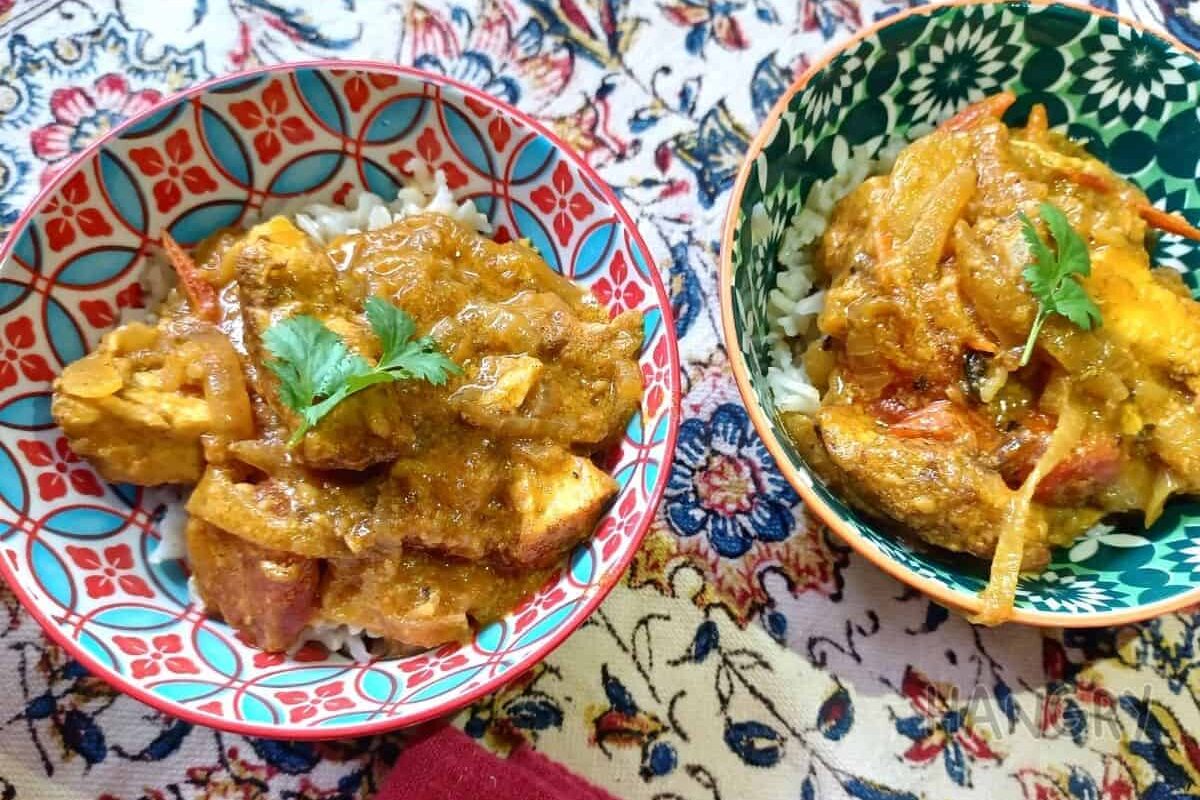 Ingredients
4

tbsp

butter

1

tbsp

cooking oil

2

tbsp

garam masala

2

yellow onions, roughly chopped

3

tbsp

ginger

crushed

6

cloves

garlic

crushed

2

cups

small tomatoes

4

skinless chicken breasts – chopped in bite size

2

cups

buttermilk

1-2

tbsp

peach chutney

Sea salt, to taste

1

red and 1 green small chilli – chopped

(optional) that is if you like more heat
Instructions
Add the spices, garlic, ginger and garam masala in a bowl. Mix with the chicken chunks and let it marinate for about 30 minutes.

In a separate bowl add boiling water to the tomatoes to soften, set aside.

Heat the oil and butter in a large-sized frying pan over medium-high heat. Sauté the onions, cook for about 8 minutes, until well-browned, reducing the heat if necessary. Especially important to brown the onions, this makes all the difference to the taste of the butter chicken.

Add the marinated chicken and sauté for about 10 minutes with the onions.

Strain the tomatoes, using your hands, press the tomatoes juices out over the chicken and then add the pulp of the chicken, chutney and 2 cups buttermilk. 

Reduce the heat to medium-low, cover the pan, and let the chicken cook through until soft and tender. Season to taste.

*Serve with Chutney, rice or naan bread