A classic and a family favourite, this Shepherd's Pie dish is filled with meaty, indulgent, and chunky goodness! You won't be able to resist seconds!
This Shepherd's Pie consists of rich and tender lamb, paired with a silky yet chunky potato mash. If you aren't a fan of lamb however, you can use beef cutlets instead, and enjoy more of a traditional Cottage Pie. What is also great about this recipe is that it allows you to put any leftovers from previous meals to good use- if you have any leftover roast lamb or beef that you want to save, or have some extra potatoes lying around, that is a good enough excuse to make this dish!
This recipe takes just over an hour to make, which is perfectly reasonable considering the delicious results it yields! Lamb is a great feature in this dish as it is a rich and tender meat that's flavours combine well with many different spices. This recipe calls for lean lamb cutlets, which means that the lamb will not be too fatty. We suggest you use lamb loin or shoulder cuts for this Shepherd's Pie. 
Whether you are enjoying this meal with your family on a cozy Winter's night, or just tucking into it on your own in front of the television, you are sure to feel satisfied and content after eating it!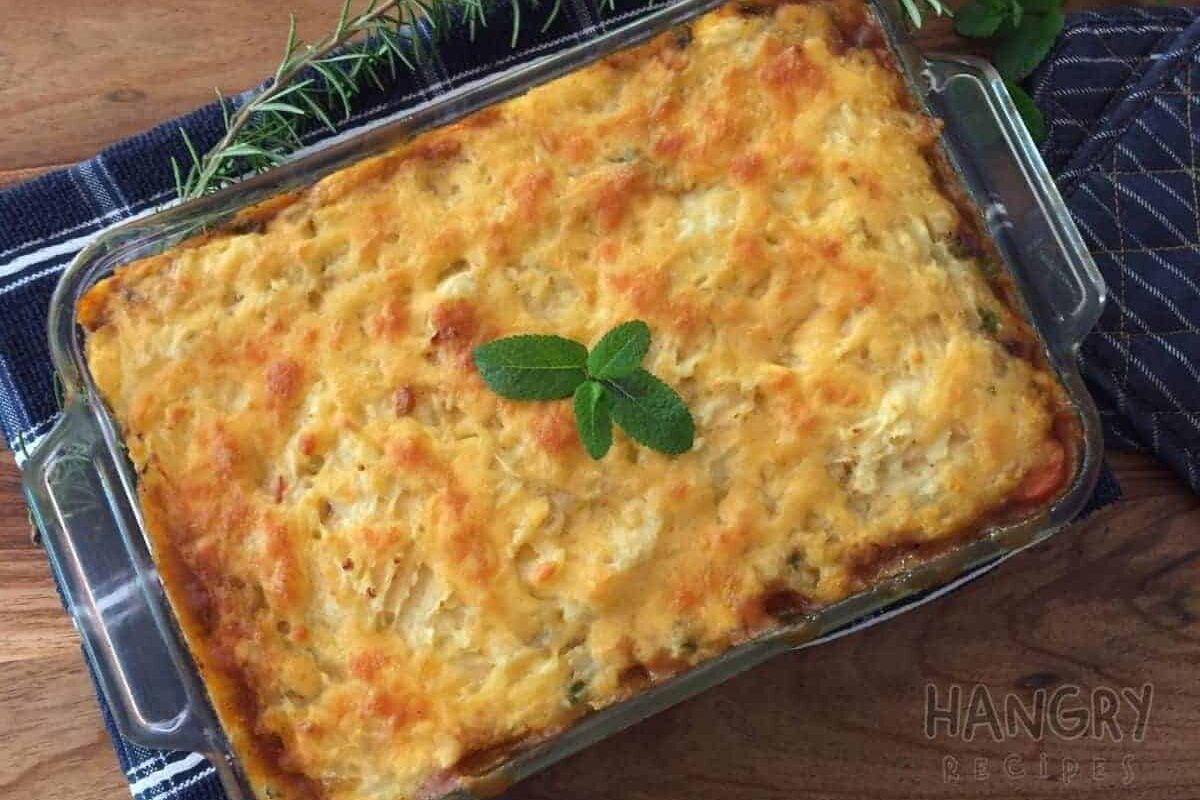 Ingredients
600

g

deboned and trimmed, lean lamb cutlets.

3

tbsp

oil

1

large

onion, finely chopped

2

tbsp

fresh thyme

1

tbsp

vegetable spice

3

tbsp

Worcestershire sauce 

2

tbsp

chopped finely fresh rosemary

1

can

tomatoes, 400g

2

cups

beef stock

1

cup

carrots, chopped

1

cup

frozen or fresh peas

1

cup

frozen mixed vegetables

½

tsp

salt 

½

tsp

½ teaspoon ground black pepper

2

tbsp

flour
Potato Topping
6 – 8

medium

potatoes, peeled and chopped

½

tsp

salt

1

tbsp

butter

1

cup

strong cheddar cheese, shredded and divided.

¼

cup

milk
Instructions
On medium heat in a heavy-based saucepan add oil, onion, thyme, and marjoram and sauté. Cook about 5 minutes or until onions are translucent.

Add the lamb to the saucepan and the Worcestershire sauce and braise for 5 to10 minutes or until meat is browned, sautéing to brown all sides.

Add tomatoes, rosemary, beef stock, vegetables, salt, and pepper to the meat. Mix all together, breaking up the tomatoes until smooth with a spoon.

Turn down heat to low-medium), cover and cook for 15 minutes.

Turn heat down to low. Sprinkle flour over the surface of the food in the pot and blend in thoroughly with a spoon. Cover and cook until meat is tender. Takes about an hour. Just check frequently and stir to prevent it from burning. Season to taste. 

Prepare potato topping by adding potatoes to the saucepan and cover with cold water, bring to a boil over high heat. Once boiling, turn down the heat to low-medium and cover, boil until potatoes are fork-tender.

Uncover meat and vegetable mixture and place in a prepared oven dish. Set aside.

Once potatoes are fork-tender, drain off water. Add butter, salt, 1/2 cup of cheese, and milk. Mash with a potato masher or blend with a hand blender until smooth.

Add mashed potato mixture, a spoonful at a time to the top of meat and vegetables spread evenly over the top. Scatter the remaining ½ cup of shredded cheese over the top.

Bake in oven uncovered for 15 minutes or until cheese is melty and browned.