Macaroni and Cheese is a much loved staple dish that is surprisingly versatile. This recipe is a new take on a classic Macaroni and Cheese that adds mincemeat to the pasta, resulting in one delectable layered meaty and cheesy casserole.  
This dish may seem like a complicated one to make, but for the succulent results it delivers, it really is not! The main steps that this recipe requires are the cooking of the beef mince and the macaroni pasta, as well as the cooking of the creamy butter sauce for the topping. This recipe also only takes one hour to make, and bakes in the oven for only 20-30 minutes after it is put together!
This dish is a great option for a well-balanced meal as it includes added protein to the casserole dish from the beef mince. If you are however looking to make a healthier casserole, skip the creamy butter sauce and top your casserole with some low fat grated mature cheddar and mozzarella cheese, and enjoy in moderation!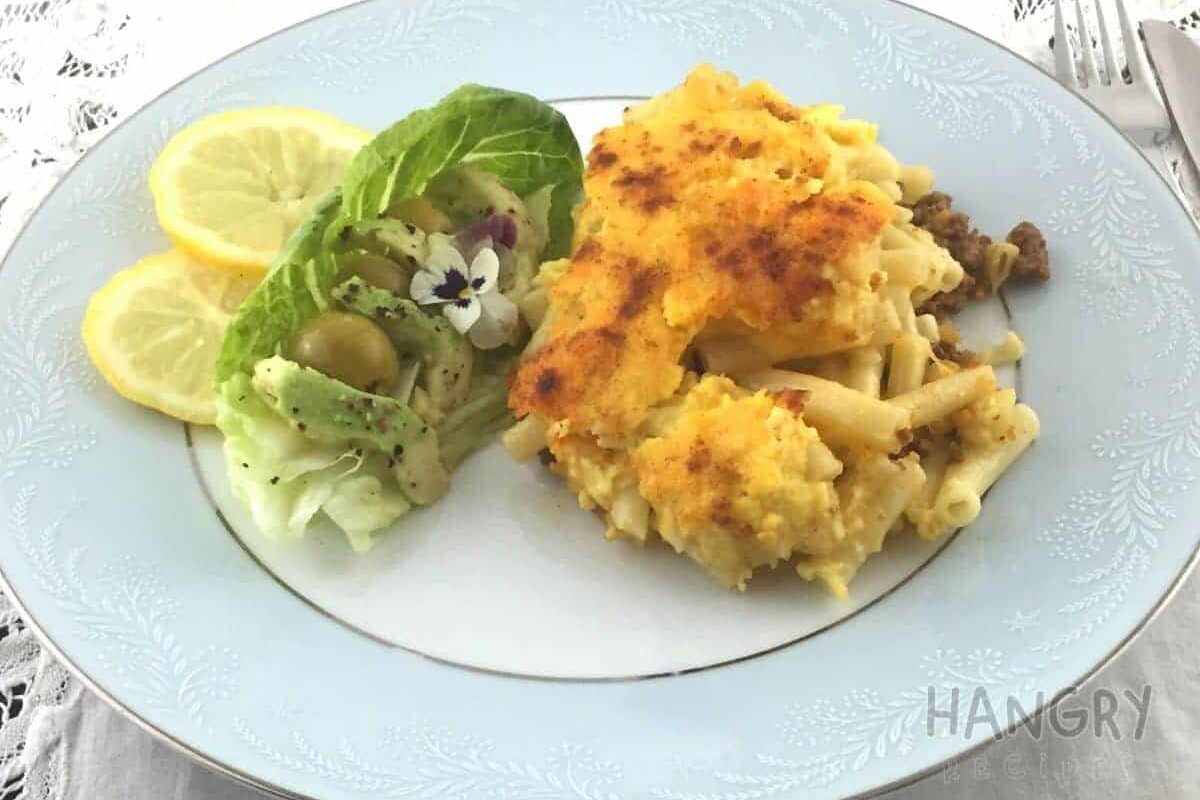 Ingredients
500

g

Lean Mince

3

large

Onions

2

Ripe Tomatoes chopped

500

g

Macaroni

225

g

Butter

5

Eggs

3

cups

Grated Cheese

500

ml

Milk

2

tbsp

Olive Oil

4

tbsp

Worcestershire sauce

Salt and Pepper

Mixed dried herbs of your choice

8

tbsp

Flour

2

tbsp

mustard Crumbs

Smoked Paprika

Spray-and-cook (optional)
Instructions
Prepare your choice of the oven dish. Spray or grease the dish with your choice of butter or oil.  Sprinkle with crumbs. *The dish I choose I could only make one layer, but if smaller, you can layer with mince and macaroni alternatively. It is a better choice.
Mince:
in a frying pan, with cover, warm over medium heat until the desired temperature, add butter and a little olive oil, the onions, add garlic and sauté then chopped ti=omatoes,  add the mince, sauté further, brown the meat slowly, season to taste.  Add the soya sauce, mix and cover, make sure to lower the heat and simmer for 30 minutes. Do not let it simmer too dry, add a little water to keep it moist and to ensure it does not burn.  When the meat is ready let it cool.  
Macaroni: Can be done while mince is cooking
Cook the macaroni in boiling water with a little salt and olive oil added for 10 minutes.  Strain and put under cold water so that it will not stick. Set aside.

Turn on oven to: 375 degrees F / 190 degrees 
Creamy Topping: Can be done while mince is cooling off.
In a medium-sized pot, on medium heat, melt the butter.  When melted, add the flour, and stir continuously. Add the mustard, when it is well combined, whisk in the milk, stir until a smooth creamy mixture, add the 4 eggs one at a time, whisking continuously then season.
Method – prepare to combine:
Mince: Add in 1 cup of grated cheese and 1 egg and mixed herbs.  Mix well.

Macaroni: Add 2 cups of grated cheese

In prepared dish, layer starting with mince and alternatively with macaroni mixture. Spread theCreamy Topping and sprinkle with paprika.

Place uncovered in the oven for 20 to 30 minutes.