If you are looking for a dish with a healthy balance of protein, fat, and carbs, this Steamed Hake and Potato meal is sure to be more than satisfactory for you!
The hake in this dish is steamed, which means that no oil is used, and therefore has less calories, and is suitable for "cleaner" eating. The potatoes are also simply boiled in water, no butter or oil added. This might sound a bit too healthy for you, but the yumminess comes later when you add some delicious mayo to your potatoes and a side salad of your choice. However, if you would like to add just a touch more richness to this dish, add some butter to the lemon juice to make a lemon butter sauce, and baste the fish with this before cooking.
Hake is a great choice of fish for this healthy dish as it is one of the best sources of essential fatty acids, which play a huge role in decreasing blood pressure, and improving overall cardiovascular function. It also contains vitamin A, E, and D. As previously mentioned, hake is low in oil and therefore has less calories and saturated fats- it is one of the leaner choices of fish to eat. This fish is also a great source of omega-3, which helps develop brain health and function, and is especially suitable for infants and children. Hake also contains important minerals such as iron, phosphate, magnesium, zinc, and calcium.
Being a more nutritious dish, this one is perfect for the whole family to enjoy!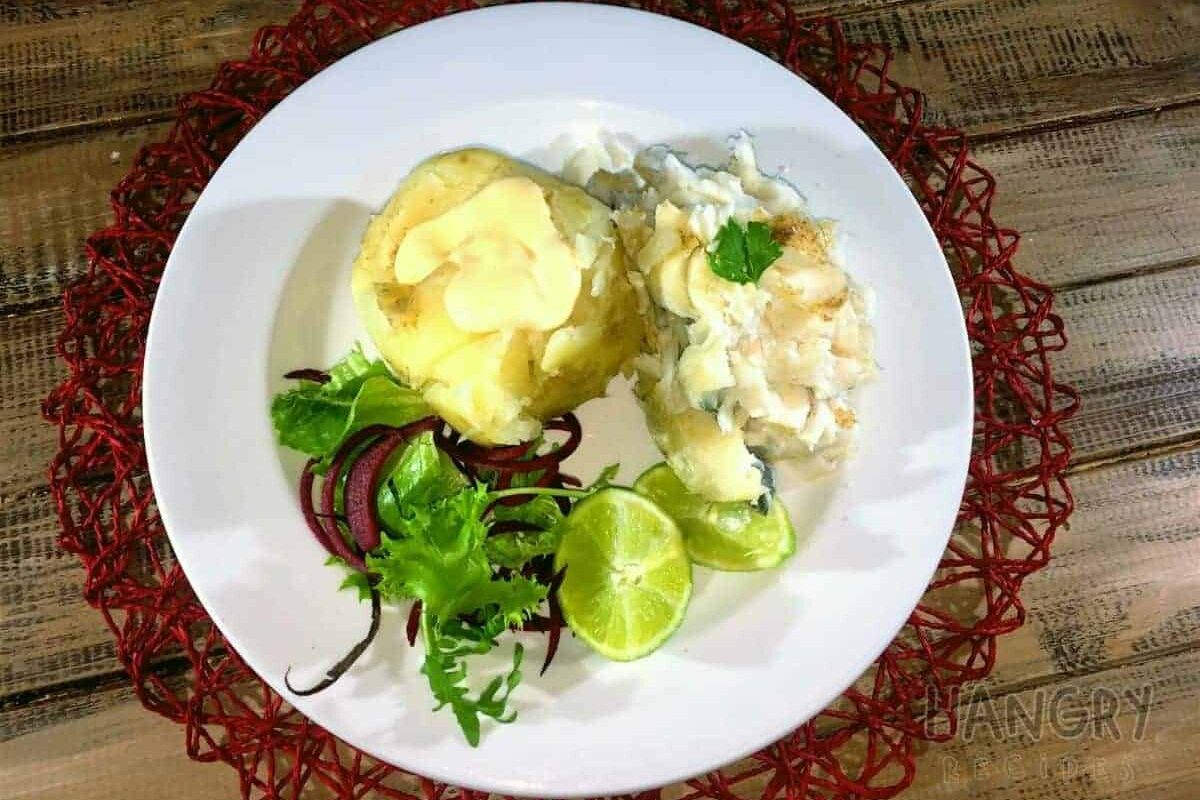 Ingredients
400

g

Frozen of fresh Hake Fillets

deboned

4

large

potatoes

Mayonaise

Fish spice

(optional)

Salt and pepper

1

Lemon or Lime
Instructions
Scrub the potatoes clean and place in a saucepan of cold water, bring to the boil and let it cook until the potatoes are soft. Drain and dry.  

Season the hake, you can remove the skin if you so desire.  Place the fillet in a steamer and cover with a lid. If steaming in a saucepan, fill the pan with a layer of water and place the steamer on top, making sure that it does not come into contact with the water. Heat the water to a gentle simmer before adding the fillets of hake.

Cook for 8-10 minutes until the hake is cooked through – the cooking time will vary depending on the thickness of the fillet. Finish off with a squeeze of lemon juice or lime juice. Set aside.  

When plating, score the surface of each potato half with a sharp knife in a criss-cross pattern. Add the mayonnaise. Add the fish and served with a salad.