Roasted vegetables are a staple dish that may show up as a popular side no matter what the main dish might be. They are extremely easy to make but the results are colourful, fragrant, and full of flavour!
With roasted veggies you can take your pick on which ones you would like to make, but we suggest using a range of nutritious and colourful ones such as butternut, sweet potato, baby marrow, and red peppers. All of these vegetables are loaded with vitamins and minerals, such as vitamin C, E, K, A, potassium, fiber, folate, and iron!
This roasted vegetable dish is so simple- all you have to do is throw the veggies on an oven dish, season them, bake for 45 minutes, and you have got yourself vegetables with so much more flavour than you would have if you had simply blanched or sautéed them.
Although the recipe says to use olive oil, balsamic vinegar, and salt and pepper, you can add whichever seasoning you would enjoy, such as garlic flakes, paprika, or oregano.
The rosemary, which acts as a garnish for your vegetables, is an appealing and fragrant touch to this Roasted Vegetable dish.
Chefs Tips for Roasted Vegetables:
You can roast these veggies easily in an air-fryer to simplify the process and make sure that they turn out flawlessly!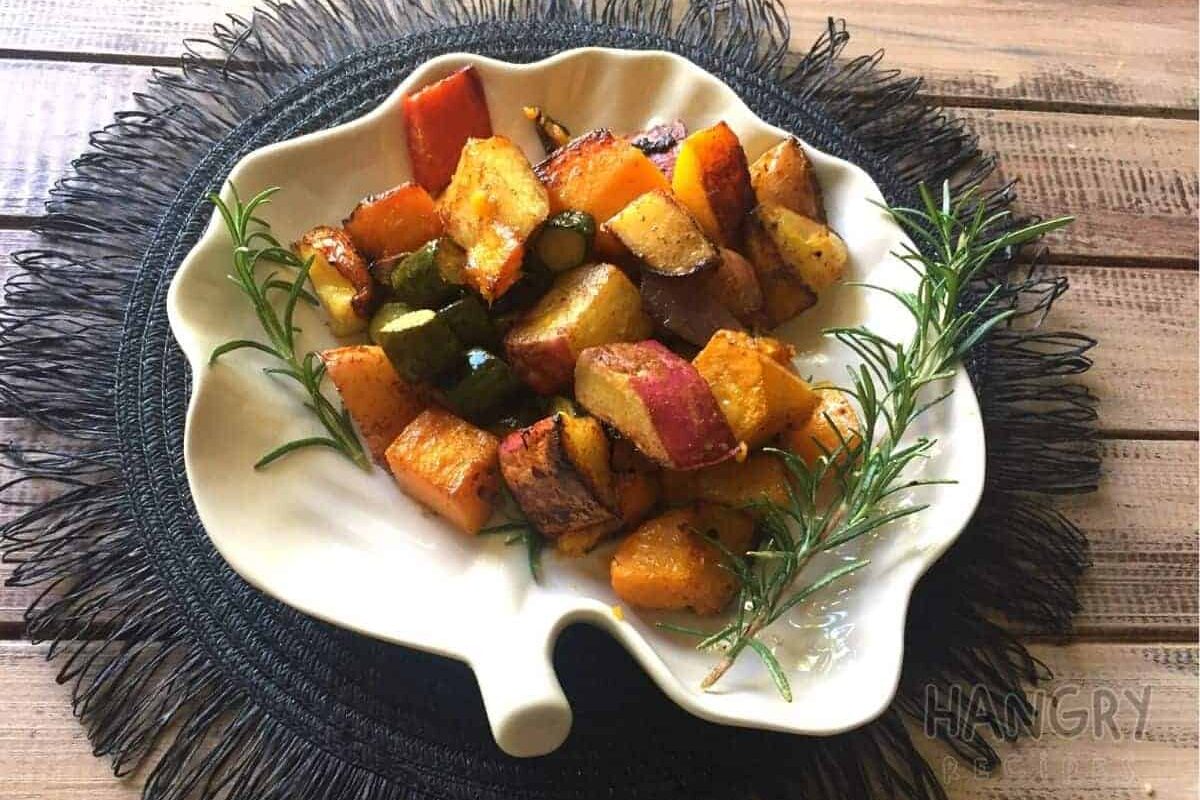 Ingredients
1

kg

vegetables of your choice

(use vegetables, adjust oil and balsamic quantity to the amount vegetables)

120

ml

Olive Oil

60

ml

Balsamic Vinegar

Freshly ground Salt and Pepper

Non-Stick Spray

4

sprigs

fresh rosemary

Seasoning of your choice
Instructions
Preheat oven to 180°F / 82,222°C.

Prepare your oven dish with Non-Stick Spray.

Mix the balsamic vinegar and oil, set aside.

Place the vegetables in the oven tray and sprinkle with your favourite seasoning and freshly ground salt and black pepper.

Add the olive oil and balsamic mixture, mix well to ensure all the vegetables are covered.

Place in the oven for 45 minutes or until all vegetables are cooked.

Remove from the oven and garnish with the fresh rosemary.