A fresh and flavor filled salad with crispy and golden halloumi cheese, this refreshing Grilled Halloumi & Couscous Salad with Salsa Verde is a unique and healthy salad dish sure to pair well with any main meal. With simple ingredients you might already find in your kitchen at home, and uncomplicated steps, you can have this salad ready in no time, stress and fuss-free!
What Is Salsa Verde? 
Salsa Verde is a green sauce that is commonly used to dress salads. It is made up of chopped parsley, coriander, mint, and seasoned with garlic, chives, and pepper. It also consists of capers, wholegrain mustard, olive oil, and red wine. All of these ingredients are simply placed in a blender and blitzed until smooth. This sauce makes for a rich, thick, and savory dressing to serve with your halloumi and couscous salad.  
Quick and Easy 
For a salad so flavorful and scrumptious, it is unbelievably easy to throw together. The grilled halloumi cheese is simply fried in a pan until golden brown, the salad ingredients are tossed together in a bowl until combined, and the Salsa Verde ingredients are blitzed in a blender until smooth. The halloumi cheese is placed over the salad and the Salsa Verde is drizzled over it.  
This salad will leave you feeling refreshed and delighted by the savory, crispy, and crunchy elements. It is perfect for a hot day and will be enjoyed by anyone who tries it!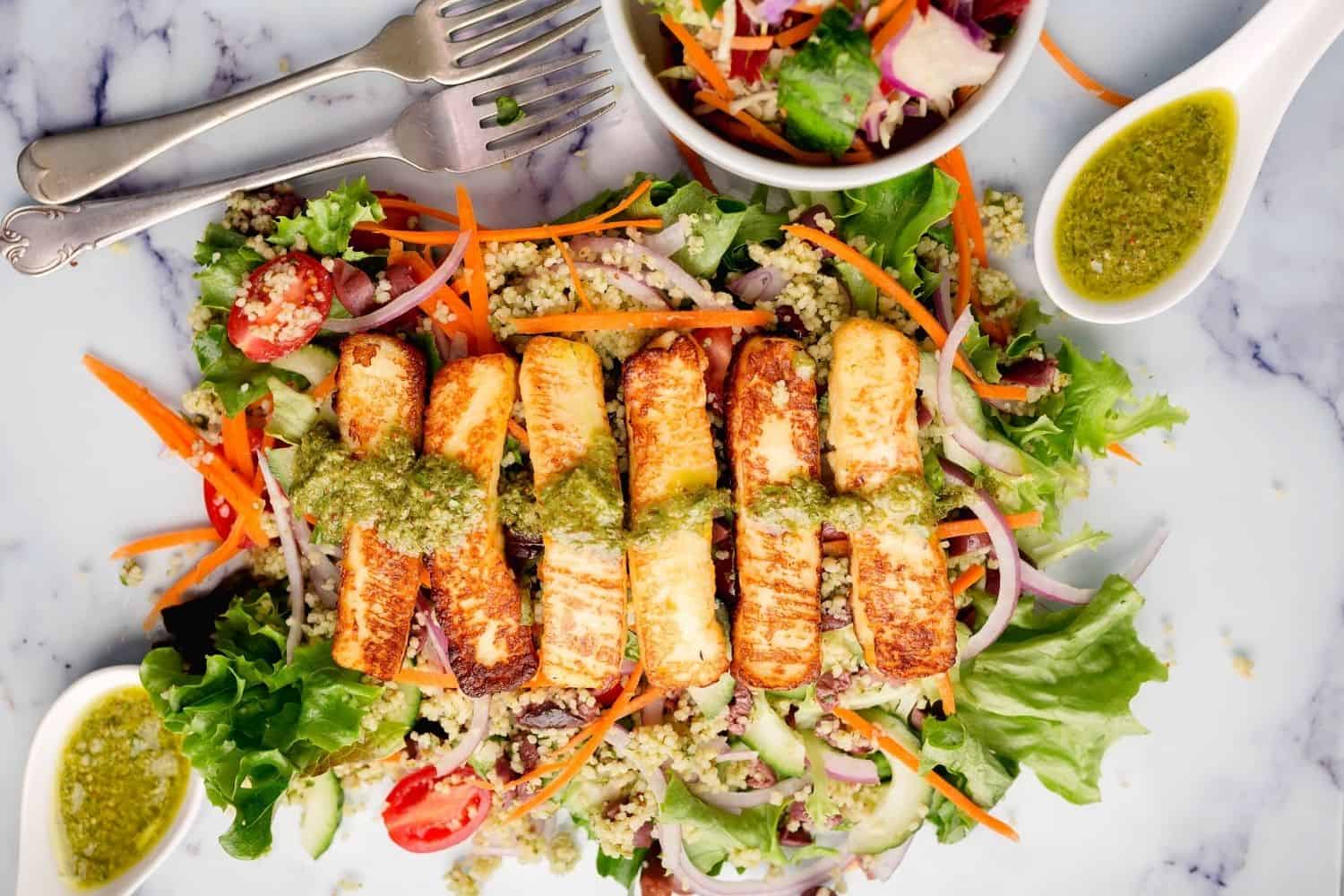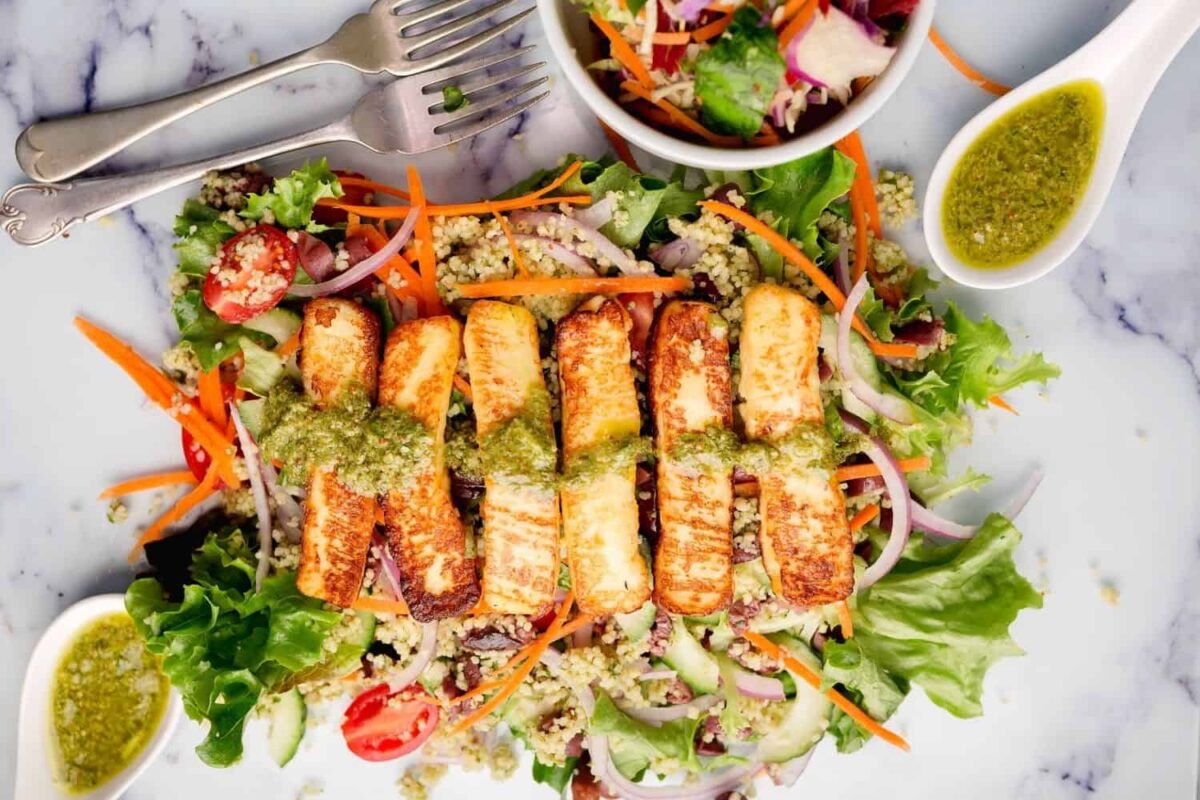 Ingredients
For the Salad Base
30

g

Cucumber

Sliced

30

g

Cherry Tomato

Halved

15

g

Red Onion

Thinly sliced

10

g

Lettuce

Washed

10

g

Rocket

20

g

Kalamata Olives

20

g

Couscous

Cooked and cooled

15

g

Carrot

Julienne
For the Halloumi
150

g

Halloumi Cheese

1cm slabs

15

ml

Olive Oil
For the Salsa Verde Dressing
3

g

Garlic

Chopped

7

g

Parsley

Chopped

3

g

Mint

Chopped

2

g

Chive

Chopped

2

g

Coriander

Chopped

4

g

Capers

Chopped

4

g

Wholegrain Mustard

5

ml

Red Wine

15

ml

Olive Oil

1

g

Coarse Pepper
Instructions
For the Salad Base
Place all the ingredients in a bowl & toss to combine. Arrange in a serving dish.
For the Halloumi
Heat olive oil in a pan, add slabs of halloumi & grill until golden & crisoy on the edges.

Place on top of the salad base.
For the Salsa Verde Dressing
Place all the ingredients in a blender & blitz until somewhat smooth.