Chicken Tikka Masala is a classic Indian curry that is loaded with fragrant spices, and infused with so many earthy and deep flavors, making it an unforgettable dish that will be worth all the time and effort you put into it. Don't believe us? Try it for yourself!
What is Chicken Tikka Masala? 
So, you've heard of Butter Chicken, but not quite familiar with Chicken Tikka Masala? This dish is an Indian classic that is basically Butter Chicken's less creamy, but more intensely flavored cousin. The base revolves more around a tomato gravy than a creamy sauce, and the flavors of tomato and onion are slightly stronger. Golden chicken pieces are drenched in a curry sauce that has flavors of garlic, ginger, chili, cumin, paprika, garam masala, and a touch of lemon juice. While this dish is not as creamy as a Butter Chicken, it still consists of some Greek yogurt, that adds some richness, and also helps to tenderize the chicken perfectly. With this being said, Greek yogurt is a particularly healthy version of plain yogurt, and since this is the only indulgent aspect of the dish, this Chicken Tikka Masala would be considered a lot healthier, and much less fatty than other curries, making it the perfect family dinner!
Marinating the Chicken 
For this recipe, the chicken pieces are marinated in a Greek yogurt marinade with spices such as garlic, ginger, chili, paprika, cumin, pepper, and garam masala. The chicken should be left to marinate in the refrigerator for at least 30 minutes, but a few hours (or even overnight!) would be best as it ensures that the chicken pieces are properly infused with the flavors.  
This Chicken Tikka Masala is served with Basmati rice than contains roasted cashew nuts, roasted sunflower and caraway seeds, as well as coconut flakes. A unique red onion salsa containing red onion, banana, parsley, and coriander is served on the side, but feel free to serve with some buttery naan bread too for the ultimate Indian feast!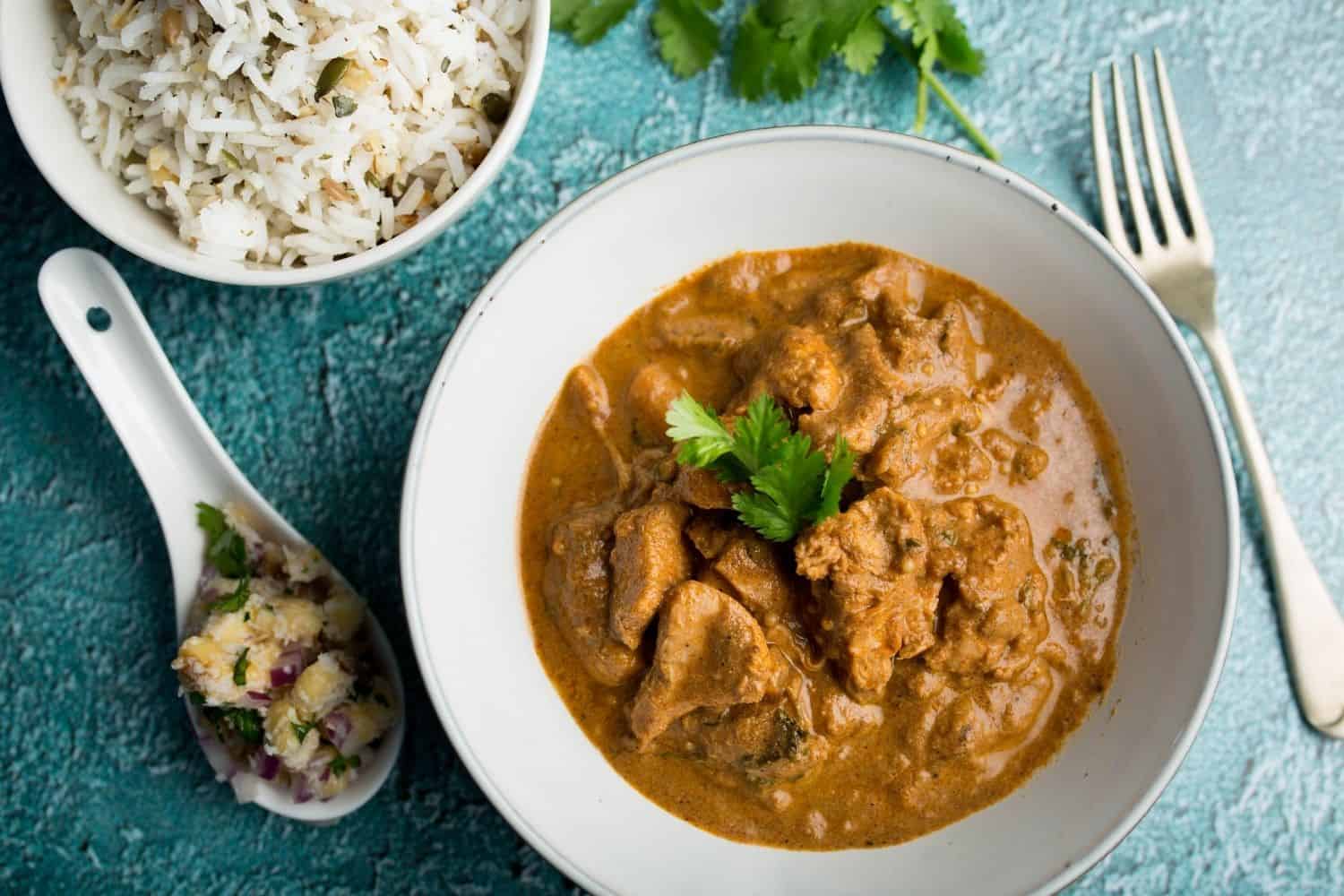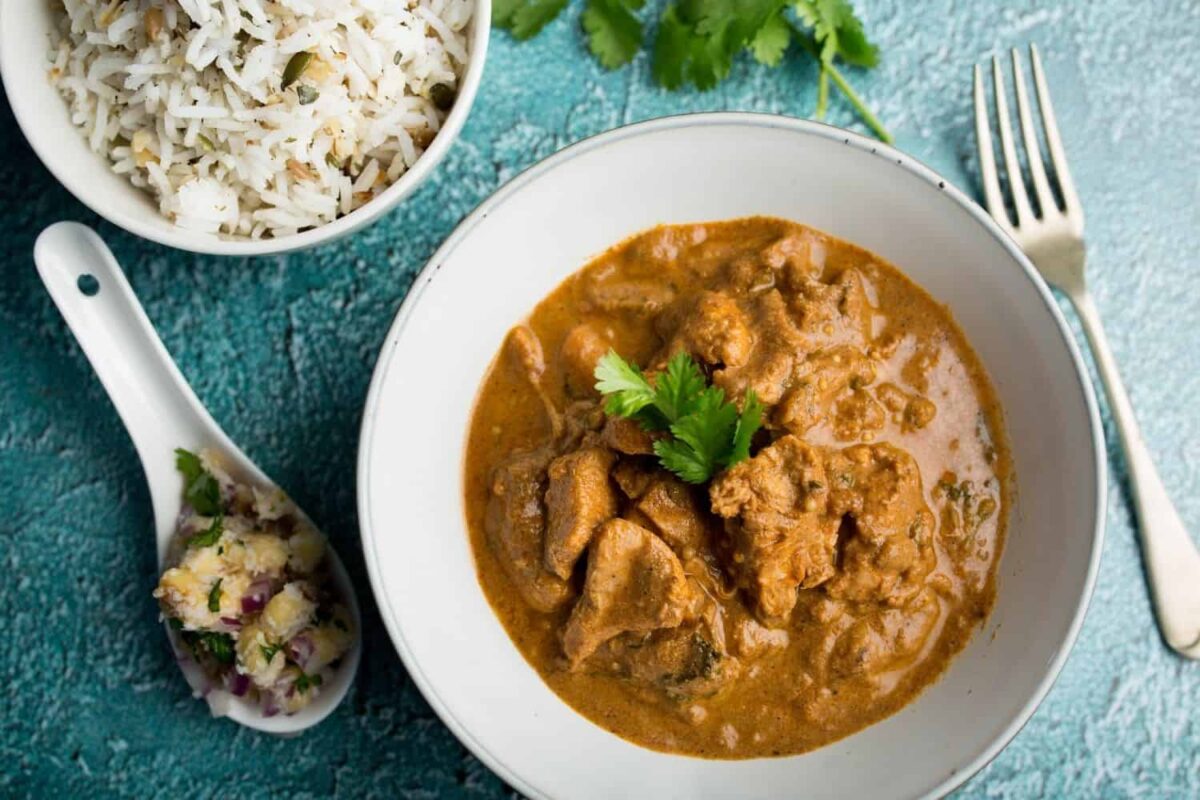 Ingredients
For the Tikka Masala
10

g

Garlic

Chopped

5

g

Ginger

3

g

Red Chilli

Deseeded and finely chopped

25

g

White Onion

Finely chopped

30

ml

Olive Oil

50

ml

Greek Yogurt

160

g

Chicken Breast

Small cubes

5

g

Butter

30

ml

Rice Vinegar

5

g

Cake Flour

30

ml

Red Kidney Bean

5

ml

Lime Juice

2.5

g

Coriander

Chopped
For the Spice Mix
3

g

Paprika

3

g

Fine Pepper

2

g

Garam Masala

2

g

Whole Cumin

5

g

Leaf Masala
For the Seeded Basmati
60

g

Tastic Rice

Boiled in salted water and cooled down

15

ml

Olive Oil

1

g

Coarse Salt

0.5

g

Turmeric

10

g

Cashew Nuts

Roasted and roughly chopped

10

g

Sunflower Seeds

Roasted and roughly chopped

10

g

Whole Caraway

Roasted and roughly chopped

5

g

Coconut Flakes

Roasted and roughly chopped
For the Red Onion Salsa
20

g

Red Onion

Finely chopped

40

g

Banana

Diced

2.5

g

Parsley

Finely chopped

2.5

g

Coriander

Finely chopped
Instructions
For the Tikka Masala
Combine everything together for the spice mix. Divide in two.

Combine half of the spice mixture with chilli, garlic, ginger & yogurt in a large bowl.

Add chicken & leave to marinade for at least 30 minutes.

Melt butter in a pan over medium heat. Add onions & the remaining spice mix. Cook for 15 minutes.

Sprinkle flour over onions, add tomato puree & water. Stir well & leave to simmer until slightly thickened.

Remove from heat & season with salt.

Place chicken in in baking tray & roast in the oven until cooked.

When the chicken is cooked, add to the sauce base together with coconut cream & lime juice.

Simmer for a few minutes & then add chopped coriander last.
For the Seeded Basmati
Heat oil in a large frying pan.

Add the rice & toss while toasting for a few minutes.

Add the remaining ingredients & stir to combine.
For the Red Onion Salsa
Mix all the ingredients together & serve separate.