Great for Sunday brunch with company, or even when there is no one else around to enjoy it with, this Smoked Salmon & Green Veggie Egg Frittata with Danish Feta is the perfect balanced and flavorful brunch!
What Is an Egg Frittata? 
An egg frittata is originally an Italian dish that is made from an egg base, similar to an omelet. Some egg frittatas can be baked, similarly to a quiche. This egg frittata recipe consists of a layer of whisked eggs, ricotta, feta, and parmesan, along with vegetables such as zucchini, broccoli, spinach, and peppadews. This mixture is poured into a baking dish, topped with crumbled feta, and baked in the oven.
A Great Way To Start Your Morning 
This egg frittata dish is a delicious way to kickstart your morning and get your protein and vegetables in. It is filled with protein from the smoked salmon and eggs, and the veggies include multiple vitamins and minerals such as vitamin C, A, and E. The frittata has a thick and creamy texture, and the feta adds a rich and savory flavor. This dish does not consist of any meat, making it pescatarian, but feel free to add even more protein with the addition of some pan-fried crispy bacon bits or some Italian sausage. You can add the smoked salmon into the actual frittata, or you can serve it on the side with some fresh hollandaise sauce made from egg yolks, butter, and lemon juice. Feel free to spice the egg mixture however you please before baking it in the oven!  
This egg frittata dish with smoked salmon is the perfect way to get all of your food groups in first thing in the morning, and the kids will love it too, which means no fighting your children on those last few morsels of broccoli…it is a win win!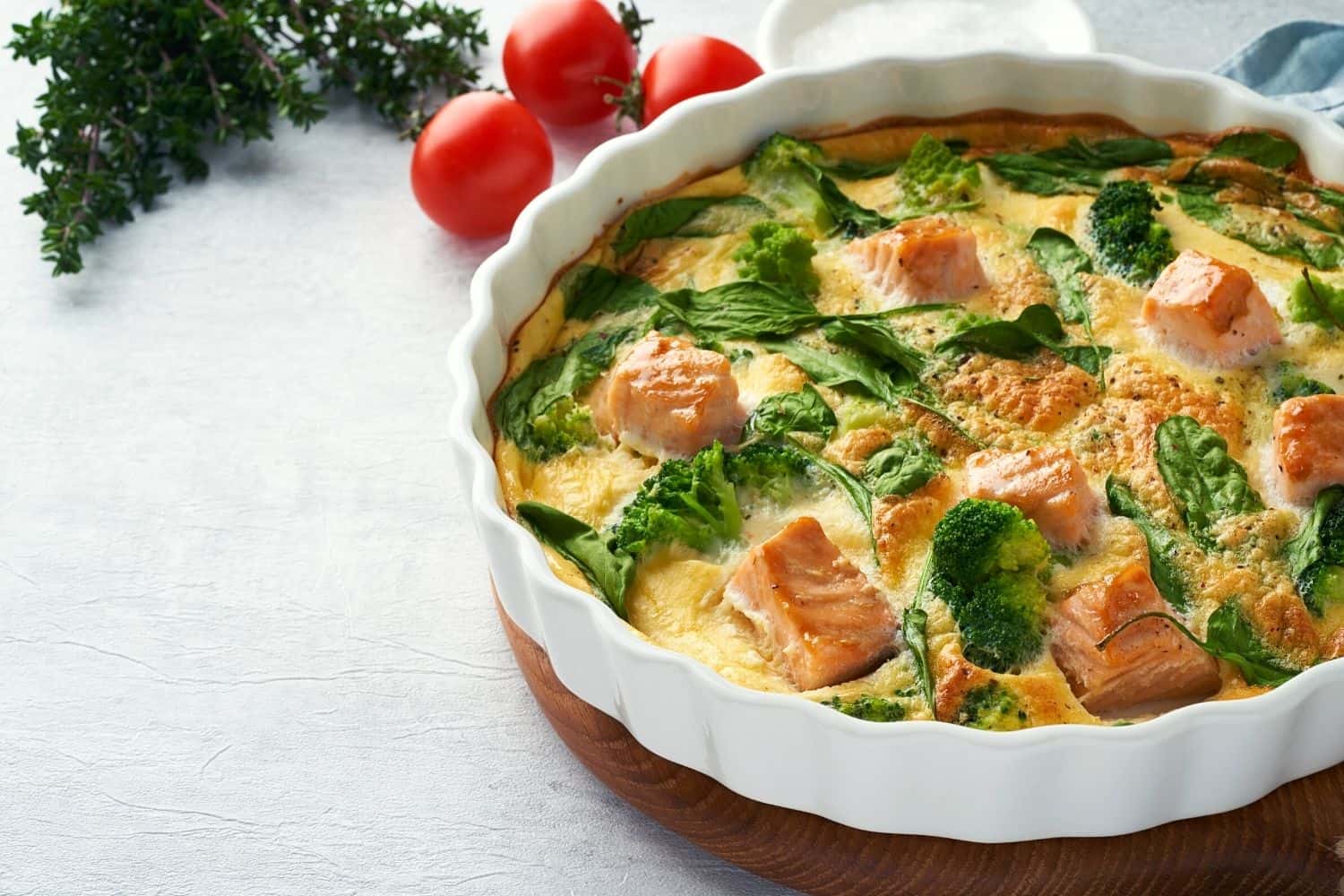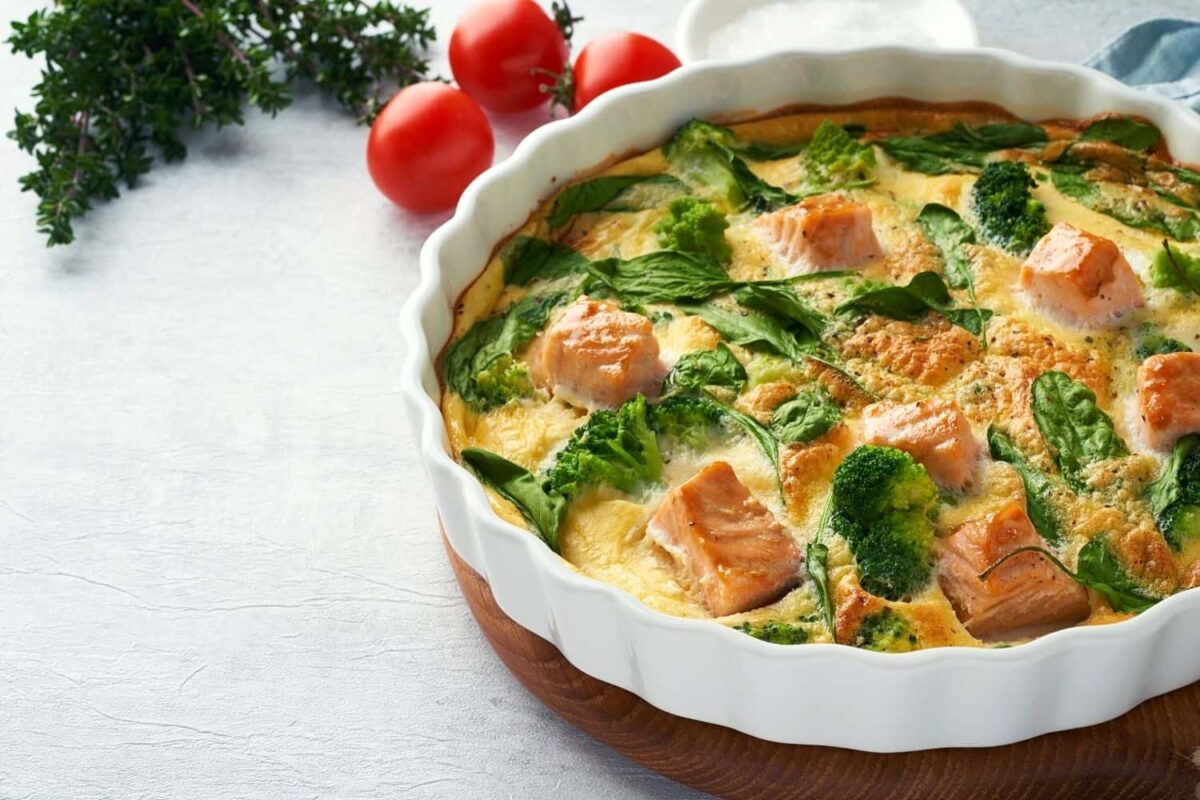 Ingredients
30

g

Baby Spinach

15

ml

Olive Oil

3

g

Garlic

Chopped

50

g

Zucchini

Sliced

50

g

Broccoli

Blanched

5

ml

Lemon Juice

3

Egg

15

g

Ricotta Cheese

Crumbled

35

g

Danish Feta Cheese

Crumbled

10

g

Fine Parmesan Cheese

2.52

g

Chives

Chopped

10

g

Pepperdew

Chopped

80

g

Smoked Salmon

Roughly chopped
Instructions
Place spinach in a bowl, cover with boiling water & let stand for 30 seconds. Trasfer to ice water to refresh then drain & squeeze out excess liquid. Coarsely chop.

Heat oil in frying pan, add garlic & zucchini. Fry until fragrant & bright green. Add lemon juice & cook out all the liquid. Set aide & leave to cool.

Whisk eggs, egg whites, ricotta, feta & parmesan together. Add zucchini mix, spinach, peppadews & chives.

Pour into serving dishes, top with crumbled feta & bake @ 180'C for 20 – 25 minutes until set.