A wholesome dish that is perfect for family meals, this Chicken Schnitzel with Mushroom Sauce, Roasted Butternut and Green Beans is a balanced meal with the crispiest golden fried chicken breasts, served with a creamy and savory mushroom sauce and roasted vegetables.
The Process of The Chicken Schnitzel 
A schnitzel is originally a German dish, that is made from pounded and therefore, thinned meat, which is crumbed in a combination of flour and spices, egg, and breadcrumbs. It is fried until golden and of a crispy texture. The meat itself is tender due to its thinness. Schnitzel can be made with pork, chicken, lamb, beef, and many other meats such as mutton and turkey. For this dish, chicken is used, resulting in a classic chicken schnitzel served with mushroom sauce. This chicken schnitzel recipe only requires a shallow fry which can be done in a pan, so fret not if you don't have a deep fryer on hand! 
Loved By All! 
This dish is popular amongst all age groups, with kids eating it with mash and beans, and adults sprucing it up with some extravagant sauces, and savory roasted and caramelized veggies. It is sure to be loved by the whole family, and is perfect for family dinners.
This dish is a full, well-balanced meal on its own, and doesn't require any sides. However, if you would like to add some potato in the form of hand cut chips or potato wedges, go for it!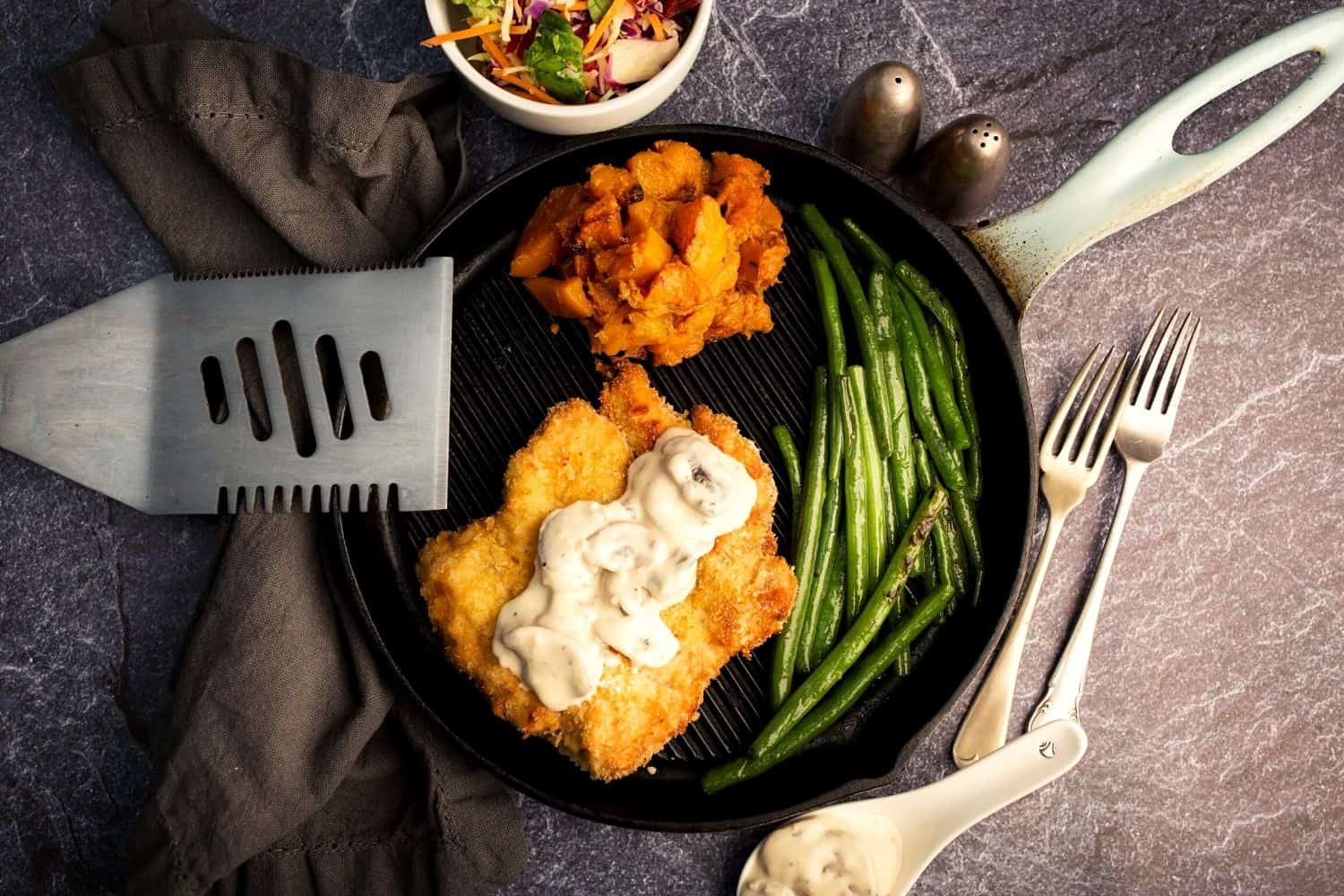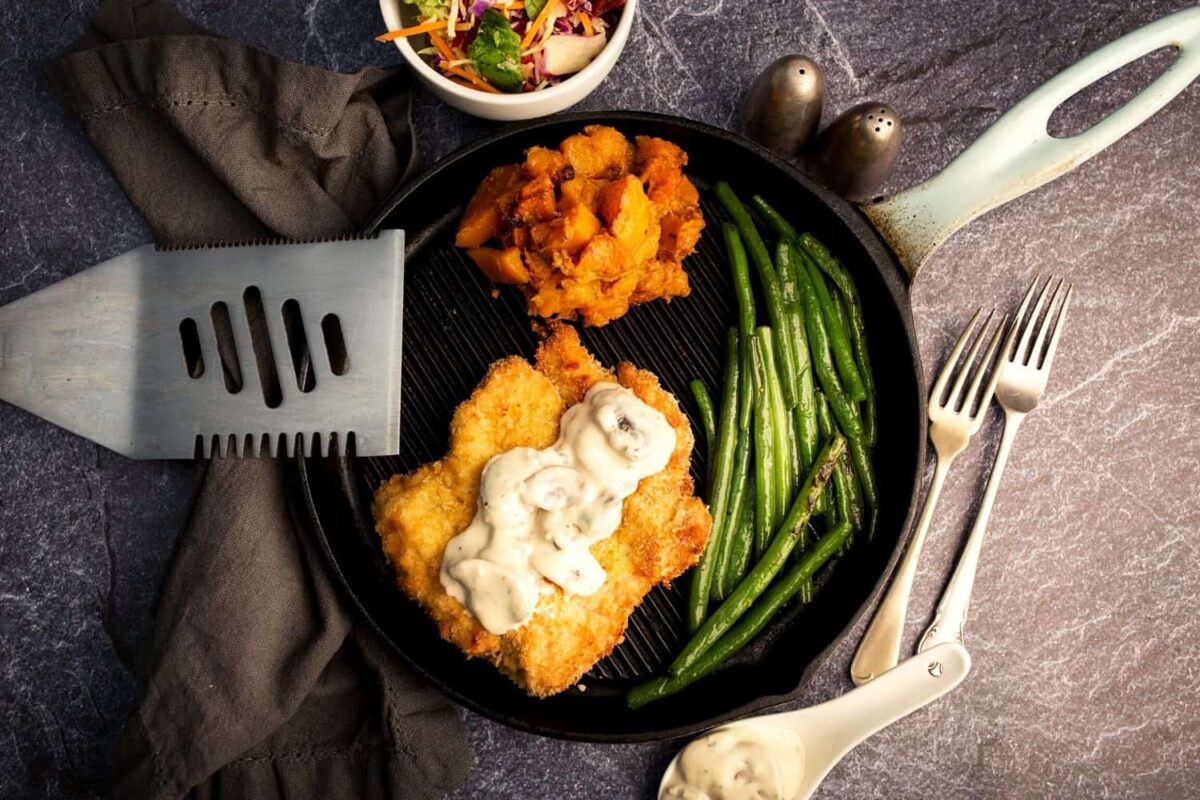 Ingredients
To Crumb
2

g

Paprika

1

g

Oregano

25

g

Cake Flour

1

Egg

25

g

Breadcrumbs
For the Mushroom Sauce
75

g

Button Mushroom

Sliced

1

g

Fine Salt

1

g

Fine Pepper

3

g

Garlic

Chopped

30

ml

White Wine

60

ml

Cream

8

g

Parmesan Cheese

1

g

Thyme

5

g

Cake Flour
For the Roasted Butternut
250

g

Butternut

Cubed

5

ml

Olive Oil

1

g

Ground Cumin

1

g

Rosemary

0.125

g

Chilli Flakes

3

g

Treacle Sugar

1

g

Fine Salt
For the Green Beans
90

g

Green Beans

Top and tail

5

ml

Olive Oil

1

g

Fine Salt

1

g

Fine Pepper
Instructions
For the Schnitzel
Combine paprika & flour in a bowl. Combine crumbs & mixed herbs in a separate bowl.

Dredge chicken breast in flour then egg then dip in bread crumbs. Make sure to coat the chicken properly.

Shallow fry in olive oil until golden. make sure your oil is boiling hot.

Continue cooking your schnitzels in the oven at 180° Celsius until cooked through for approximately 20 minutes.
For the Mushroom Sauce
Heat oil & butter in a pan/pot over medium heat. Add mushrooms & cook until golden brown.

Add garlic, salt & pepper. Cook for 1 minute.

Add white wine & deglaze pan for 1 minute.

Add chicken stock, cream & parmesan cheese. Stir then reduce heat & leave to simmer. Stir occasionally.

Stir through thyme & taste for seasoning. Serve separate.
For the Roasted Butternut
Place butternut in a bowl. Add the remaining ingredients & toss to coat.

Arrange on a baking tray, in a single layer, then roast in the oven on 180° Celsius for 20-30 minutes until cooked & caramelised.
For the Green Beans
Heat olive oil in a pan, add garlic & blanched green beans. Fry for a few minutes.

Add lemon juice & seasonings. Cook until liquid has evaporated.