Chicken Pot 'o' Noodles are a popular quick and easy microwave meal that has been widely loved by students due to their convenience and tastiness. This Chicken Pot 'o' Noodles is a homemade version of the original with far more nutritional value and fresh flavors. If you are a fan of the original, or a fan of noodles in general, these are most definitely worth a try!
What's In the Chicken Noodle Pot? 
This Chicken Pot 'o' Noodles consists of chicken breast pieces, crunchy vegetables such as onions, julienned red and green peppers, shredded red and white cabbage, and julienned carrots. The chicken pot noodles consist of an Asian inspired sauce that is made from soya sauce, oyster sauce, mirin, and seasoned with coriander, garlic, and ginger. The soya sauce adds a savory flavor, while the mirin and oyster sauce add a sweetness to the sauce. These flavors complement the savory chicken and vegetables perfectly! 
So Easy to Make!
These noodles are separated into three different parts that need to be prepared- the cooking of the chicken breasts as well as the cooking of the veg, and the creation of the sauce. All of the steps are relatively simple and don't take long to do. The chicken breasts are seasoned and fried, the vegetables are friend until cooked yet still crunchy, and the sauce is created by simmering all of the ingredients in a pot until cooked and thickened. Once this is done, the ingredients can be combined in a wok– first the chicken, second the veg and noodles, and third the sauce- and ready to serve in minutes!
These noodles are perfect for a quick and convenient main course, and can be served on their own. They are both nutritional and delicious, and are perfect for the whole family to enjoy!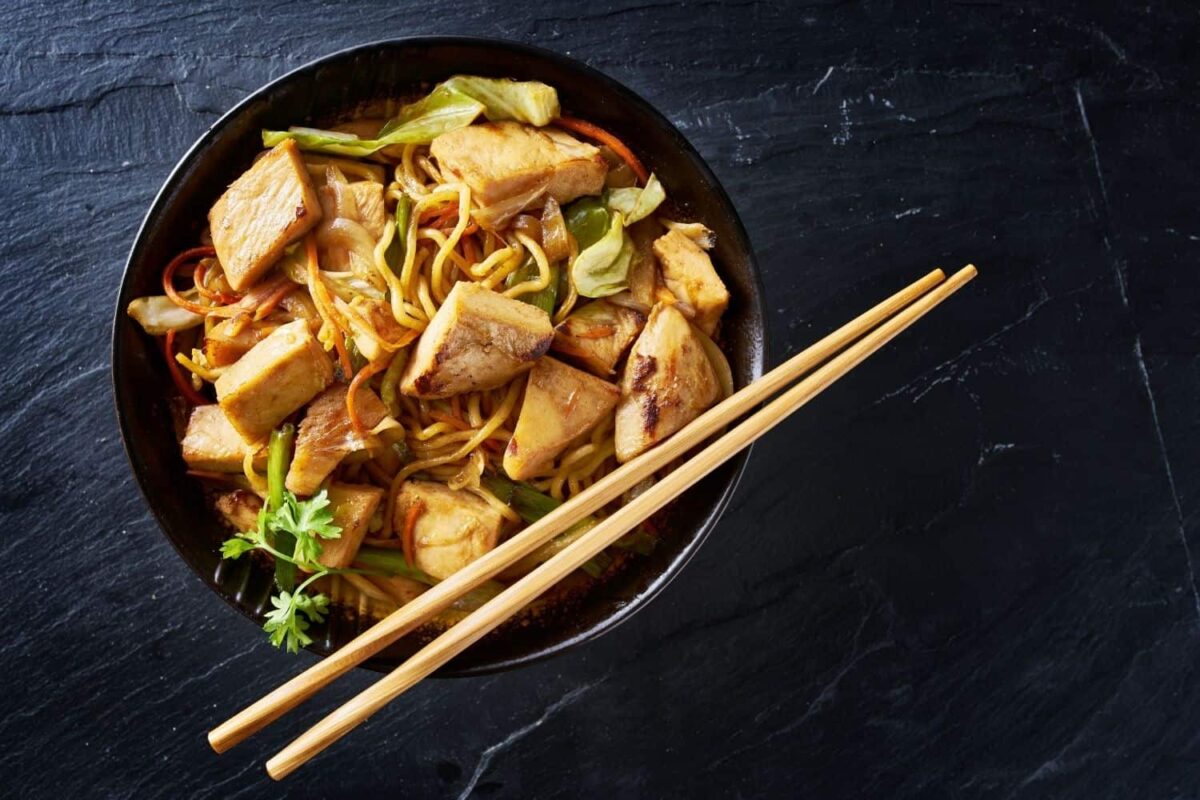 Ingredients
For the Sauce
10

ml

Soya Sauce

1.6

ml

Oyster Sauce

3

ml

Mirin

1

g

Coriander

Finely chopped

1

g

Garlic

Chopped

0.75

g

Ginger

Chopped
For the Crunchy Veg
7

g

White Onion

Sliced

15

g

Red Cabbage

Shredded

15

g

White Cabbage

Shredded

15

g

Carrot

Julienne

15

g

Red Pepper

Julienne

15

g

Green Pepper

Julienne
For the Chicken
0.25

g

Tumeric

0.25

g

Fine Salt

50

g

Chicken Breast

Strips
Remaining Ingredients
1

g

Bay Leaf

30

g

Egg Noodles

Cooked al dente

5

ml

Olive Oil
Instructions
For the Sauce
Fry coriander, ginger & garlic in olive oil over low heat for 3 minutes.

Add remaining sauce ingredients, bring to a boil & cook for 5 minutes
For the Crunchy Veg
Heat oil in a large frying pan. Fry all veg until cooked, with a crunch.
For the Chicken
Heat oil in a large frying pan. Brown chicken strips & season with salt & pepper.
To Finish
Heat oil in a wok/large frying pan.

Add meat & fry for 1 minute.

Add egg noodles & crunchy veg to the meat. Continue cooking for a few minutes.

Pour in sauce & continue cooking for 2 minutes while stirring to combine.