Pork Stir Fry is one of the best recipes to follow when you have to satisfy your hungry crew and you don't have the mood to go for heavy and time taking cooking.
This recipe is so simple and easy that you can make it using anything, literally anything, you can make simple pork stir fry or you can add any sauce to spice up the dish and you can also combine it with any vegetable of your choice to serve the dish with 100% nutrients.
You can serve this as the main course or as a side dish, it will definitely impress your audience no matter how it is served or what it is served with.
Thinking about the healthy side of the dish, this meal includes high proteins and a little fat, and the rest is depended on what it is served with.
To make this dish, you don't even need to go out and do shopping which means it's a wallet-friendly dish. Meanwhile, you can wrap this up with anything and everything available in your cabinet, or even make use of other leftovers you already have in the fridge.
You can make it sweet and spicy or keep it a little light, it all depends on what you want for dinner and how much time you are willing to spend on cooking.
You can easily cook this dish in 15 mins or drag it up to 1 hour if you keep adding different flavors.
Personally, I prefer it light and nice. You know the simple and tasty dinner is all you need on a super tiring day and when it's your kitchen duty you need things to not get messy therefore this pork stir fry is a delightful option.
To be more precise about this recipe, I would say that it a blessing and absolutely delicious to satisfy the craving for a healthy meal.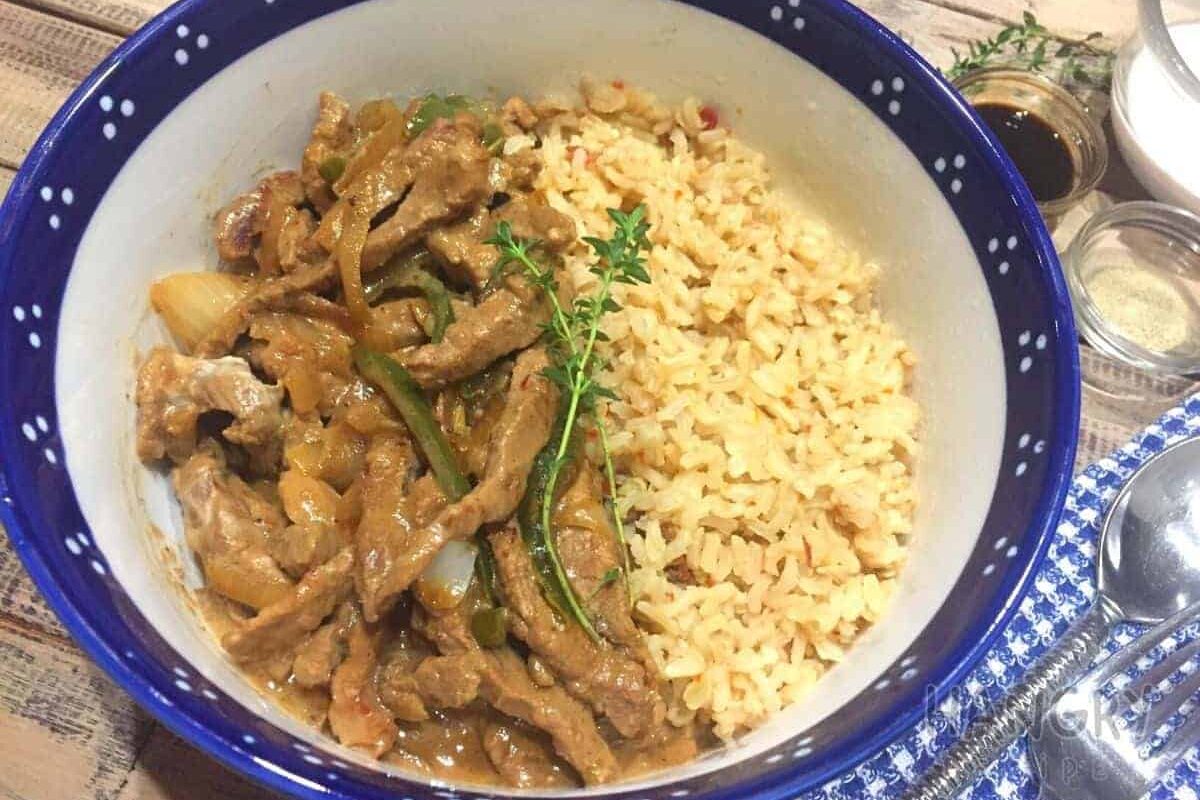 Ingredients
500

g

Pork strips 

you can also use Beef

1

green pepper

deseeded and sliced

1

large

onion

halved and sliced

2

cups

yoghurt

Greek or plain

5

tbsp

soy sauce

2

tbsp

white pepper

Coconut oil for frying

Fresh thyme for garnishing
Instructions
Heat coconut oil in a large wok or skillet over medium-high heat, stir-fry beef strips until browned, 3 to 4 minutes.

Add all the other ingredients, mix well, place lid on and cook for about 5 to 10 minutes.