When you hear pie, something sweet pops up in your head but our Cottage Pie is not the traditional sweet pie, it is the best variety of pie for people who don't really like sweet in their meal.
Cottage pie is no doubt a crowd pleaser and you can easily wrap up your family dinner using one cottage pie served as a main dish. Cottage pie can be a family binder because you can ask for your little ones to help you finish the dish, this will give you a little relief and yummy time with your loved one making this super delicious dish.
This recipe is the perfect mix of potatoes and meat. The soft and mushy layers of potatoes over the juicy and tender meat is an absolute duo anyone would love.
Full of healthy proteins from meat and starch from potatoes make the dish really healthy as well as rich in nutrients while maintaining the superb taste of the dish.
We can keep listing the benefits of this dish but in one word it's magnificent! Whether you are making this recipe for a family dinner or a side snack to your meal, it will rock the stage and gain you all the applause. Your guests will surely feel it is simply amazing and wonderful in all aspects.
The super mixture of meat and vegetables in the gravy topped with mushy potatoes is the ideal package one can ask for, it has taste, it has health, it has all the required nutrients, and it is not that difficult to make. So, collectively it is a win-win deal to put together the cottage pie for your loved ones.
Cottage Pie is a little different from the Pie we imagine but no everything different is bad because this cottage pie is the sincere example of being the best different.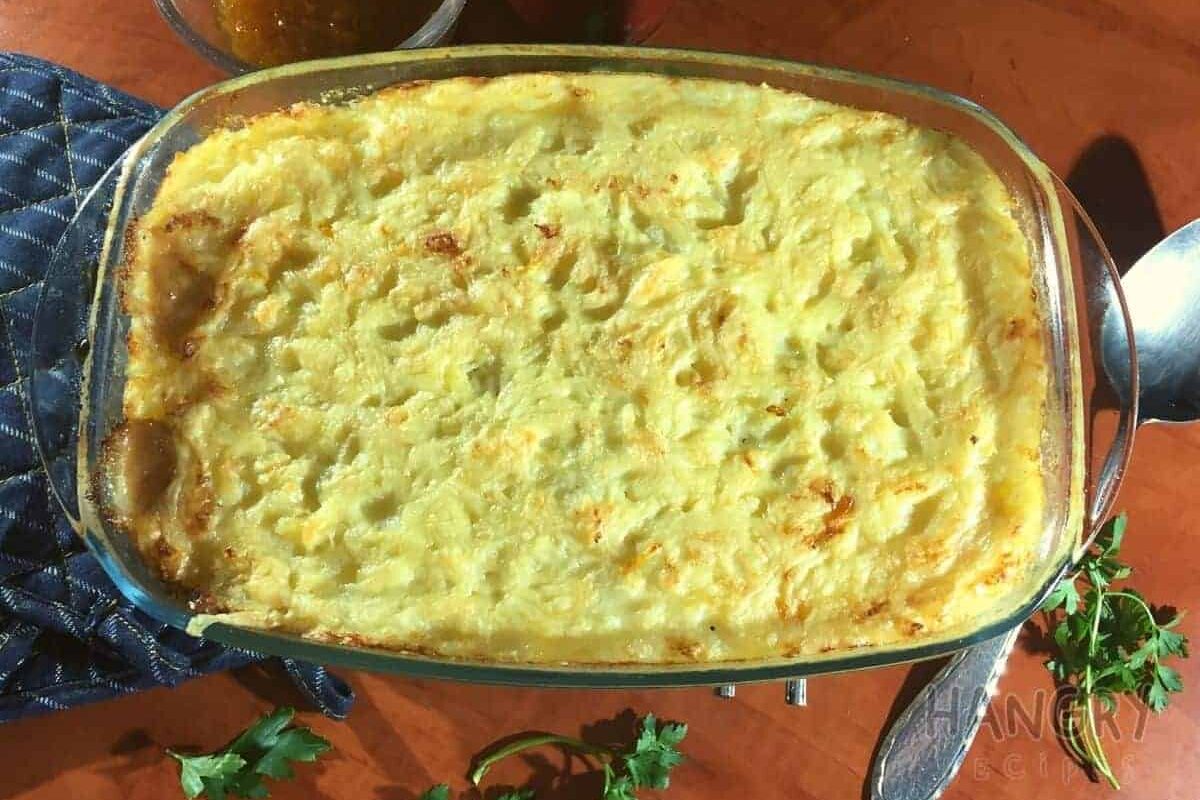 Ingredients
2

tbsp

vegetable oil

1

large

onion

½

tsp

dried thyme

1

tbsp

Worcestershire Sauce

1

tbsp

Bisto 

1 ½

tsp

grated nutmeg

1

egg yolk

1 ½

tsp

salt

1

cup

grated cheddar cheese

500

g

beef mince

⅓

cups

flour

2

cups

water

2

tbsp

beef stock

¼

cup

cream

4

tbsp

butter

½

tsp

white pepper
Instructions
Heat oil in a large saucepan on medium to high heat and sauté onions until light brown

Add the mince and cook until no longer pink, about 5 to 6 minutes.

Stir in the four, add seasoning, sauces, the water that has been mixed with the beef stock and dried thyme. mix well.

Reduce the heat and simmer for about 45 minutes. The meat must be tender.

Transfer the meat mixture to a well-prepared oven dish.

Preheat oven to 180°. Place potatoes in a large pot and cover with cold water. Cover pot and bring to a boil. Lower heat; simmer until tender, 20 to 25 minutes. Drain potatoes and mash them.

Combine nutmeg, cream and egg yolk with butter, salt, and pepper. Mix into mashed potatoes.

Add the potato mash on the mince, spread evenly with a fork. Sprinkle with the cheese.

Place in preheated oven for 35 minutes.