Lamb is an extremely flavourful and versatile meat that can be used in a multitude of ways, such as this crunchy lamb meatballs recipe!
As an Eastern Mediterranean meal that features crispy and crunchy coated lamb meatballs, dipped in a smooth and silky yellow yoghurt sauce, this dish is full of flavour, texture, and succulence!  
Lamb is a particularly flavourful and tender meat, and is considered one of the healthiest meats you can eat. Lamb contains a high amount of essential amino acids such as lysine, which is responsible for boosting our immunity, and L-carnitine, which helps convert fatty acids into energy, enabling a fat burning effect. Lamb is also a great source of vitamins such as vitamin B1, B2, which are responsible for boosting metabolism, and vitamin E, which helps promote healthy cells and healthy skin. Lamb is low in calories and promotes fat burn, and is an unsaturated fat which is considered a "good fat".  
These crunchy lamb meatballs are paired with a yellow yoghurt sauce which is made from Greek yoghurt, chicken stock, orange juice, cucumber, and turmeric spice. The turmeric is a great choice for the yoghurt as it is an extremely healthy spice that is a powerful antioxidant and also acts as an anti-inflammatory. It also gives the yoghurt its lovely bright yellow colour.  
This dish can be enjoyed as an appetizer or as a main meal. It is a great meal option if you are looking to expand your cooking horizons and take on a new and exciting global cuisine type!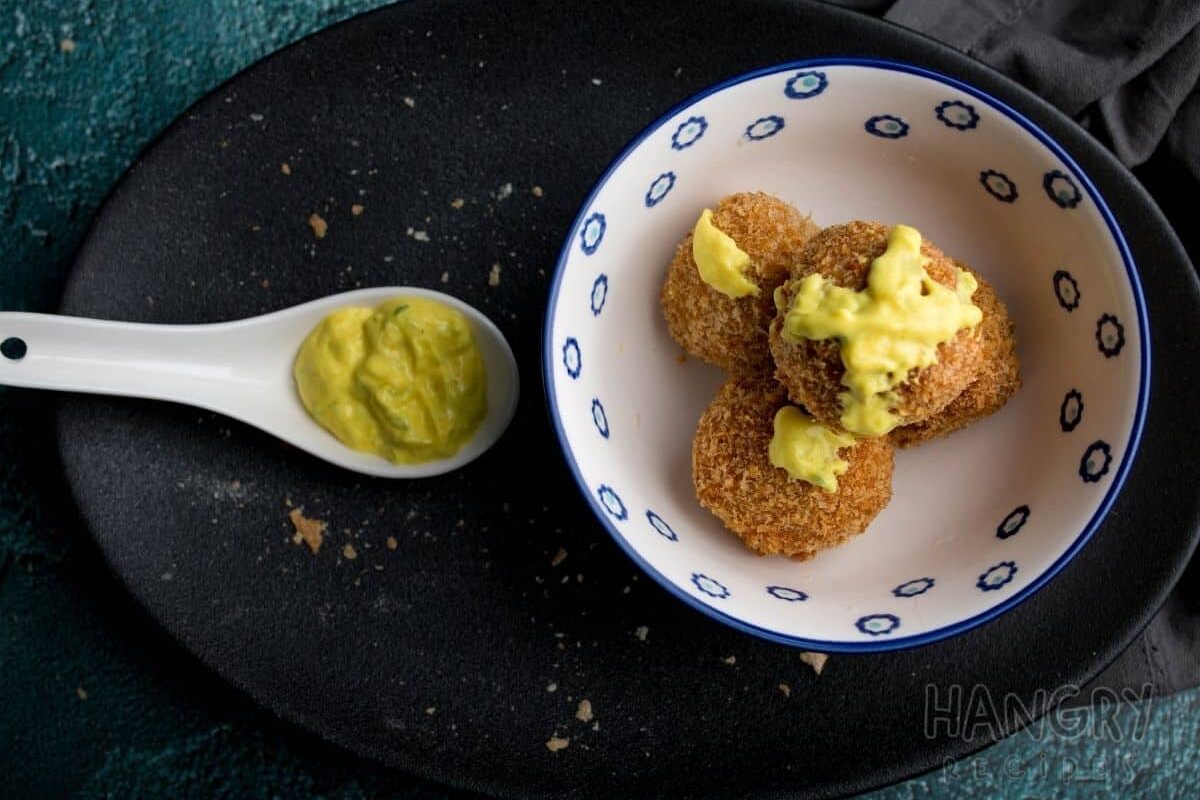 Ingredients
For the Lamb balls:
40

g

Lamb

goulash

0.5

g

Spice: mustard seeds

0.25

g

Spice: garam masala

0.25

g

Spice: cumin, whole

1

g

Spice: turmeric

10

ml

Olive Oil

blend

5

g

Rice Vinegar

125

ml

Water

40

g

Rice

10

g

Mozzarella Cheese
To crumb the balls:
5

g

Cake Flour

0.5

g

Egg

10

g

Breadcrumbs

panko

5

g

Coconut

desiccated
For the yellow yogurt sauce:
15

ml

Greek Yogurt

50

ml

Orange

0.25

g

Stock: Chicken

2.5

g

Cucumber

0.5

g

Spice: turmeric
Instructions
For the Lamb balls:
Rub lamb shoulder in spices. Heat oil in a large pot & brown meat on all sides.

Add tomato paste. Stir to coat lamb in spices & paste.

Deglaze the pot with boiling water, cover & leave to simmer until the meat is tender.

Remove lamb from liquid & shred.

To make the balls, combine rice, shredded meat & cheese together. Use a little hot water to make the mixture sticky if necessary.

Divide into 30g (should be around 5..) portions & roll into balls. Freeze to set before crumbing.

To crumb, dip the balls into flour, then eggs then panko & coconut mix.

Deep fry in hot oil until golden.
For the yellow yogurt sauce:
Mix all the ingredients together & taste for seasoning.