Sicilian dishes usually have a unique blend of flavors and ingredients that serve as distinct combinations, giving not only a distinct taste but aroma too! Would you like to be able to cook a trendy meal? This could be for a special occasion, family dinner, or a gathering with friends. Get ready to impress your friends and family after trying this Sicilian Cauliflower and Chickpea Stew dish with Sun-dried Tomato Couscous!
This recipe takes approximately under 1 hour to get ready so it can be a perfect choice for a distinct, yet quick meal! All the ingredients are easily available and affordable so you can buy them to cook this special dish.
This chickpea stew dish is absolutely flavorful and aromatic, with deep flavors, a range of colorful ingredients, as well as an assortment of vegetable additions you can add in!
The spices including cinnamon, dried fruit and even couscous will give you Mediterranean vibes.
… and Healthy too!
This blended dish also has its benefits due to its versatile ingredients. Cauliflower is abundant in almost every mineral and nutrients. It is high in fibre, antioxidants, as well as choline. It thus aids weight loss, fights inflammation, as well as supports important body functions such as digestion. Chickpeas are rich in protein and hence are an excellent alternative to meat. They also are moderate in calories too. However, their protein and fiber content can help you feel full and thus control your appetite. This helps with weight management, supports blood sugar control, and the use of chickpeas is generally very budget-friendly! Tomatoes have ample Vitamin C levels. They support a healthy heart, vision, digestion, as well as healthy skin. In addition, tomatoes can help manage diabetes and prevent cancer.
Whether you are trying this Chickpea Stew recipe for its unique taste, the blend of different ingredients, or for a new dish to try, this recipe will surely give you a fun experience.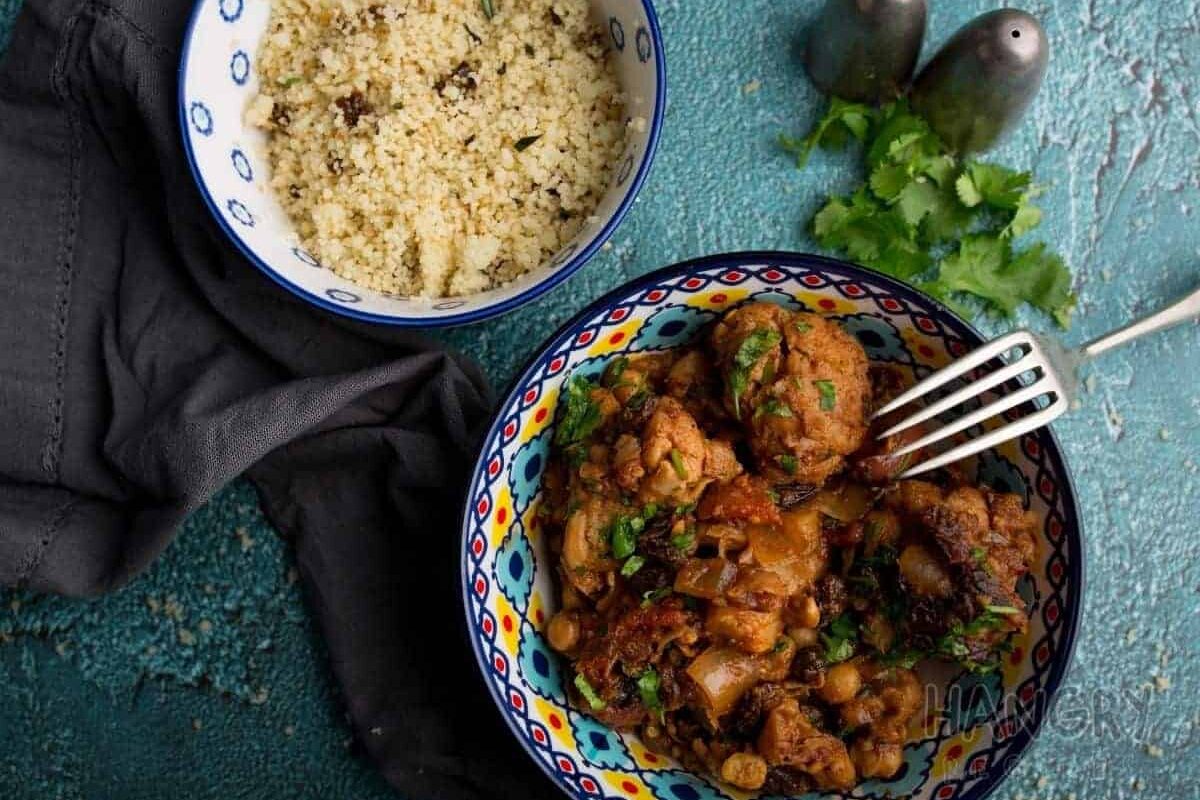 Ingredients
For the stew:
25

g

White Onion

Finely chopped

170

g

Cauliflower

15

ml

Olive Oil

1

g

Spice: Chilli Flakes

1

g

Spice: Salt

fine

1

g

Spice: Pepper

course

5

g

Herb: Parsley

Finely chopped

2

g

Garlic

chopped (Minced)

½

g

Spice: Cinnamon

ground

12

g

Olives

Kalamata (Pitted & chopped)

8

g

Dried Fruit: Raisins

200

g

Tin Tomato

whole peeled (Broken up coarsely)

125

g

Water

200

g

Tin Chickpeas

Drained (Keep liquid for aqua faba)
For the couscous:
75

g

Couscous

25

g

Sun-dried Tomatoes

chopped

2

g

Herb: Rosemary

chopped

1

g

Stock: Vegetable

110

ml

Water

for the stock
Instructions
For the stew:
Heat half of the olive oil in pot over medium heat, then add onion, cauliflower, chilli flakes & seasonings.

Cover with a lid & cook for 15 minutes until cauliflower has softened, stirring regularly, adding some water if needed. Remove from heat & set aside.

Heat the remaining olive oil in a separate pot. Add garlic & cinnamon, cook for 1 minute until lightly golden.

Add olives & raisins & cook for a few minutes.

Add whole peeled tomatoes, water & chickpeas. Season & let it cook for 15 minutes.

Once the tomato & chickpea stew has thickened, stir in cauliflower mix.
For the couscous:
Place couscous, sundried tomato & rosemary in a bowl. Add boiling veg stock & cover with plastic wrap.Set aside for 5 minutes until the liquid has been absorbed.

Fluff the couscous with a fork & serve with cauliflower stew.