Although vegetables are an important part of a healthy, balanced diet, they are not always easy to eat especially if you are not used to incorporating them into your daily routine. Can't convince yourself to eat a salad? Do you want to use an easier and appealing way to add vegetables into the meals for yourself, friends or family? A stir-fry can definitely solve this ordeal! Get ready to evaluate your stand on vegetables after trying this easy Beef & Cabbage Stir-Fry recipe.
This recipe takes approximately 30 minutes to get ready so it can be a perfect choice for a healthy meal! All the ingredients are budget-friendly and so this dish is an easy one to incorporate into your lifestyle.
The recipe is highly customizable as well. If you do not prefer to use beef you can replace it for other meat sources such as pork or turkey. You can also choose to add other vegetables to make the dish more colourful – some ideas include adding carrots, mushrooms, bell peppers, broccoli or corn.
If you would like to include this dish alongside other food choices, you can serve it with soups, salads, steamed or fried rice, or noodles.
… and Healthy too!
The benefits of this delicious combination of beef and cabbage are very alluring. Cabbage is low in calories but enriched with essential vitamins. It is additionally a source of fibre, iron, potassium, magnesium, and folate alongside other important nutrients. It can help the body fight inflammation.
Alongside the cabbage in this recipe, beef is also a great healthy addition as it contains master antioxidants, high protein, and minerals. Moreover, it contains creatinine which can support your performance.
Whether you are interested in eating more vegetables, are looking for ways to make it easier to eat vegetables, or looking for a quick healthy recipe, this dish for Beef & Cabbage stir-fry is worth the try.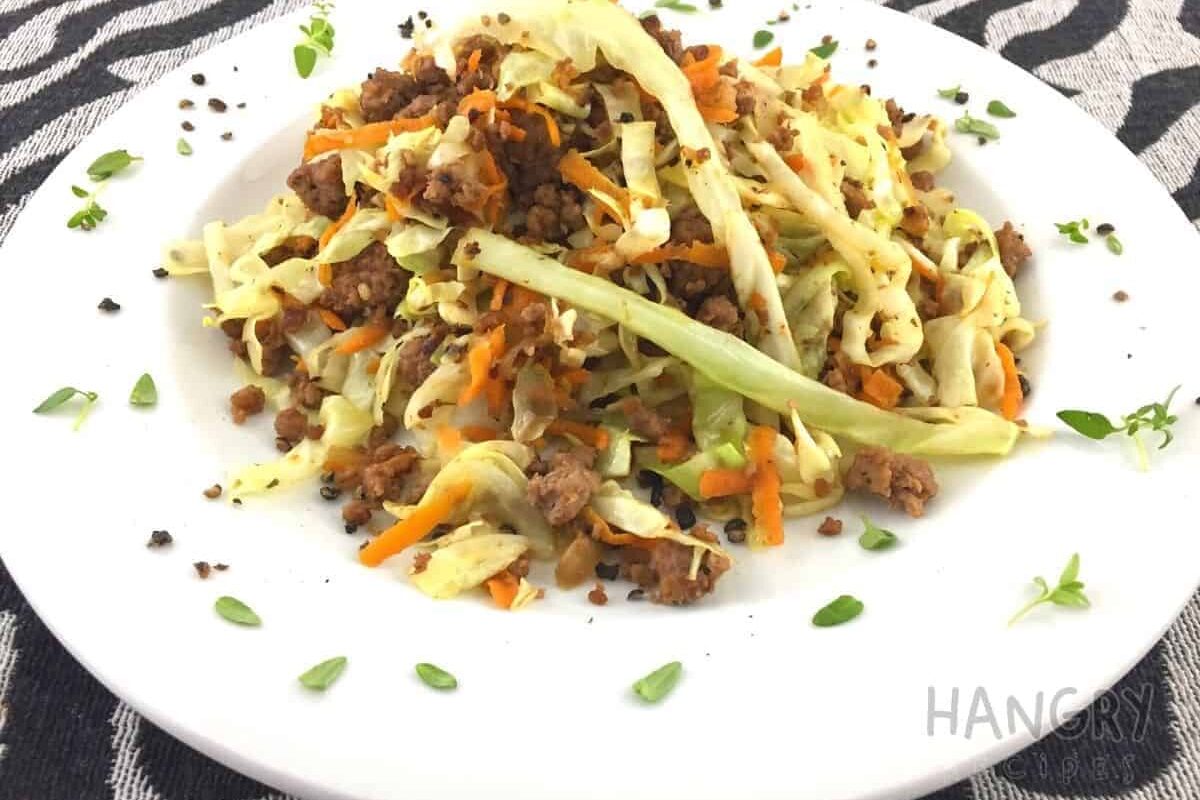 Ingredients
SAUCE
4

tbsp

soya sauce

1

tbsp

brown sugar
STIR-FRY
1/2

green cabbage head

2

carrots

chopped

3

red onions

sliced

2

tbsp

olive oil

extra virgin

500

gram

lean ground beef

3

cloves

garlic

crushed

1

tbsp

ginger

fresh & grated

3

chillies (optional)

chopped

pinch of salt and pepper

dried herbs of your choice

4

green onions scallions (optional)

chopped
Instructions
SAUCE
Prepare the stir-fry sauce first

In a small bowl, mix the soya sauce and brown sugar together
STIR-FRY
Shred the vegetables so they are ready

Cut the cabbage in half, remove the core, and then finely shred the leaves of one half the cabbage, approximately 4-6 cups once shredded

Peel two carrots, then use a grater to grate the carrots

Crush two cloves of garlic

Peel a knob of ginger using either a vegetable peeler or by scraping with the side of a spoon, then grate using a small-holed cheese grater

Heat a large skillet over medium heat

When the mince is golden brown add sliced onions, garlic, ginger, and a pinch of salt and pepper. Cook the beef until browned, approximately 5 to 10 minutes

Add the carrots to the skillet and continue to stir then fold in the cabbage until slightly wilted

Lastly, stir in the prepared sauce

Add the chopped green onions (optional)