Thai fish green curry is a magically recipe as you can cook it under 10 minutes and extend the time up to 1 hour as per your liking and cooking style.
A combination of fish and vegetables seems a little off when we hear but this green curry overweight all the odds and wins the hearts of people who try this combination.
… and Healthy too!
For people who follow strict diet plans, this is a healthy meal as fish meat contains all the vital proteins and vitamins plus it also has omega-3 fatty acids which protect the cardiovascular diseases. And the green vegetable used in this recipe is loaded with anti-oxidant and vitamin k to protect against the odds therefore collectively this recipe is a completely healthy meal.
This curry recipe can be used as a stand-alone meal or you can also use it as a side dish mainly with white rice or couscous. No matter how you present the dish your audience will just love it simply.
Green curry is known to be originated in Asian but with time it evolved and one of the best forms it attains is Thai fish green curry. The curry is amorously called Gaeng Keow Wahnin Thai which translates to "sweet green curry".
For keeping things short you can say that this curry is simply some fish fillets are fried in onions and cooked in coconut milk and curry paste is added to enhance the flavor. The rest of the things are optional and you can choose to add any green vegetable of your choice. This liberty to use any green vegetable makes the curry budget-friendly as well. The longer one debates on Thai fish green curry the more benefits and advantages of the recipe will open up and the fan following of the recipe will keep multiplying.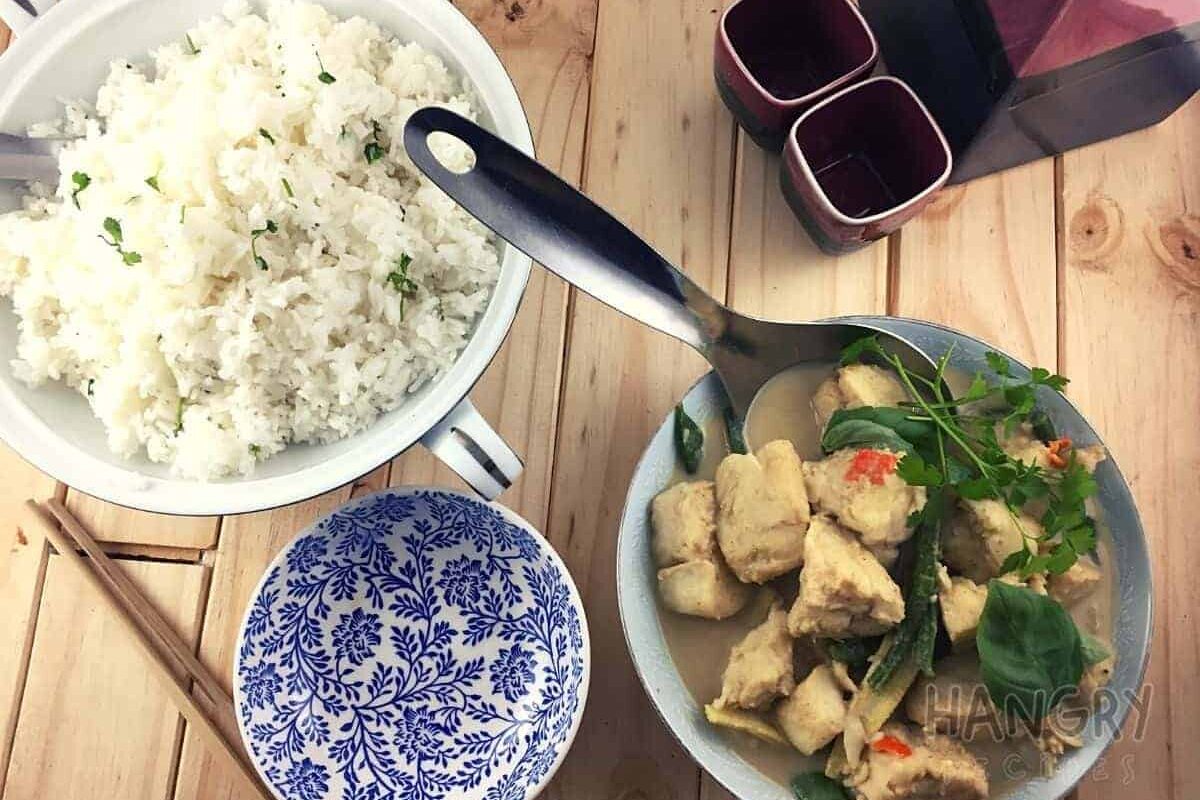 Ingredients
300

gram

Jasmine rice

450

gram

white fish

cubed, if thick it will take longer to cook

2

tbsp

olive oil or sesame oil

1

tbsp

chillies

chopped

3

tbsp

Thai green curry paste

small peas in the pod

to taste

400

ml

reduced-fat coconut milk

tin

1

tbsp

oyster sauce

baby green beans

to taste

3

spring onions

chopped

4

tbsp

coriander

chopped, you can use the stem, it is optional

Small baby corn

halved, to taste

basil leaves

to taste

Lime juice
Instructions
In a large saucepan add boiling water and bring to the boil again on high heat

Add the rice and stir well then return to the boil

Reduce the heat and simmer for 20 minutes

Heat the oil in a large frying pan over medium heat

Add the onions and fry for 3–4 minutes until softening and just starting to colour

Add the chillies, corn, peas, and beans, stir-fry for 2–3 minutes until just beginning to wilt

Add coconut milk, oyster sauce and bring to the boil

Add the frozen fish fillets, reduce the heat, cover, and simmer gently for 15 minutes until the fish is cooked through and the sauce has thickened slightly

Stir the lime juice and half of the coriander into the curry. Add basil leaves before serving. Garnish with coriander leaves

Add basil leaves before serving

Garnish with coriander leaves

Drain the rice and return to the pan to steam for a few minutes then add the remaining chopped coriander to the rice and mix well