If you are looking to create a gourmet roast chicken dish with homemade stuffing, this might be just the thing for you! This Roasted Chicken with Lemon and Stuffing bursts with authentic flavors of oregano, thyme, paprika, cayenne pepper, and tart lemon, while the chicken itself is tender and buttery.
How To Create Chicken Stuffing
Chicken stuffing is actually quite simple. This roasted chicken recipe uses a bread-based stuffing. You will need cubes of bread, an egg, an onion, butter, juice from one lemon, and a few simple spices. Mix all of these ingredients together and the stuffing is done! The stuffing is spiced with oregano, thyme, cayenne pepper, and paprika, making for a flavorful stuffing with a tiny bite! Stuffing is placed into the chicken cavity, but if you wish, you can also stuff filling under the skin where you have rubbed the butter, or you can even stuff singular chicken pieces under pockets cut in the meat!
Important Chef's Tips for Roasted Chicken
Once you have prepared the stuffing, make sure that it cools down before placing it inside the chicken– this will ensure even cooking times. It is also important to only place the stuffing inside the chicken right before it goes into the oven, as this will stop any kind of bacterial growth. Remember that there is also no need to overstuff the chicken, as it will expand as it cooks.
A perfect dish for a dinner with family or friends as it serves 6. Enjoy this mouthwatering roasted chicken with some extra chicken stuffing on the side, roasted potatoes, some Basmati rice, or a fresh Greek salad.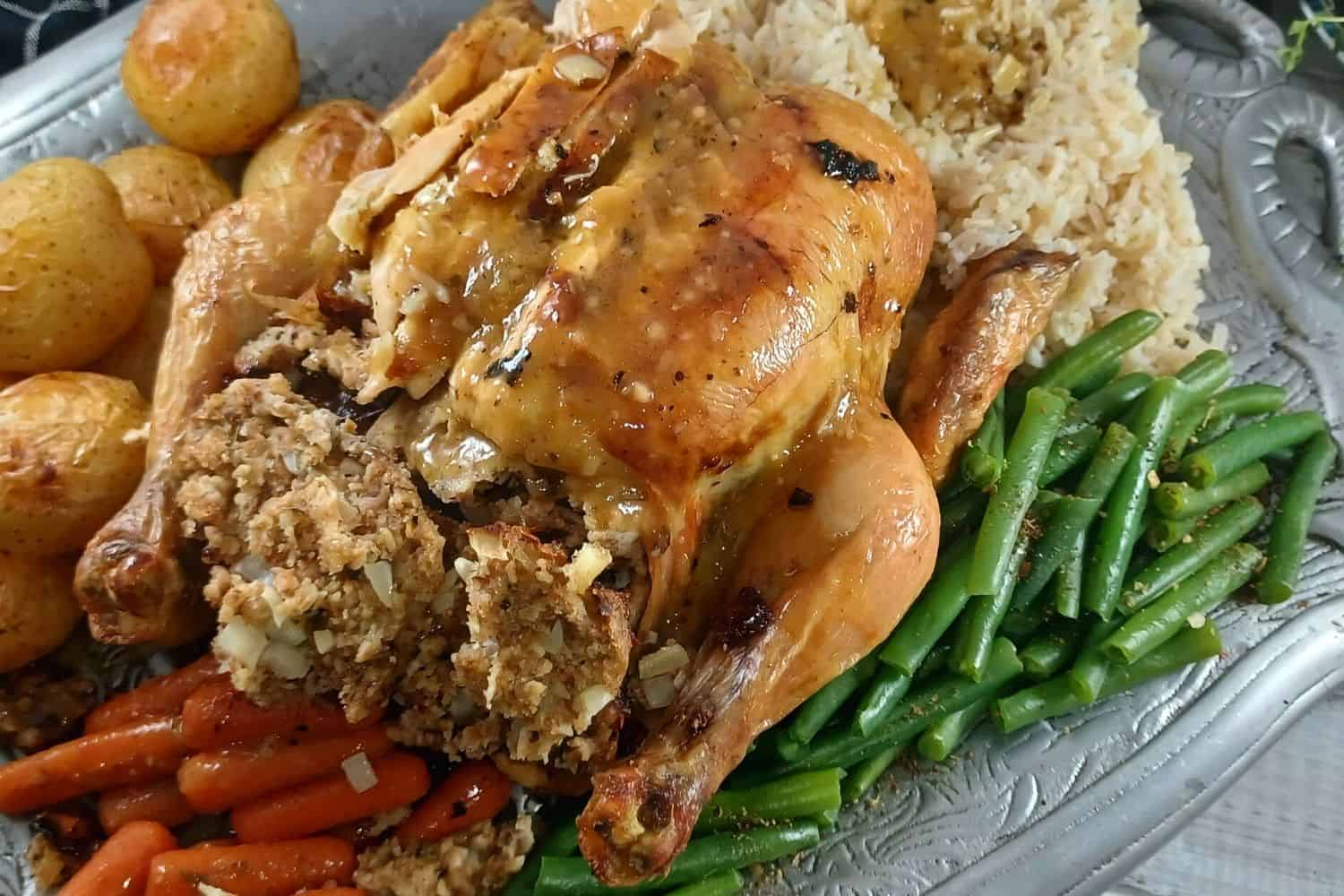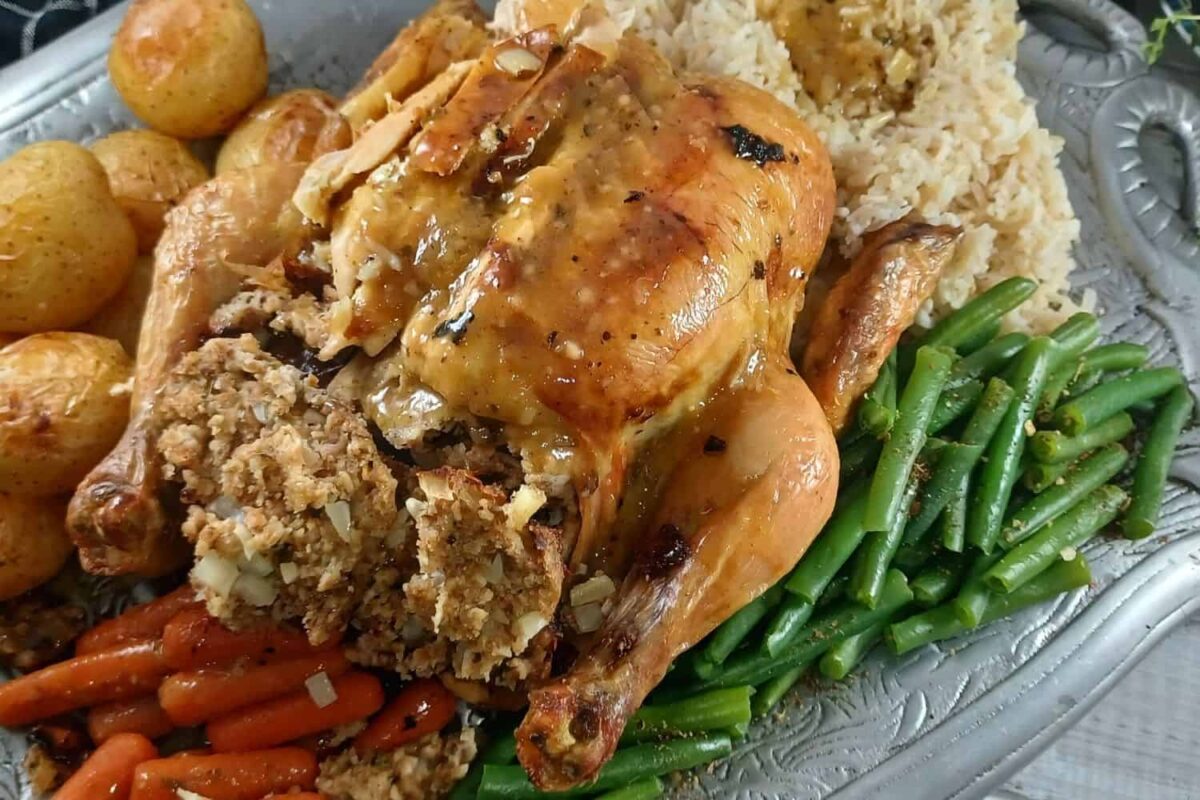 Ingredients
1

whole chicken

1

lemon cut in 4 pieces

2

tbsp

extra-virgin olive oil

Butter
Stuffing 
½

tbsp

salt 

½

tsp

dried oregano 

½

tsp

dried thyme 

1

tsp

smoked paprika 

⅓

tsp

cayenne pepper

2

tbsp

2 tablespoons melted butter (you can add more butter if needed)

slices brown or white bread sliced and cubed.

1

onion – chopped finely

1

egg

Juice of one lemon
Instructions
 Stuffing
In a small mixing bowl, mix together all the above ingredients and set aside.
Chicken
Rinse the chicken and remove the giblet bag, pad dry with a paper towel and place on a plate.

Drizzle the lemon over the chicken.

Seasoning the chicken, using your hands, rub it all over the skin then add extra pieces of butter under the skin, this is to moisten.

Mix the stuffing well and place it inside the cavity of the chicken then using twine, tie the legs together.

Place it in a baking dish or a cast-iron skillet and bake uncovered at 190°C / 375°F for about 90 minutes or more.

The chicken should be crispy on the outside while still being tender and juicy inside.

When chicken is done, it should be cooked through, you can check with a meat thermometer, it should be 73°C /165°F .