Chicken Carbonara pasta is possibly one of the most popular and well-known pasta dishes out there, and for good reason. The dish oozes with creamy chicken and perfectly al-dente pasta, that leaves you feeling warm inside. This recipe is a Chicken Carbonara dish with a healthy twist– cabbage is used instead of pasta, and roasted sunflower seeds are thrown into the mix. This might sound a bit strange at first, but trust us- when cooked well, this dish will be a healthy, tasty, and feasible substitute to an crazily indulgent dish- without any compromise on the flavor!
Wheat and Gluten Free, and Keto Diet Friendly 
This Chicken Carbonara dish substitutes pasta with cabbage, making this dish wheat and gluten free, so it is perfect for those with celiac or other bowel disorders. This dish is also low carb, making it perfect for a ketogenic diet. Cabbage is used to create the "noodles" in this dish. Cabbage is also low in calories, and is a great carrier for flavorful sauces. When cooking your cabbage, if you would like it to have a softer, pasta-like texture, make sure to fry it for a bit longer in the pan until it softens and loses a bit of the crunch.
Guilt-free! 
There is no need to feel guilty about this dish. Usually, Chicken Carbonara pasta dishes can clock in at around 700 calories per portion! While this dish does include cream and cheese, it is still a lot healthier due to the lack of pasta. You can also rest easy knowing that you have included some veg in your dish too!
Sunflower Seeds Are Packed With Goodness 
Roasted sunflower seeds are used in this dish. They are naturally high in protein and rich in healthy fats, as well as antioxidants. They are also a great source of vitamin E and vitamin B1! 
Whether its nutrition or deliciousness that you are looking for, this dish has got you covered!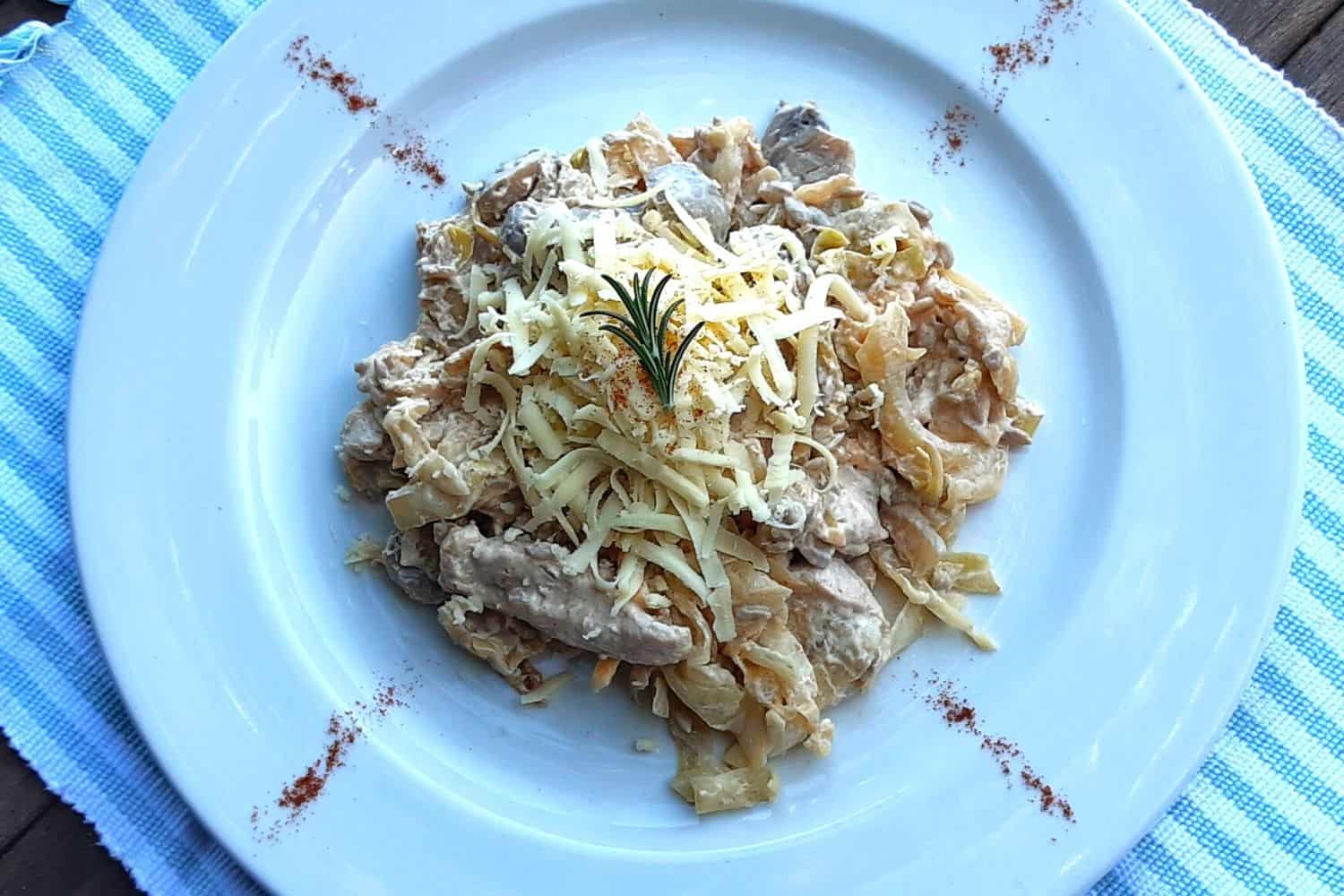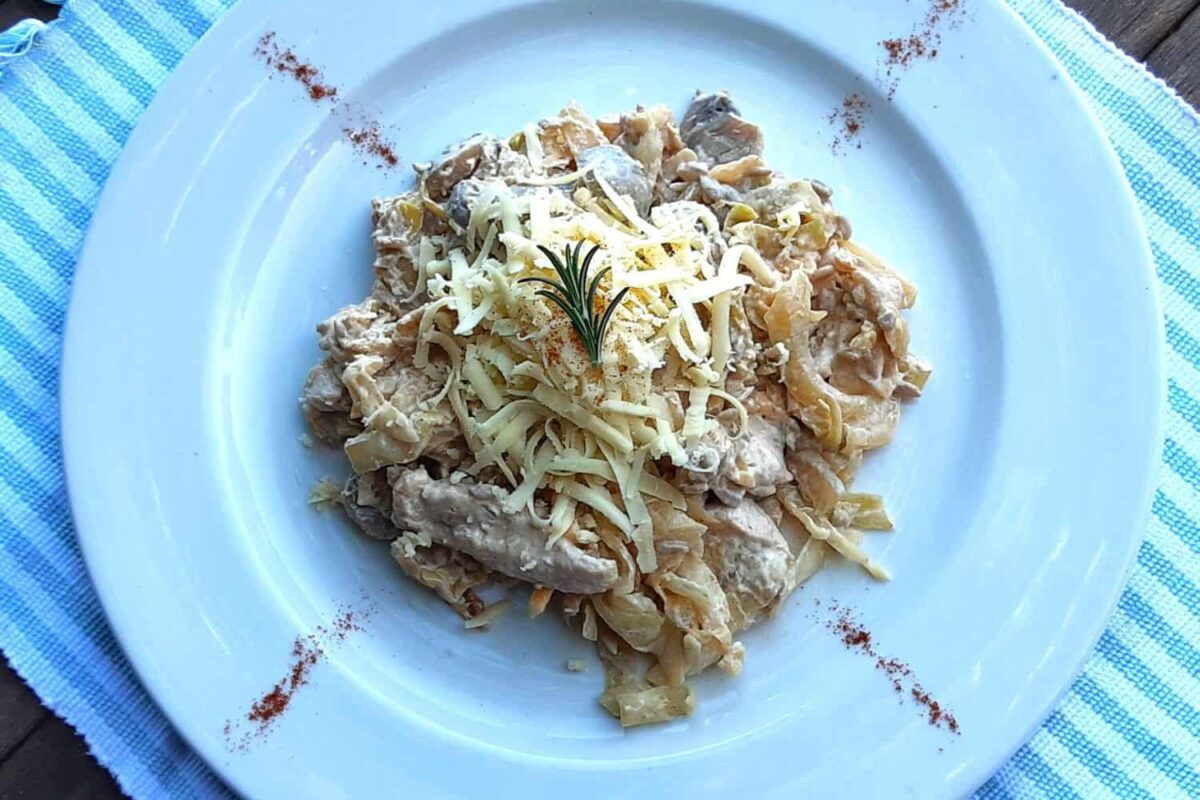 Ingredients
1

cup

sour cream or kefir

1

tsp

cayenne pepper

1

large

Onion

finely sliced

3

cloves

Garlic

finely chopped

400

g

Chicken Breast

cut into strips

250

g

Mushrooms

chopped in half

125

g

Sunflower seeds – dry roasted

(yummiest although the gut would prefer raw)

¼

medium

Cabbage

sliced

½

cup

Gouda

grated
Instructions
Mix the sour cream and pepper together in a bowl.

Dry fry the sunflower seeds until they look and smell roasted.

Fry your cabbage (I prefer my cabbage crunchy but for this meal I cook it well in order to enhance the "pasta like" effect, leaving the crunchy bits for the seeds to master).

Fry the onion and garlic together in a large pot using your choice of oil.

Once the onions have started going soft add the chicken strips and stir fry until the outside layer of chicken is mostly cooked.

Add the mushrooms to the fry mix and stir fry for +-5min, stop before the mushrooms shrink.

Stir in the roasted sunflower seeds.

Stir in the cream mix and then let it sit on a low heat with a lid for 10-15min, or until the chicken is cooked through.

Stir in the fried cabbage on medium heat for a couple of minutes (until all is warm and mixed).

Serve with grated gouda and a sprig of rosemary for pretty.