When the hotter months are coming up, we are always looking for new and interesting recipes for our grilled meats, but especially our chicken dishes! Kebabs are a staple chicken meal that are so versatile and fun, and are full of flavor and color. Cook them in a pan, or grill them in the oven or on the barbeque for a more smokey and charred flavor.
Flavors Galore!
The chicken pieces that will go onto the kebabs are covered in a delicious Greek yogurt basting that includes turmeric, rosemary, salt and pepper, and parsley, however, feel free to up the spice with some garlic powder or paprika! Due to the Greek yoghurt basting, the chicken takes on a lovely creamy taste and texture, which in turn makes the kebabs so much more indulgent.
Chop 'n Change
As this is a kebab dish, you can feel free to add whatever ingredients you would like to the skewers, be it roasted vegetables such as red and green peppers, onion, butternut, baby marrow, or even some button mushrooms. You don't particularly need any extra ingredients on the skewers apart from the chicken, as they really are loaded with flavor.
These rustic chicken kebabs are served with a homemade cole slaw made from red and white cabbage, and a ton of spices including Garam Masala. Corn is boiled and grilled in the oven until slightly charred, and served immediately. This meal is a serious chicken and veggie feast, and is perfect for a barbeque or for a family dinner.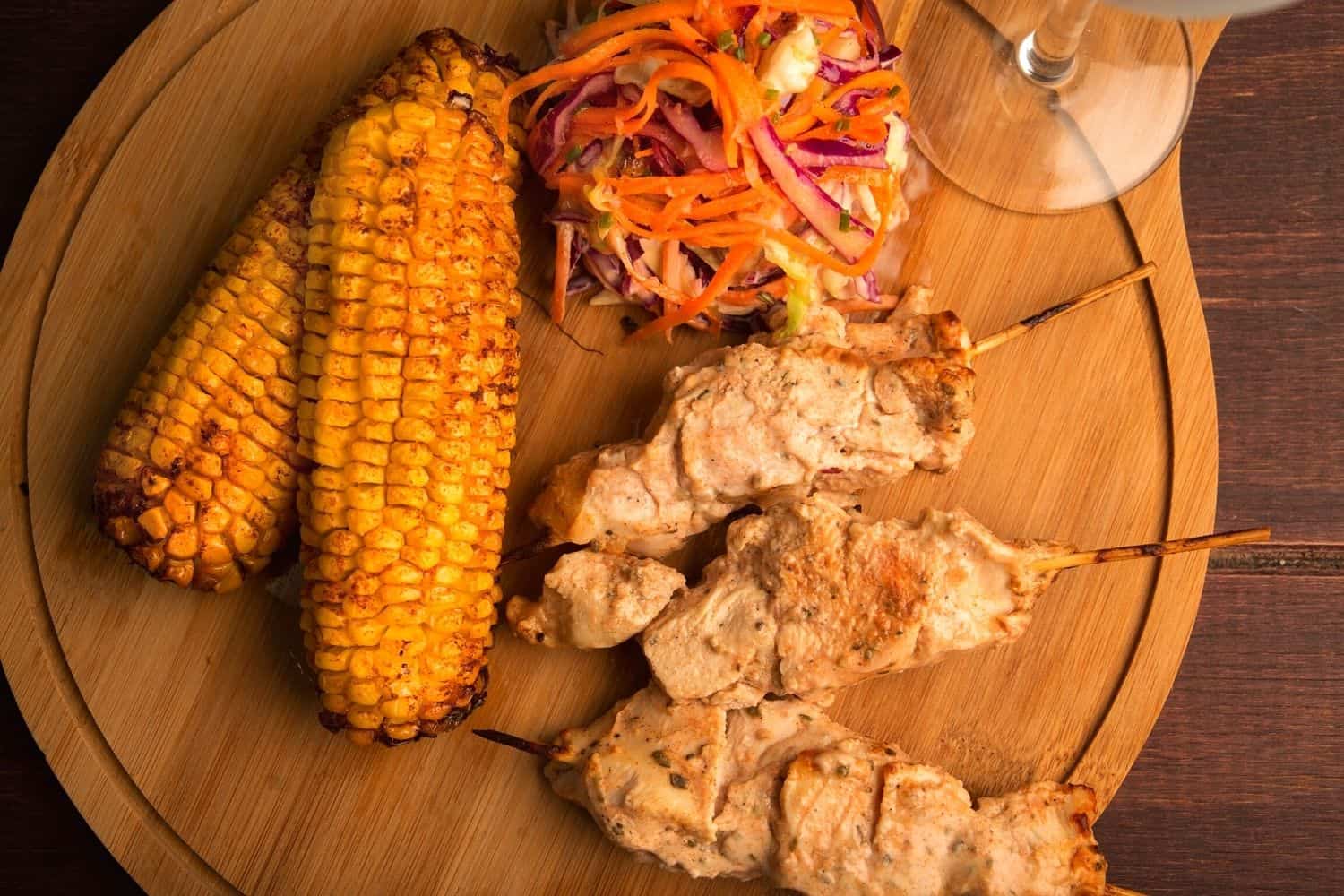 Ingredients
For the Chicken
160

g

Chicken Breast

30

ml

Greek Yogurt

2

g

Whole Pepper

1

g

Rosemary

1

g

Parsley

1

g

Turmeric

0.5

g

Fine Salt
For the Corn
200

g

Whole Corn

Boiled and grilled in the oven
For the Cole Slaw
30

g

Red Cabbage

Shredded

30

g

White Cabbage

Shredded

30

g

Carrot

Julienne

10

ml

Olive Oil

1

g

Chives

Chopped

7

ml

Lemon Juice

1

g

Garlic

Chopped

0.25

g

Garam Masala

0.25

g

Turmeric
Instructions
For the Cole Slaw
Blend olive oil, lemon juice, garlic, cumin & salt together. Stir in chives.

Dress shredded vegetables & toss to coat.
For the Chicken Kebabs
In a bowl mix the yoghurt and chicken and allow to marinade for at least 45 minutes.

Once marinated remove from the yoghurt and skewer the chicken pieces and place in the oven for 25 minutes at 180°C.
For the Grilled Corn
Lather in butter and place in the oven for 40 minutes at 180°C.