Cakes are comforting desserts and baking can be a very soothing experience. While most baked desserts might need a special shopping trip, it is amazing how some terrific cakes can be baked right away with regular, everyday ingredients. Do you want to bake a unique cake? This could be for a special occasion or for dessert for family or friends. Get ready for a flavor-filled memorable experience with this awesome Vanilla Cream White Chocolate Cake recipe.
This recipe takes approximately just under 2 hours to prepare, but the end result is worth the wait and the effort!
Chefs Tip for Vanilla Cream White Chocolate Cake
A tip to remember if you have not used white chocolate before is that it can burn easily so make sure you stir and melt it into your butter after removing it from your heat source.
The combination of vanilla essence, as well as the buttercream, is mouth-watering. Melted white chocolate into the buttercream just makes it more special! The eggs and sugar give an appealing creamy touch to the mixture.
You can have any filling of your choice to add to your cake, such as apricots or strawberries. Frost the cake with as much of the creamy white chocolate cream to add to your smooth experience or top your vanilla cream white chocolate cake with freshly sliced strawberries, cherries, or white chocolate chips.
While this is a sweet treat, it also comes with great benefits. White chocolate boosts immunity due to cocoa butter in it containing a high source of antioxidants. It lowers cholesterol, improves liver health, and can also help with hypertension and breathing problems. These benefits are further boosted by the other combinations of toppings and ingredients in the recipe.
Whether you are looking for a tasty new cake recipe or are looking to impress with a white chocolate-based treat, we hope you enjoy this delight filled with benefits.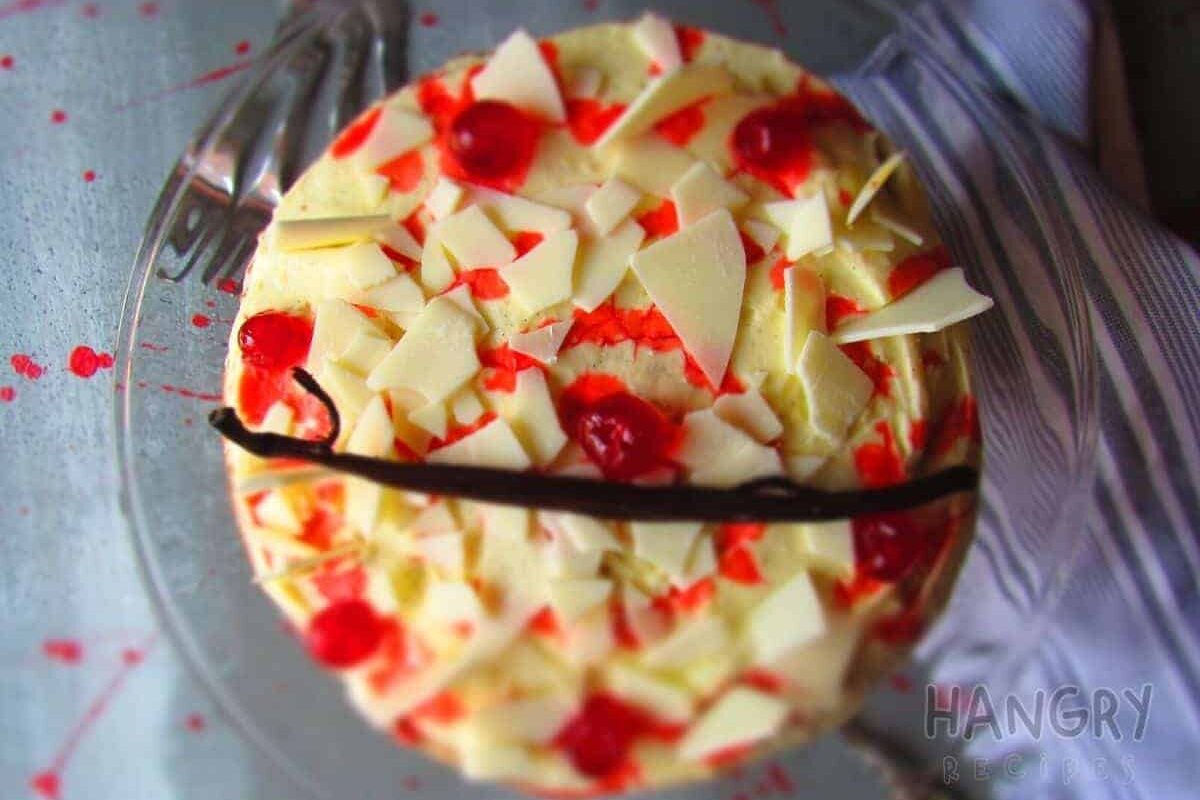 Ingredients
Cake
1

cup

sugar

4

whole eggs

1

tsp

vanilla essence

2

cups

flour

2

tsp

baking powder

100

ml

oil

salt
FILLING
1

whole egg

2

egg yolks

1/2

cup

sugar

1/4

cup

maizena (corn meal)

2

cups

milk

1

pods of

vanilla

250

ml

fresh whipped cream
TOPPING
cherries

1

cup

broken white chocolate
Instructions
CAKE
Mix to eggs and sugar till creamy

Sift the dry ingredients together and add to the mixture

Divide the mixture evenly into two greased cake tins

Bake at the preheated oven, 180 degrees, for 20 minutes.

Using a piece of thread, cut the cakes in half
FILLING & TOPPING
Mix the eggs, sugar, and maizena till creamy

In a saucepan, heat the milk and vanilla pod to a medium heps

When cooled, mix the cream in, gently

Fill each layer with the cream mixture, stacking the four layers

Decorate with cherries and white chocolate chips