This Aged Sirloin in Mushroom Sauce with Zucchini Noodles and Parmesan will deliver just that, with a specialized sirloin steak that has been aged to perfection, crispy zucchini, and a delectably rich and creamy mushroom sauce. 
Why Pick Aged Sirloin Steak? 
Beef lovers will know that there is something so unique and special about aged steaks, such as this recipes sirloin. The reason they are used so often and well-loved is due to their tender quality and mature and developed flavor. During the aging process, natural enzymes cause the collagen in the steak, the cause of toughened steak, to break down and melt away. This process leaves only tender meat fibers as well as fat marbling. During the cooking process, the fat marbling in the steak melts and tenderizes the sirloin steak even more, and acts as a natural basting for the steak that increases and concentrates the flavor twofold. Simply put, aging steak tenderizes the texture of the steak, and concentrates the flavor of the steak. For this recipe the steak is seasoned with garlic, onion powder, and cayenne pepper for a tiny kick of heat.  
Gluten and Carb Free! 
For this dish you will need zucchini noodles as opposed to pasta noodles. This results in a dish that is free from gluten and carbohydrates. This also means that the nutritional value of the dish goes up radically, as zucchini is an extremely healthy food that is particularly high in vitamin A. It also consists of vitamin C, and important minerals such as manganese, potassium, magnesium, and folate. Zucchini is also low in calories! What is also great about using zucchini, is that you can now go for a super indulgent mushroom sauce. For this recipe, button mushrooms are used, along with butter, onion, beef stock, cream, and garlic.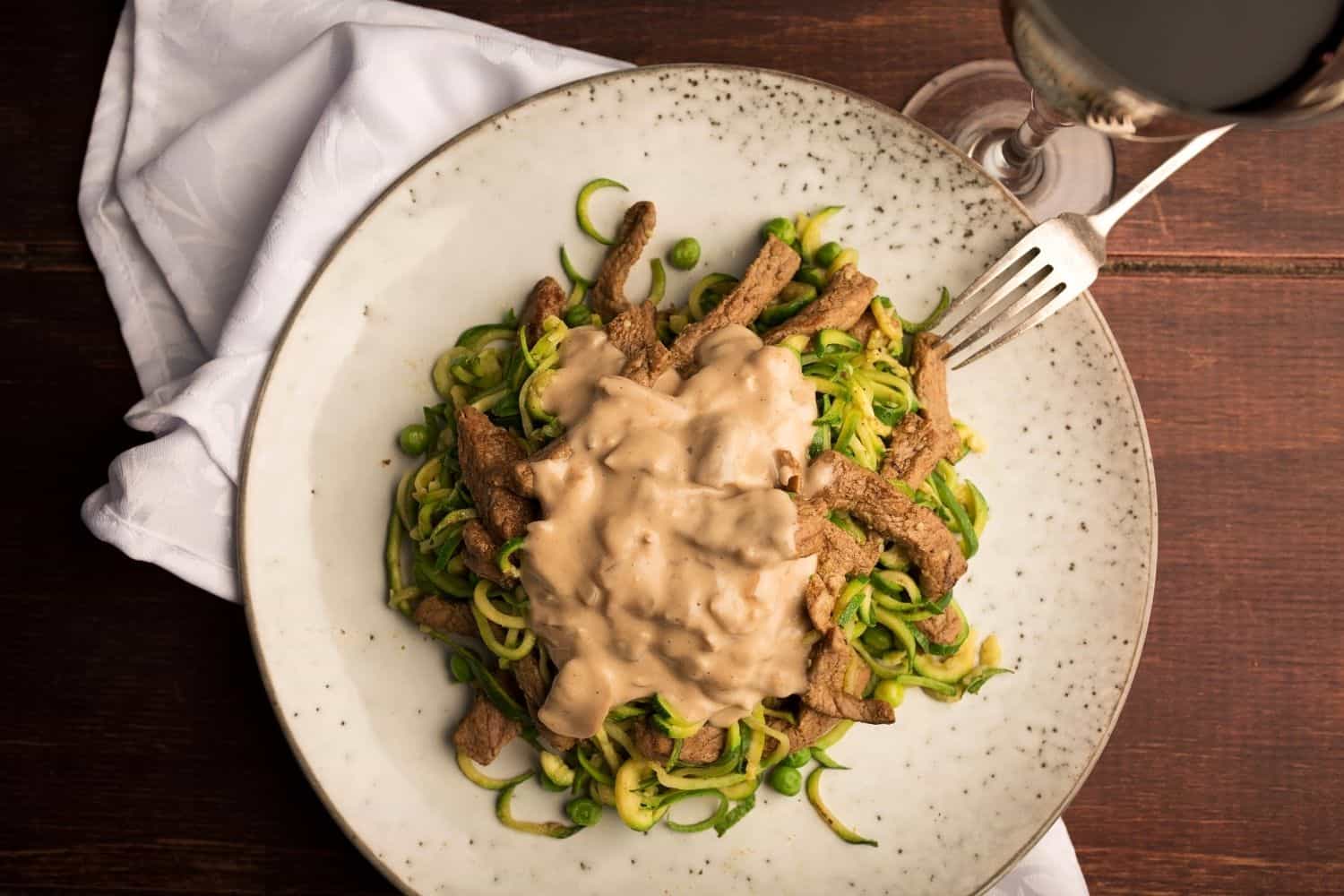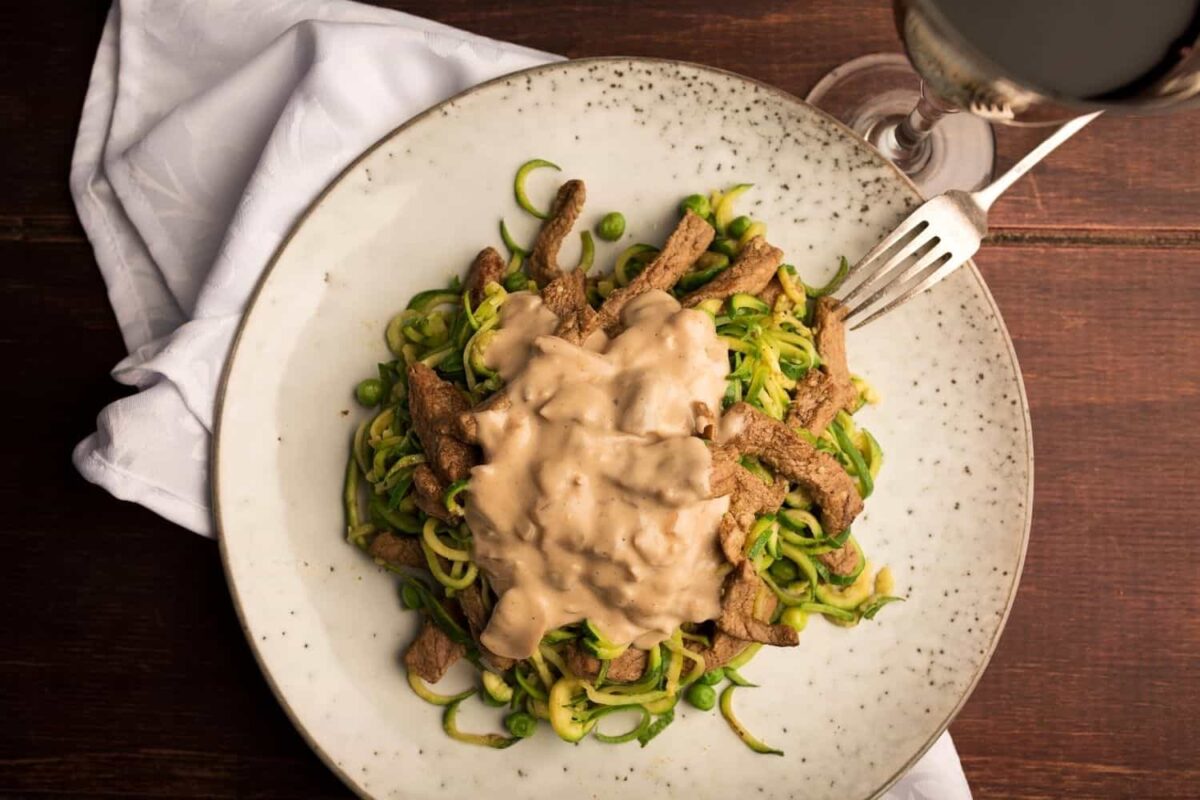 Ingredients
For the Steak
180

g

Beef Sirloin

Strips

10

ml

Olive Oil

3

g

Garlic

Chopped

1

g

Onion Powder

0.25

g

Cayenne Pepper
For the Mushroom Sauce
15

g

Butter

20

g

White Onion

50

g

Button Mushroom

2

g

Garlic

Chopped

10

g

Cake Flour

0.25

g

Beef Stock

100

ml

Water

For the stock

50

ml

Cream

1

g

Fine Salt

1

g

Coarse Pepper
For the Noodles
200

g

Zucchini

75

g

Frozen Peas

15

ml

Olive Oil

1

g

Fine Salt

1

g

Fine Pepper

20

g

Grana Padano Cheese
Instructions
For the Steak
Heat oil in a pan, add sirloin & brown on all sides. Add garlic & seasonings & continue cooking to medium.
For the Sauce
Heat butter in a pan. Add onions & garlic. Saute for a few minutes, then add mushrooms.

Add the remaining ingredients & simmer for a few minutes until slightly thickened.
For the Noodles
Heat oil in a pan, add noodles & peas. Fry for a few minutes until cooked, but crisp. Season.
To Assemble
Spoon the zucchini noodles into serving dishes, top with steak, mushroom sauce & then parmesan shavings.