Looking for excitement in the form of one delectable bowl filled with fresh ingredients and packed with flavor. This tofu poke bowl is a nutritious version of your traditional sushi poke bowl, featuring Thai ingredients and flavors that will certainly not disappoint! 
What Exactly Is a Poke Bowl? 
The word 'poke' means to cut or slice in Hawaiian. Traditionally, a poke bowl is a Hawaiian dish consisting of slices or chunks of raw fish such as salmon or tuna, combined with vegetables such as avocado and edamame beans, and placed on a bed of rice. The dish is packed with unami flavors and unique seasonings. Poke bowls come in multiple variations and don't always need to include sushi or raw fish. This recipe is vegetarian and consists of tofu, otherwise known as bean curd (solid cubes that are formed by the coagulation and pressing of soy milk), instead of raw fish.
Loaded with Flavor and Nutrients 
With features of Thai flavors throughout, be sure not to miss out on this tofu poke bowl. Tofu is the main protein in this dish, and is seasoned with green curry paste and coconut cream or milk, locking in the slightly spicy, and slightly nutty traditional Thai flavors. This poke bowl consists of quinoa, a popular whole grain known and popularized due to its nutritional value- it is extremely high in fiber and protein. This dish also consists of an array of vegetables which also contribute to the nutritional value of the dish- baby spinach, bean sprouts, carrots, cucumbers, cabbage, spring onions, and red peppers are placed on top of the cooked quinoa. Peanuts, spring onion, and coriander garnish the dish, adding some crunch and even more flavor.  
Keeping it Saucy! 
The star of the poke bowl show has to be the indulgent peanut sauce. Made from peanut butter, lime juice, soya sauce, ginger, garlic, sesame oil, red chili, coconut cream, and water, the sauce adds a creamy, sweet, nutty, and slightly tart taste to the poke bowl, complementing the spiced tofu and fresh vegetables perfectly, and adding a touch of richness to a light and healthy dish.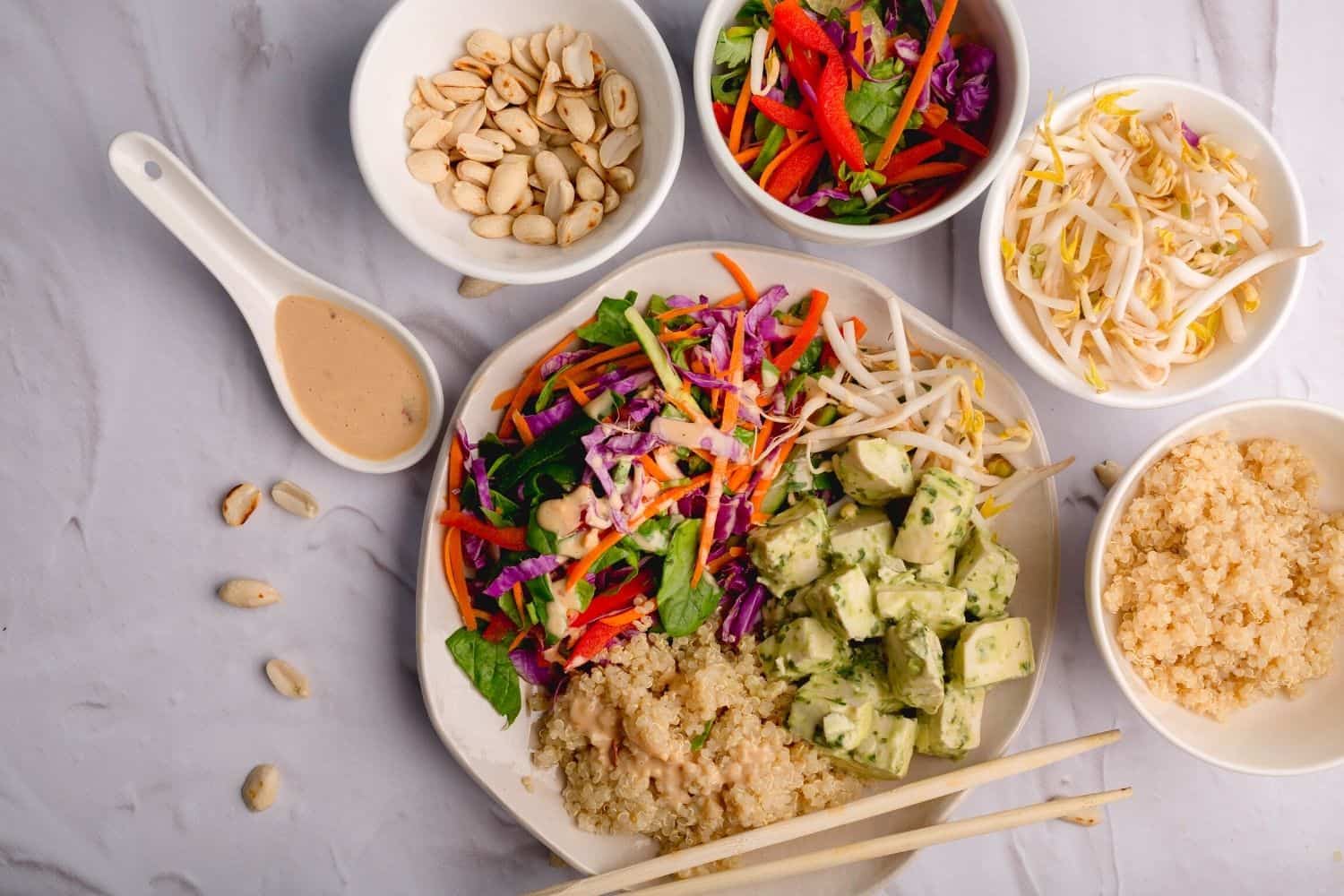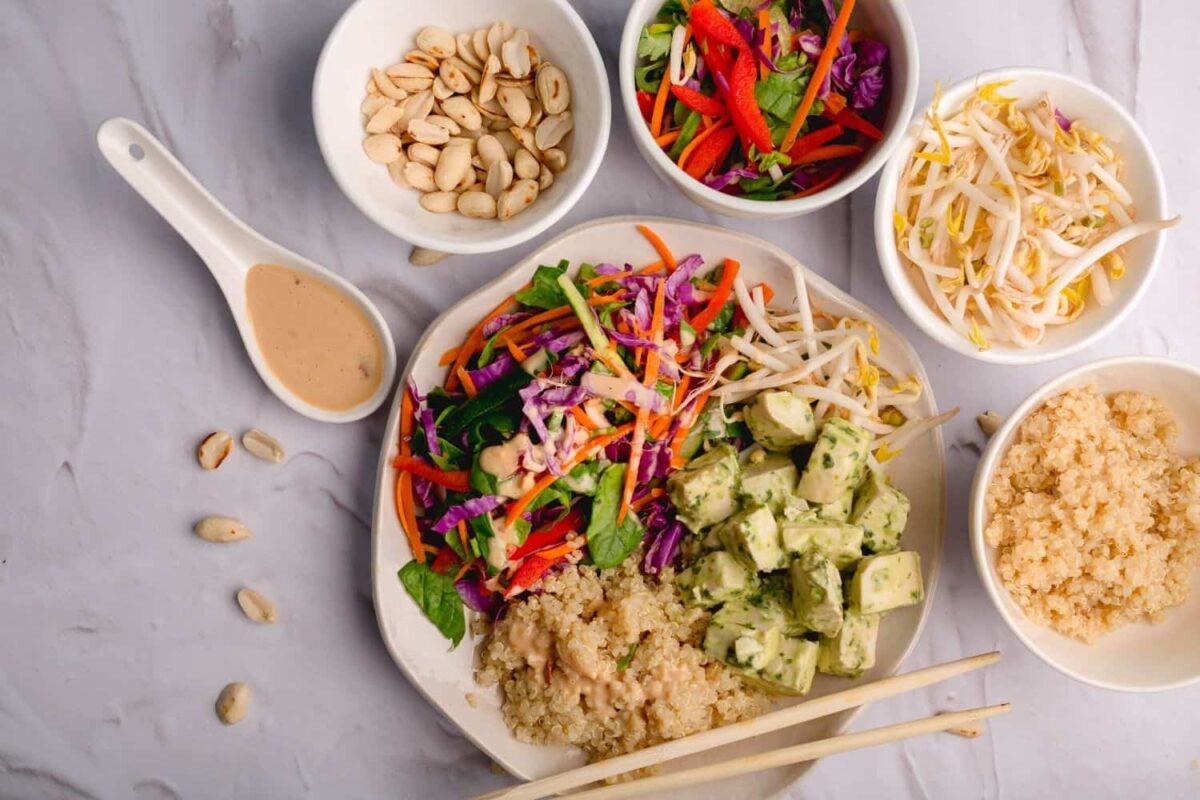 Ingredients
For the Tofu
120

g

Tofu

Cubes

5

ml

Olive Oil

2

g

Green Curry Paste

15

ml

Coconut Cream
For the Poke Bowl
50

g

Quinoa

Cooked in 55ml boiling water and chilled

15

g

Baby Spinach

Shredded

10

g

Bean Sprout

Mung bean or Alfalfa

20

g

Carrot

Julienne

20

g

Cucumber

Julienne

20

g

Red Pepper

Julienne

20

g

Red Cabbage

Shredded

10

g

Peanuts

Toasted

5

g

Spring Onion

Sliced

3

g

Coriander
For the Peanut Sauce
40

g

Peanut Butter

10

ml

Lime Juice

5

g

Soya Sauce

2

g

Ginger

Grated

2

g

Garlic

Chopped

2

ml

Sesame Oil

0.25

g

Red Chilli

Deseeded and finely chopped

30

ml

Water

20

ml

Coconut Cream
Instructions
For the Tofu
Heat a pan over medium heat then add oil. Saute green curry paste until aromatic.

Add tofu & stir to combine well with curry paste. Add coconut milk & simmer until cooked. Set aside until ready to assemble.
For the Poke Bowl
Place cooked quinoa at the bottom of the bowl, top with shredded vegetables & tofu.

Garnish with coriander, spring onion & peanuts.
For the Peanut Sauce
Combine all the ingredients in a bowl, except water & coconut cream.

Slowly whisk water in to get a slightly thick consistency. Add coconut cream to get a runny consistency. Serve separately.