A fully loaded dish with major flavor and ample unique yet mouthwatering ingredients, this Chef's Salad will tick all of your desired salad boxes, and only takes just under an hour to create!
What is a Chef's Salad? 
A chef's salad is typically an American style salad that consists of hard-boiled eggs, a protein such as chicken, ham, roast beef, or turkey, vegetables such as tomatoes and cucumber, cheese, placed on a bed of lettuce or other leafy green vegetables, and sometimes including anchovies. This chef's salad recipe is a particularly indulgent one, featuring not just chicken breast slices, but bacon rashers too! This salad uses reduced fat cream cheese, as well as Dijon mustard and mayonnaise, and is seasoned with garlic powder, smoked paprika, and salt and pepper, all adding to a creamy, tangy, and savory flavored salad.
Fearless in Flavor! 
While they are optional for this recipe, anchovies really do take this salad dish to the next level, with a pungently salty and fishy taste. Some might be a bit apprehensive to mix meat and fish, but for those brave enough, we guarantee you a deliciously unique and savory taste experience, one that you might just love!  
This chef's salad is full of protein coming from the meat, fish, and eggs, and is served on a bed of lettuce. You can include more vegetables in your dish to up the nutritional value with some tomatoes, cucumber, pepper, or carrots. Extra texture is added to the salad with the crispy and crunchy baguette croutons, and flakey almonds. This dish is sure to be a salad like no other, give it a chance and see for yourself!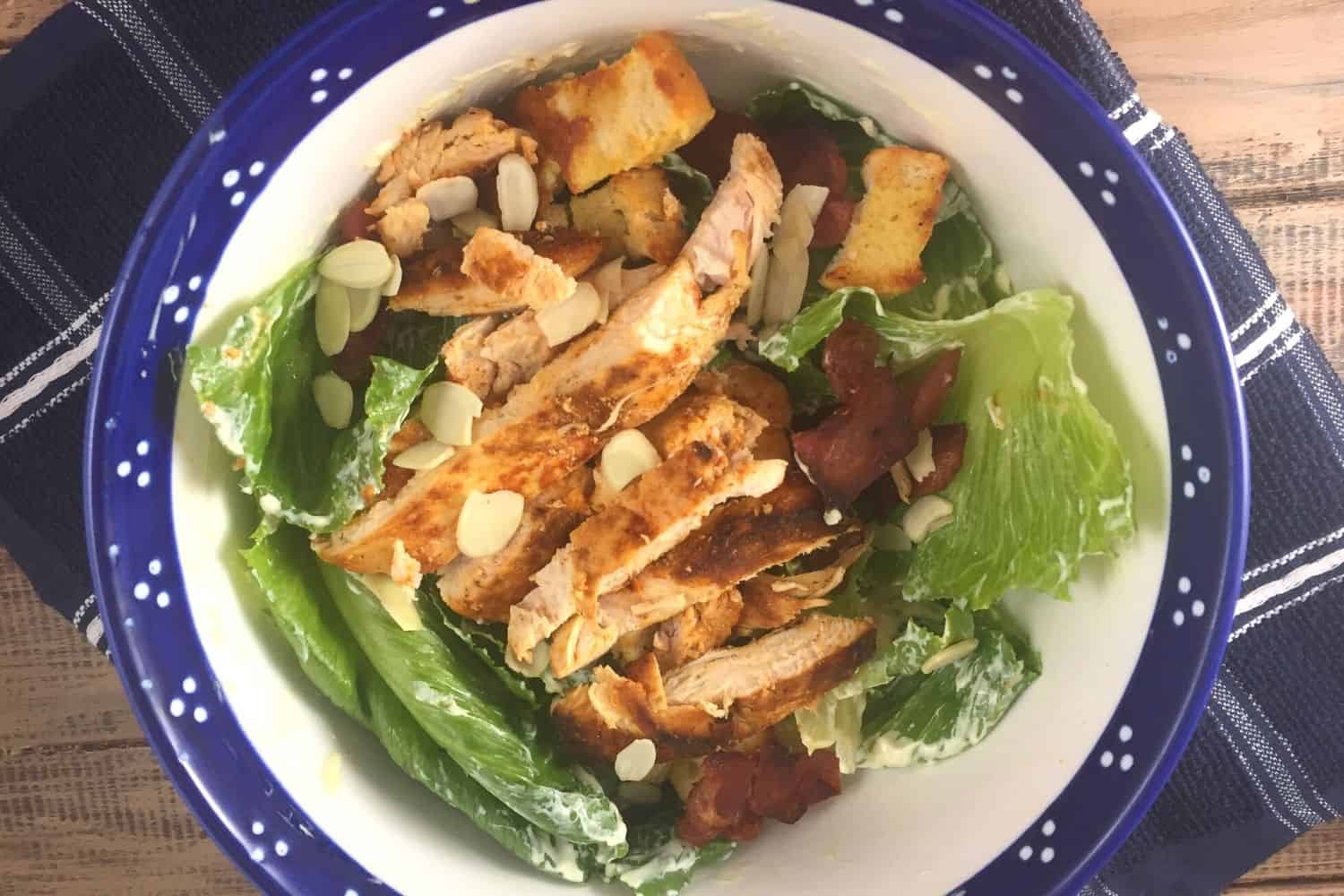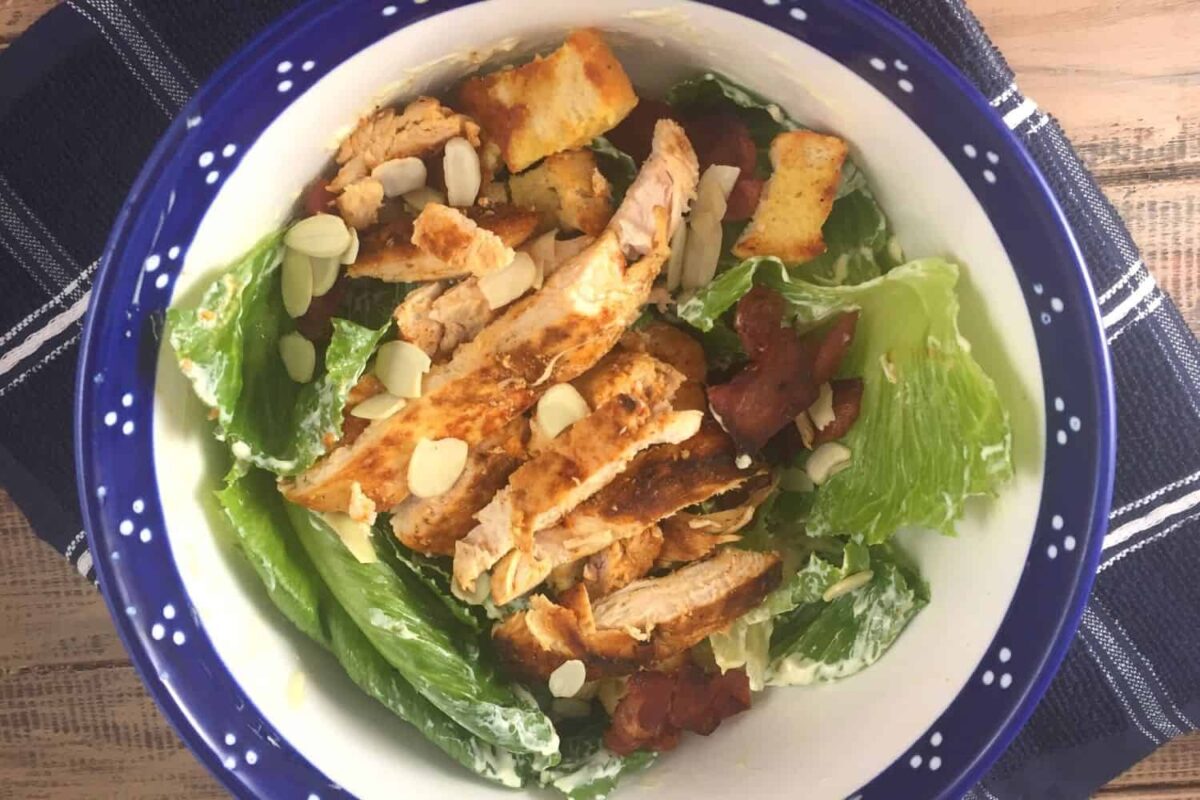 Ingredients
5

chicken breasts

skinless and deboned

5

rashers of

bacon

Optional, use chicken bacon instead

1

baguette for the croutons

white or whole-wheat will work

1

egg (whisked)

20

g

raw flaked almonds

2

crispy lettuce

iceberg or  romaine lettuce hearts will do

50

g

smooth cream cheese (reduced fat)

1

tbsp

mayonnaise

1

tsp

dijon mustard

garlic powder

smoked paprika

grounded salt and black pepper

olive oil

3

anchovies, finely chopped (optional)

2

boiled eggs, halved (optional)
Instructions
Using a wooden board, place boneless chicken breasts between two pieces in a resealable plastic bag.

Starting in the centre and working out to the edges, pound lightly with the flat side of a meat mallet until the chicken is even in thickness then slice the bacon slices and place them on half of the baking sheet that has been lightly greased.

Slice the baguette in half and then into quarters, toss it with egg, garlic powder, and salt spread them on the baking sheet with the bacon, and bake.

They only take 10 minutes to bake (but if you have really fresh bread, they'll take longer to get golden brown) Place them under the grill for a minute, this will definitely help them to become crispy.

Just keep your eye on it, remove it from the oven, and set it aside.

Season the chicken breasts with paprika and garlic powder then place a heavy-based skillet on medium to high heat, add a little olive oil, add the seasoned chicken breasts and cook the chicken on both sides for about 2 to 3 minutes on each side, or until cooked, set aside to rest.

When plating the salad, mix the cream cheese, dijon mustard, anchovies, and mayonnaise.

Break up the washed lettuce, dry them with a paper towel then place the lettuce in your favourite salad bowl and mix well with the dressing.

Sprinkle the croutons and bacon on the salad, slice the chicken breasts, add this to the salad and sprinkle with the almonds.

Serve with boiled eggs, this is optional, serve immediately with more salad cream.