When life gives you lemons… you make lemon curd, obviously! Whether you are looking to make a scrumptious lemon meringue pie, some delightful lemon bars, flavour-filled lemon meringue cupcakes, or even just to enjoy it on its own, this lemon curd recipe is a versatile dessert that will meet all your lemony needs!
This recipe delivers a silky, tart, and decadent lemon custard that is made simply from egg yolks, sugar, lemon juice, and lemon zest. It takes a total of 20 minutes and is not too complicated to make. When cooking the curd, an important tip to follow is to keep whisking your lemon curd mixture when it is on the heat, as this will keep the egg yolks from overcooking and curdling. The curd will eventually thicken after about 10 minutes and resemble a smooth hollandaise sauce. The curd will continue to thicken as it cools.
Enjoy this lovely lemon custardy curd as a topping for scones, a filling for cupcakes, cakes, and tarts, or just on its own with a spoon! No matter how you choose to enjoy it, you will be thrilled by its sweet and tangy charm!
Now that you know what awaits you once this is done, let's get cooking!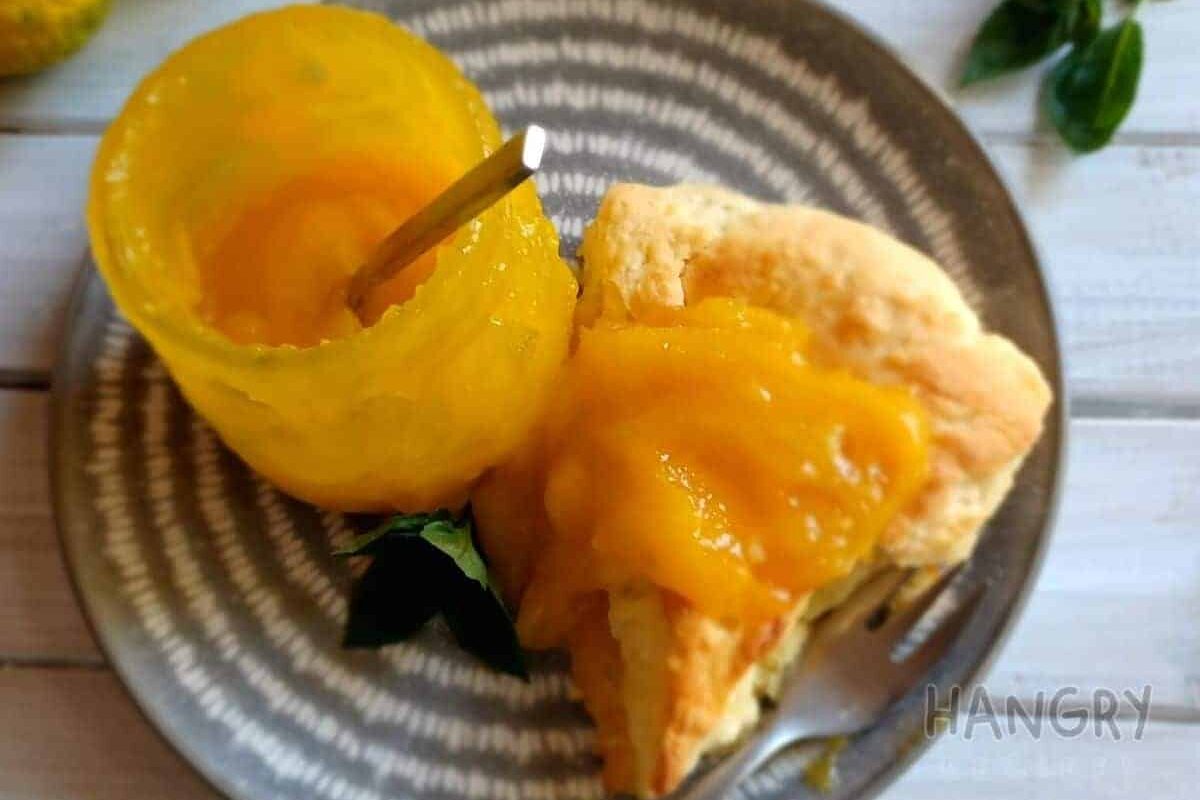 Ingredients
4

large

egg yolks

at room temperature

134

g

granulated sugar (caster sugar)

1

tbsp

lemon zest

80

ml

fresh lemon juice

(Do not use bottled lemon juice. Use fresh-squeezed lemon juice)

86

g

pinch of salt if using unsalted butter, 86g unsalted butter softened to room temperature 
Instructions
Fill the bottom pot of your double boiler with about 5cm of water, or use a saucepan and place it on high heat. Once the water begins to boil, reduce to low heat to keep the water at a simmer.

Place a small heatproof glass bowl over a saucepan if not using a double boiler.

Place egg yolks, granulated sugar, lemon zest, lemon juice, and salt into the top pot or dish of your double boiler or saucepan. 

Whisk until completely blended, then continue to whisk as the curd cooks. Constant whisking prevents the egg yolks from curdling. Whisk and cook until the mixture becomes thick, resembling the texture of hollandaise sauce, it takes about 10 minutes. If the curd isn't thickening, turn up the heat and constantly whisk.

Remove pan from heat. Cut the butter into 6 separate pieces, then whisk into the curd. The butter will melt from the heat of the curd. 

Pour curd into a jar or bowl and place a piece of plastic wrap directly on top so it is touching the top of the curd.

The curd will thicken as it cools. Once cool, the plastic wrap can be removed.

Refrigerate the curd for up to about 10 days.