A well-loved club steak can go a long way! This marinated Club Steak entrée is a signature dish that you are sure to savour. Immersed in complex flavours, this steak will leave you feeling all kinds of spoiled!
The spice mix that the steak is marinated in is full of salty, tangy, and spicy notes, adding so much interest and complexity to the steak itself. Marinating your steak is an absolutely indispensable step for this recipe as it allows the steak to really lock in the flavours and spices over time. Marinating also adds extra moisture into the steak from the sauce, resulting in a more tender steak. If you would like to add some sweetness into the marinade, add two tablespoons of sugar into the marinade spice mix. The sweetness will compliment the salty, spicy, and tangy flavours perfectly.
This recipe suggests that you marinate the steaks for 6 hours, but if you would like to go the extra mile with your steaks and obtain a deeper flavour, you can leave them to marinate in the refrigerator overnight! It is important to note that your meat should always be marinated in the fridge (instead of at room temperature) for long periods of time, as the cold will inhibit bacteria growth.
Serve with brown rice, roast vegetables, or even a sweet potato mash for a complimentary honeyed taste, and enjoy!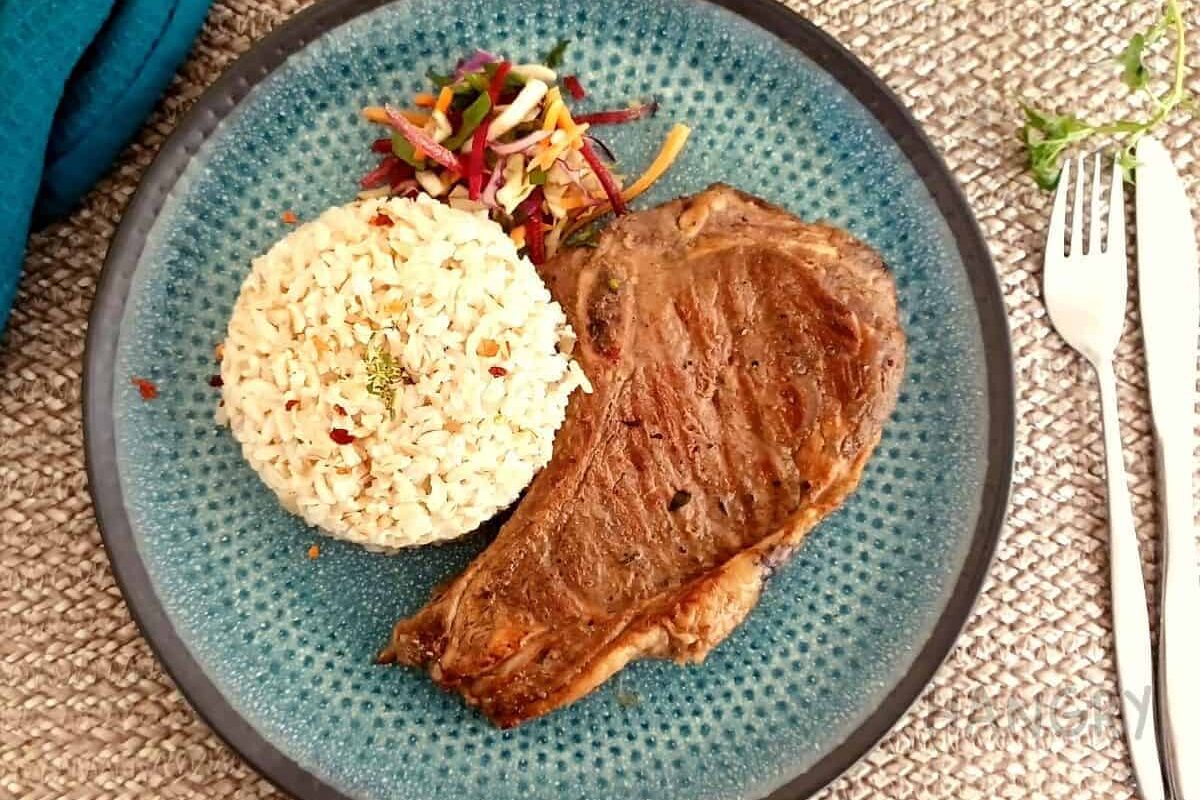 Ingredients
1

kg

club steak, trimmed if necessary

(if using less steaks simply adjust the ingredients for marinating)

Salt and black pepper

Butter
Marinade:
¼

cup

cup olive oil

3

tbsp

red wine vinegar

3

tbsp

fresh thyme or 1 tablespoon dried thyme leaves

chopped

2

tbsp

sweet or smoked paprika

3

tsp

garlic

crushed or powdered garlic

¼

tsp

cayenne pepper
Instructions
Season steak(s) well with freshly ground salt and pepper.  

Combine marinade ingredients in a medium bowl. 

Place club steak(s) and ingredients of the marinade in a food-safe plastic bag.  turn steak(s) to coat. Close bag securely and marinate in refrigerator 6 hours or as long as overnight, turning occasionally.

Remove steak(s) from the bag, discard marinade.

Heat a heavy pan over medium-high heat until it's VERY hot. 

Carefully set the steaks in the pan, releasing them away from you so the oil doesn't splatter in your direction. It should sizzle. You must use a pan that is large enough that it's not such a tight fit or the pan will cool down and your food will steam instead of sear.

Leave it alone! Avoid the temptation to peek or fiddle or flip repeatedly. The steaks need a few minutes undisturbed to develop a brown crust. (Don't worry about sticking, I promise you the steaks will release easily when they are ready to flip.)

Flip the steaks when they release easily and the bottom is a deep-brown color (usually about 3 minutes). Continue flipping for another 3 to 4 minutes for rare or medium. Longer if needed well done.

During the last minute of cooking, add 1 tablespoon of butter and a few sprigs of fresh thyme to the pan with the steaks, it is super delicious but optional.

If you are serving the steaks unsliced, transfer them to plates and serve hot.

Cover and refrigerate remaining steak(s) for later use. Before serving, carve steak(s) into thin slices, season with salt and pepper, as desired.