If you are a vegetarian who has just cut out meat from your diet and are searching for tasty and nutritional alternatives, we have got you covered with this tasty mushroom steak dish served with spinach and cauliflower.
This recipe consists of so many toothsome ingredients, such as rosa and sun-dried tomatoes, chilly sauce, and parmesan cheese, but the star of this dish are the mushrooms, which are spiced and marinated for an hour until the flavours have developed. They are then fried on a pan and ready to serve with the cauliflower mash and spinach. This recipe calls for brown mushrooms, but we would recommend Portobello mushrooms if you are looking for that lovely, deep umami flavour. The natural flavour of the mushrooms combined with its 'meat-like' texture acts as an appropriate substitute for an actual beef steak. It has the texture of meat, but is still light and easy to eat. 
An absolutely necessary step that is required to make this meal is to make sure that the mushrooms go onto the pan on high heat, or they will not sear properly and therefore not lock in the flavours from the marinade.
If you are a vegan and are looking to cut out animal products completely, replace the parmesan cheese for a vegan cheese and enjoy a completely green meal!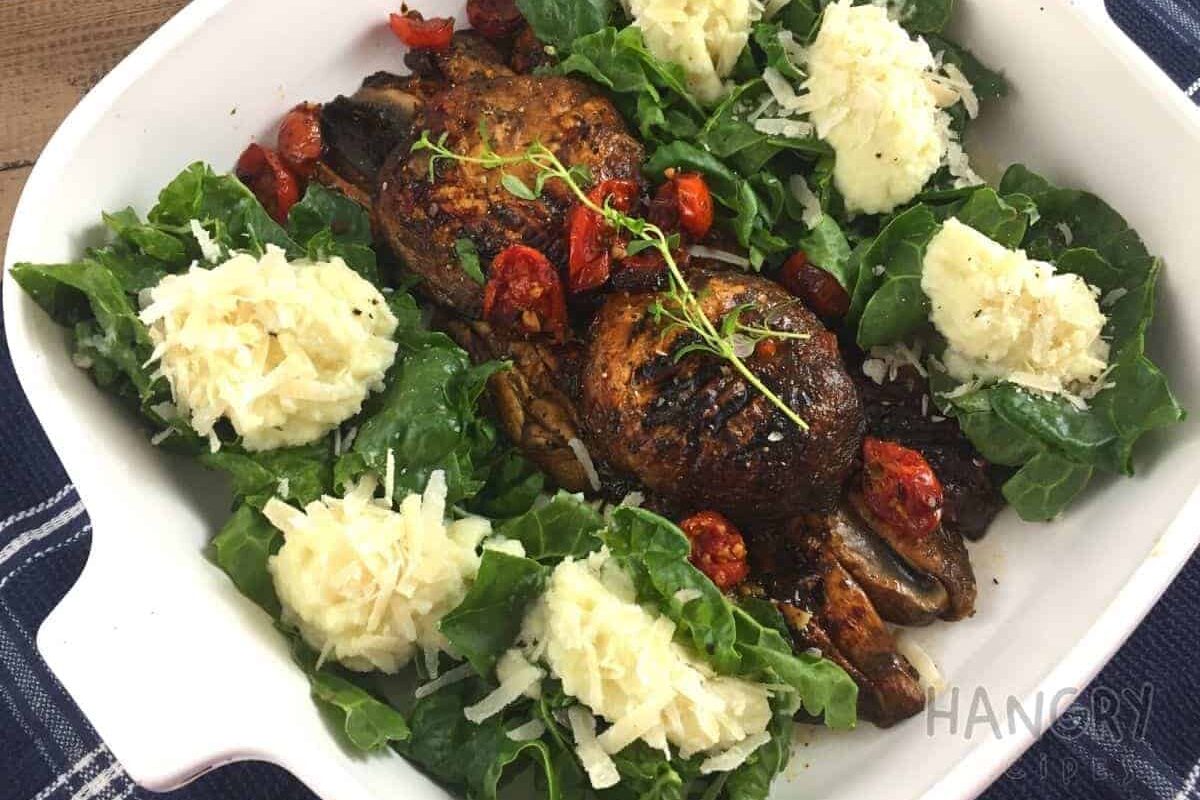 Ingredients
250

g

brown mushrooms

¼

cup

olive oil

¼

cup

white wine vinegar

¼

cup

red onion

diced

2

cloves

garlic

minced

¼

cup

sun-dried tomatoes

diced

200

g

mini rosa tomatoes

½

tsp

dried oregano

½

tsp

whole black peppercorns

¼

cup

chilly sauce

200

g

spinach

washed and shreddedSmall cauliflower

½

cup

parmesan cheese

coarsely grated

1

tsp

fresh thyme and thyme for garnishing

salt and freshly grounded pepper

1

tbsp

butter

½

tsp

garlic powder
Instructions
In a large bowl, combine mushrooms, olive oil, vinegar, red onion, garlic, oregano, diced sun-dried tomatoes, rosa tomatoes, chilly sauce, and thyme. Season with salt and pepper, to taste.

Transfer to an airtight container and place in the refrigerator for at least 1 hour.

Place a large frying pan on high heat. Add the gills of the mushroom up to a frying pan, cover with a lid or baking paper. Simmer for 10 minutes.

Turn the mushrooms over, add the marinade and give them another 5 – 10 minutes before serving.

Place cauliflower in a steamer over a large pot of boiling water. Steam for 15 minutes until tender. 

In the same pot, heat the butter over medium-high heat. 

Blend cauliflower and garlic in a food processor on a high setting until smooth.

Transfer blended cauliflower into the pot with the garlic.

Slice the mushrooms, arrange the spinach, garnish with the mashed cauliflower, and sprinkled with cheese and thyme.