Pickled dishes are such an easy and foolproof way to ensure a punch of flavor in whatever dish you are cooking! The pickle marinade (or pickling liquid in this case) is a great way to lock in so many flavors, and allow distinct flavors to show off. This dish can be made fresh on the day you are wanting to eat it, and just a few hours before serving, as it only takes just under an hour to prepare!
How To Make Pickled Prawns
Pickled Prawns are made by creating a sauce from onions, mustard seeds, turmeric, cinnamon, ginger, coriander seeds, ground cumin, fennel, black peppercorns, chilis, bay leaves, sugar, and brown vinegar. These ingredients are cooked in a sauce pan until the flavors combine nicely and the onions soften and become translucent. The prawns are prepared by coating them lightly in corn flour and frying them in oil until a crust is formed. Once this is done, and the pickling liquid is ready, mix some corn flour with pickling liquid, and add this back into the pickling liquid to thicken it. The prepared prawns can now be folded into pickling liquid which will now be thick and coat the prawns generously.
Why Prawns?
Prawns are the perfect choice for a protein for this dish as when they are cooked, they are soft and slightly chewy. In this way, they are complemented by a thin crispy fried coating from the corn flour, and along with packing multiple flavors, they will thus also consist of complementary textures. Prawns are considered a particularly healthy protein, loaded with important vitamins and minerals, and considered hugely appropriate for a healthy diet. Prawns are low in calories, (containing half the number of calories that are in chicken) high in protein, and are also made up of extremely healthy cholesterol. Prawns are also rich in antioxidants, iron, and zinc, an essential vitamin for boosting the immune system.
This Pickled Prawn dish can be served with some fresh hot cross buns, or with some fluffy white basmati rice, and enjoyed fresh straight after they have been made, no need to wait!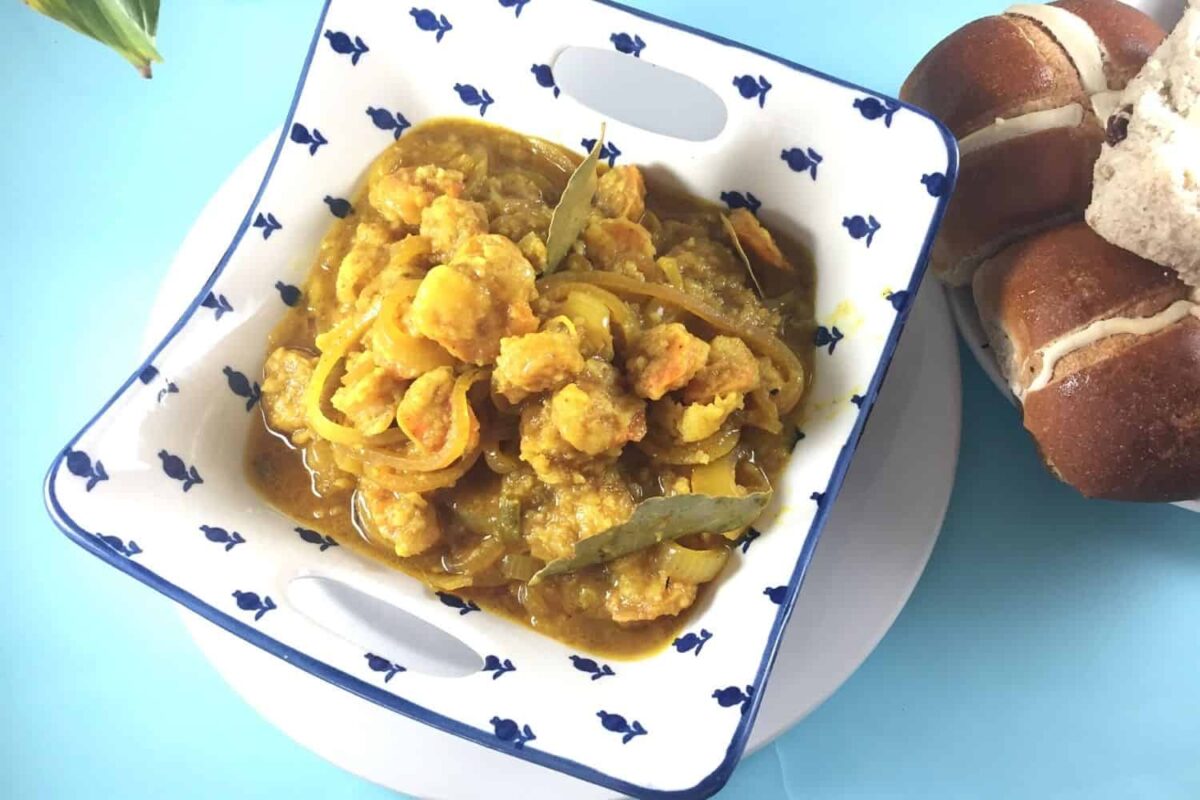 Ingredients
1

tsp

mustard seeds

2

tsp

ground turmeric

2

tsp

cinnamon

1

tbsp

chopped fresh ginger

2

tsp

coriander seeds

1

tsp

fennel

1

tbsp

ground cumin

1

tbsp

black peppercorns

3

green chilies

split through the middle and deseeded 

8

bay leaves

½

cup

sugar

500

ml

brown vinegar

5

onions

sliced into rings

salt to taste

1 ½

cup

corn flour (mazeina)

500

g

frozen prawns

cooked and peeled

salt and freshly ground black pepper

to taste

oil

to shallow fry
Instructions
Add all the spices and chilies to a large pot along with the bay leaves and vinegar. Place over medium heat and gently simmer.

Separate the onion rings and add them to the pickling liquid. Cook for 20 minutes, allowing the flavours to marry and the onions to cook until soft and translucent.

While the pickle is cooking, prepare the prawns.

Dry the prawns with a paper towel.

Dust the prawns with corn flour, coating them well. Carefully place just enough prawns in the oil and fry for 2 minutes or until the corn flour forms a crust and just begins to brown. Turnover and cook the other side for another 2 minutes. Remove from the oil and place on absorbent kitchen paper. Repeat this process with the remaining prawns.

At this point, the onions and pickle should be ready. Add a little of the pickling liquid to the corn flour in a separate bowl and mix. Add this to the pickling liquid to thicken it slightly, which will help it coat the battered prawns. Add salt and pepper to taste.

Add the prawns to the pickle and gently fold through to combine. Scoop into a large serving dish and allow to cool before serving.

If necessary add more spices to your taste.