We are all for finding new quick and easy yet rich and hearty pasta dishes! If you are a fan of a cherry tomato and basil pesto combo (and of course pasta, but who isn't?) then this dish will be great for you. Cook it up in just under an hour and enjoy a delectable homestyle Italian dish that is scrumptious and foolproof. 
Full of Authentic Flavor 
Made from fresh ingredients such as cherry tomatoes, mushrooms, peppadews, basil pesto, and tagliatelle pasta. It gets its flavor from the roasted vegetables, along with the noticeable flavors of oregano, thyme, crushed garlic, and chili flakes. The sauce is made simply from roasting these ingredients in the oven and adding some of the pasta water to it in order to thicken it up. It truly is the perfect combination of vegetables and authentic spices!  
Quick and Easy 
All that is required for this pasta dish is to roast of the vegetables in the spices, add some white wine or good quality white balsamic vinegar, add your tagliatelle and pasta water, and add some basil pesto on top! No tedious steps, no crazily unexpected ingredients, just authenticity and efficiency! 
Add some freshly squeezed lime juice over the pasta to give it a complementary fresh and tart flavor, and garnish with some lime zest shavings, along with some fresh basil leaves for some color. This Pasta with Cherry Tomato and Basil Pesto serves 6 and can be enjoyed on its own- it doesn't need any back up!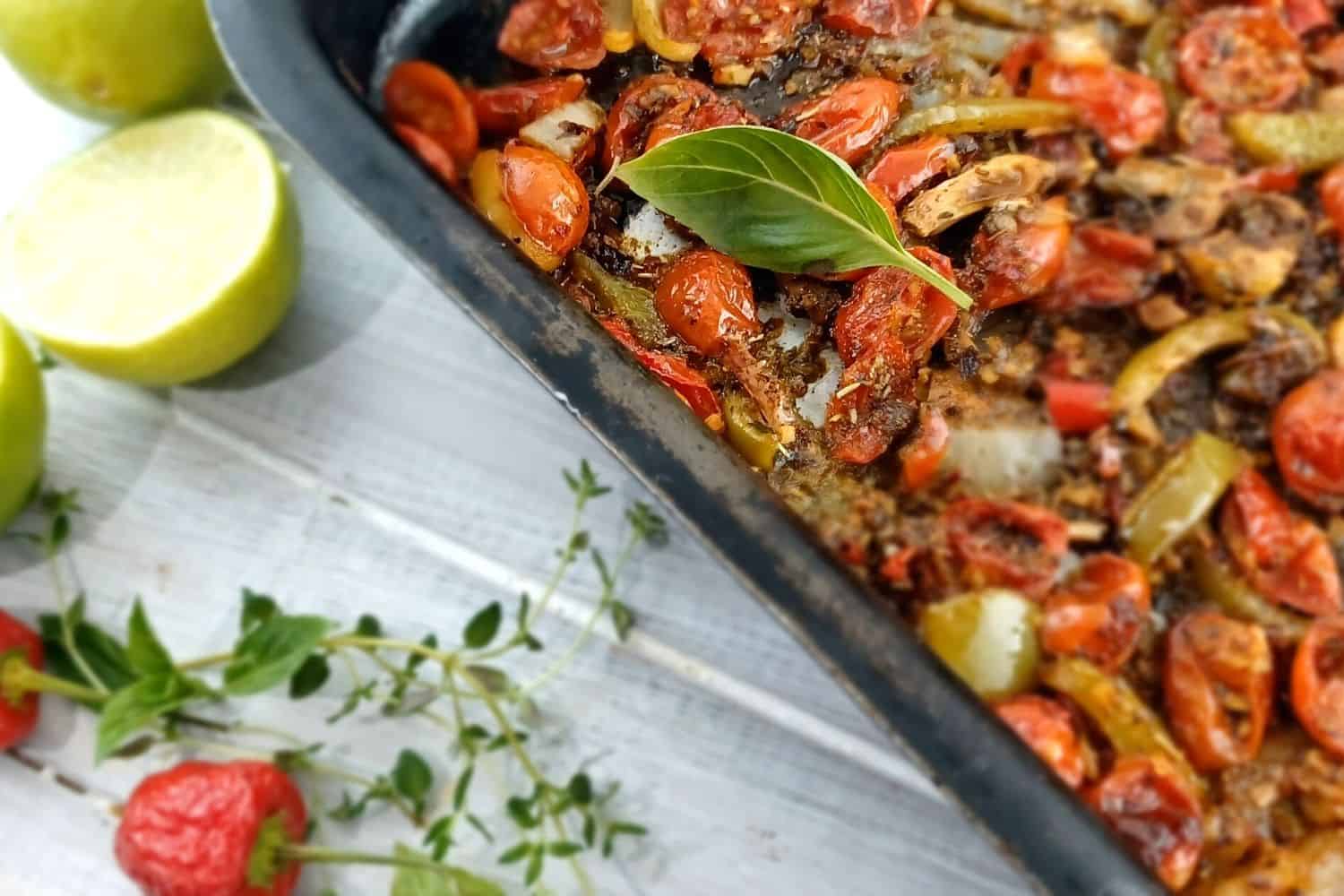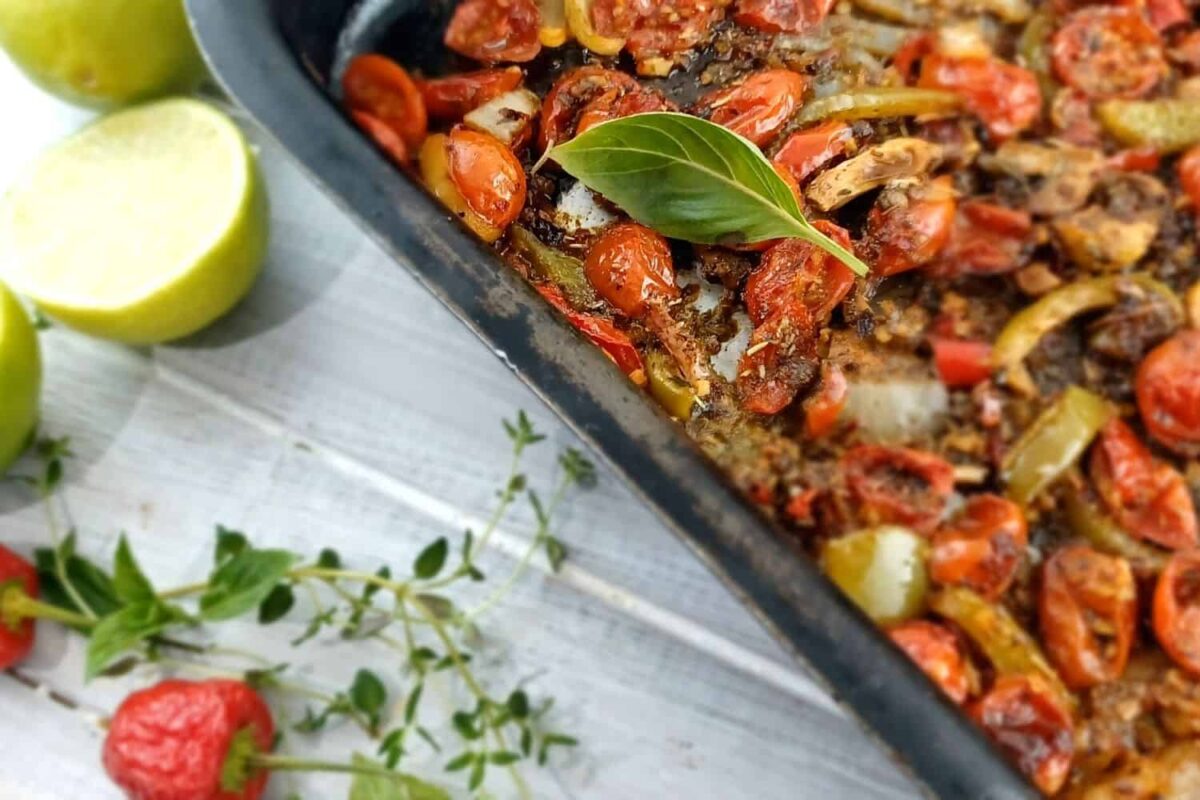 Ingredients
800

g

cherry tomatoes

200

g

small mushrooms

4

cloves of garlic, crushed

2

tbsp

fresh thyme

1

tbsp

chopped fresh oregano

¼

cup

extra virgin olive oil

¼

tsp

chili flakes or fresh chili or peppadews

⅓

cup

white wine or good white balsamic vinegar

500

g

tagliatelle

Juice and zest of 1 lime

3

tbsp

basil pesto and a little lime juice
Instructions
Preheat the oven to 180°C / 350F

Slice the tomatoes in half (optional), then place your tomatoes in a roasting pan together with mushrooms, garlic, fresh thyme, oregano, chili flakes, and olive oil, toss and mix.

When flavors marry, they combine to form one flavor and roast for between 20 and 30 minutes.

While the tomatoes are roasting, bring a large pot of salted water to a boil then add the pasta and cook according to package instructions until al dente.

Just before draining, remove a cup of pasta cooking water.

When the tomatoes roasted for 20 to 30 minutes, add the wine or balsamic vinegar to the roasting dish and return to the oven for another 5 to 8 minutes.

Remove from the oven and scrape off all that yumminess from the bottom of the roasting pan then add the pasta to the tomatoes in the roasting pan and toss to combine.

Add dollops of pesto and splashes of the reserved pasta water to loosen and to create this super delicious sauce!

Serve with extra spoons of pesto and fresh lime juice and zest if desired.