Are you looking to spice up your mealtime or go global with your cooking style? This recipe for Green Prawn Curry delivers an Indian inspired seafood dish that will be sure to impress you and the lucky ones that you choose to serve it to! (Seriously we are jealous of them).  
The prawns are the star of the show here, but in all honesty, this dish would not be the same without its multitude of flavours and textures. This curry gets its flavours from green curry paste, cumin powder, garlic, turmeric, salt, white pepper, lime leaves, fish and soya sauce, lime juice and rind, chilies, and peppers. It gets its differing textures from the smooth coconut milk, peas and beans, and crunchy peppers and bamboo shoots.
This dish contains turmeric and curcumin. Turmeric is not only used as a spice, but medicinally too. Turmeric contains curcumin, a spice consisting of a compound called curcuminoids, which act as a very powerful anti-inflammatory and antioxidant! As you might need to contain large amounts of the spice itself to benefit from its medicinal properties, mixing it with black pepper can actually increase its absorption by 2000%, as it contains a natural substance called piperine.  
This dish of Green Prawn Curry is definitely one of our more complex recipes, and does require many different ingredients and effort, but the results truly do speak for itself. Try it now and be delighted with a dish that is certainly restaurant worthy if made correctly.
Chefs Tip for Green Prawn Curry:
Serve a bowl of freshly diced chillies on the side of this epic dish so that your guests can choose to heat up their dish if they prefer to spice things up even more!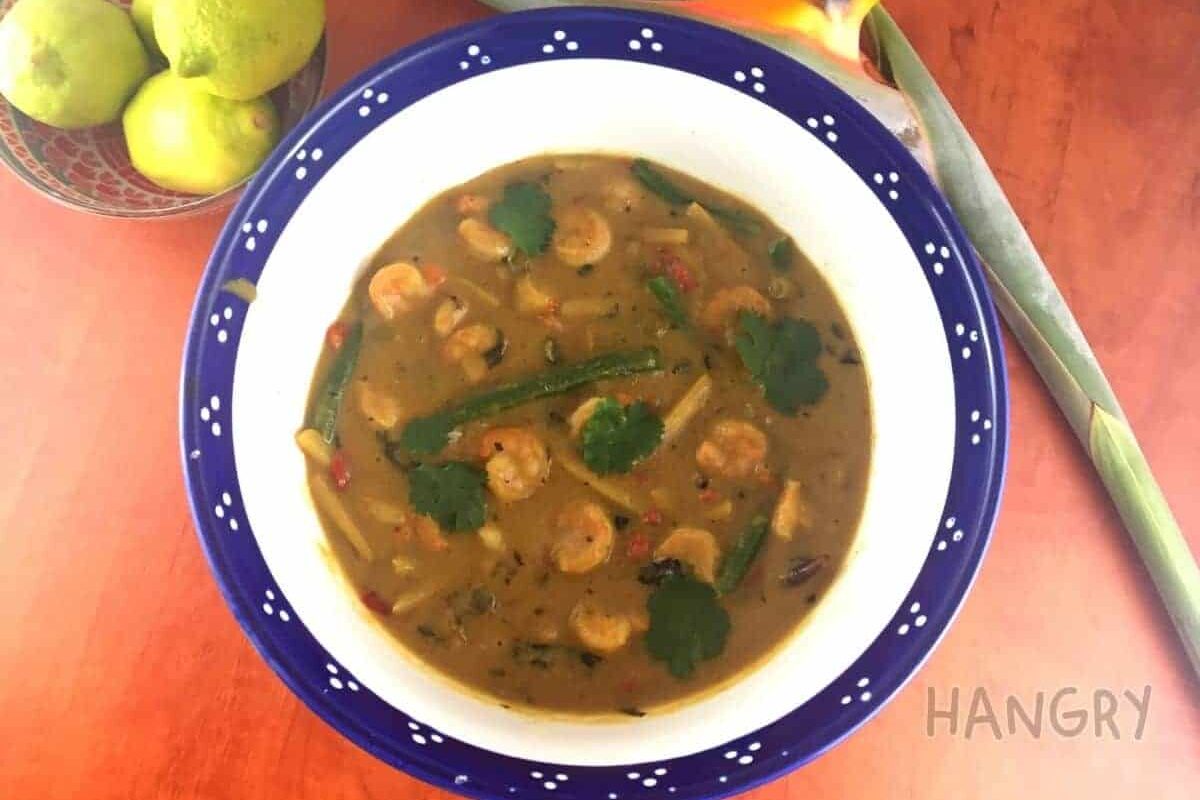 Ingredients
500

g

medium to small prawns of your choice

1 ½

cups

coconut milk

1

cup

water

1-3

tbsp

Green Curry Paste

1

tsp

cumin powder

½

tsp

turmeric

2

cloves

garlic

2

shallots

finely diced

1

tsp

salt

1

tsp

white pepper

6

curry or kaffir lime leaves

dried or fresh

100

g

green beans, sliced in two

(optional)

2

tbsp

fish sauce

2

tbsp

soya sauce

2

tbsp

lime juice

2

tbsp

grated lime rind

2-3

red or green chillies

fresh or dried

2

stalks Lemongrass

trim the base, remove the rough outer layers, and finely slice the white interior.

2

tbsp

petit peas

frozen

1

red and yellow pepper

deseeded and chopped 

2

tsp

soft brown sugar

1

cup

fresh coriander leaves

destemmed

Bamboo shoots

(optional)
Instructions
Peel the prawns, if you wish to, leave the tails intact. Cut down the back and devein. Set aside.

Using a wok or heavy-based pan, bring the coconut milk and water to medium heat and add the shallots, garlic, lemongrass, curry paste, kaffir lime leaves, red pepper, peas, chillies and beans, mix well.

Bring the coconut and ingredients to a boil until slightly thickened. 

When beans are almost cooked but still firm, add the prawns and simmer for about 5  minutes or until prawns are pink in colour.

Add the fish sauce, soy sauce, lime juice, lime rind, and sugar. Taste the curry, season with salt and pepper.

Garnish with coriander leaves.