If you are looking for a fresh and healthy, yet somewhat still indulgent salad that is filled with texture and loaded with flavour, this cucumber and avocado salad is just the one for you!  
This Cucumber and Avocado Salad is fresh and flavourful, seasoned with garlic, jalapeños, salt and pepper, and fresh herbs such as parsley and coriander. Lime juice and extra virgin olive oil is added to this salad, enhancing its flavour profiles drastically and taking it to the next level. The Lime juice adds a slight tang to the salad, while the olive oil gives a silky texture and a richer taste. Avocados add a large amount of nutrients to the salad- they contain a high amount of vitamin C (an average 100 gram serving contributes to 17% of the recommended daily intake of vitamin C) and folate, and are low in cholesterol and saturated fat. 
A vital step when making this salad is to let the salad sit in the fridge for at least 2 hours. This will allow all of the ingredients and their flavours to marry together perfectly.
This salad is perfect as a side for a dinner party with loads of main meal options. It is also so great as it only takes 20 minutes to prepare- all you have to do is mix the ingredients together and voila- you have got yourself one indulgent and healthy salad!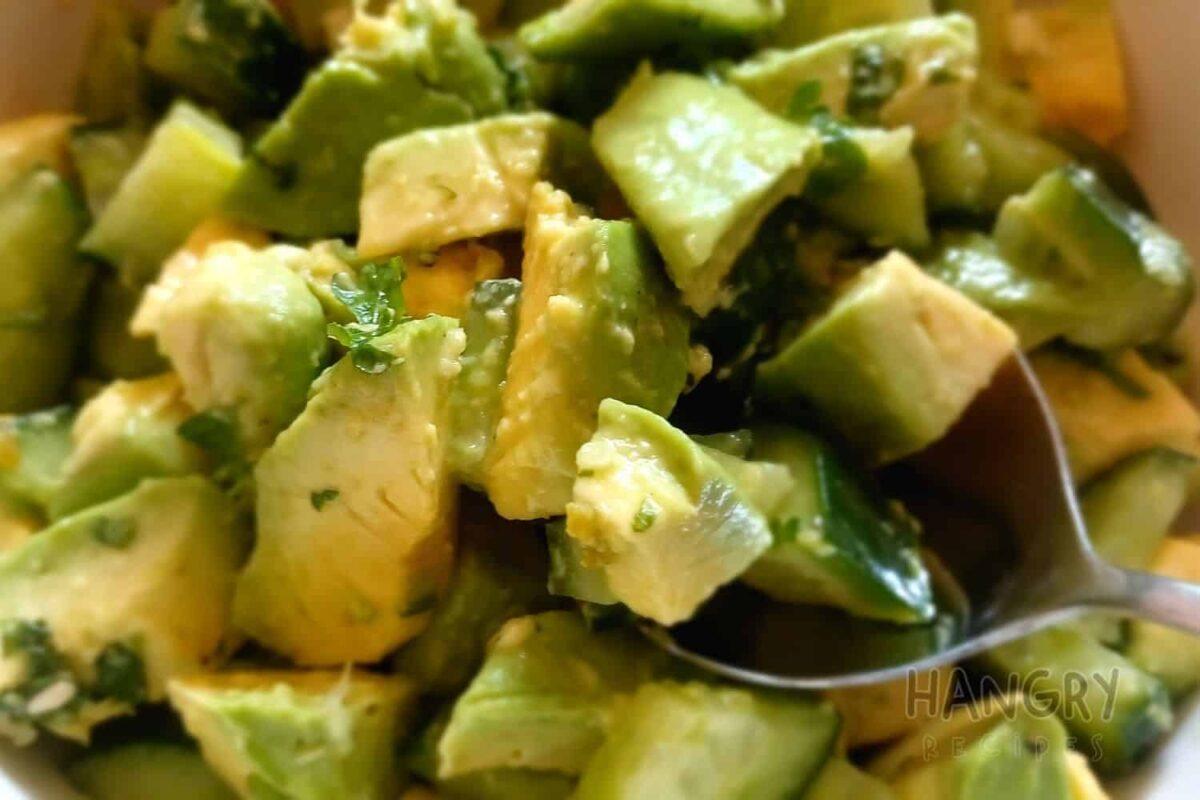 Ingredients
2

avocados

2

cups

cubed cucumber

3

tbsp

fresh lime juice, from 1 to 2 limes or 1 large lemon

2

tbsp

extra-virgin olive oil

1

tbsp

pickled jalapeños

1

clove

garlic

diced

Salt and Black Pepper

to taste

1

cup

fresh herbs: coriander and parsley

or any other fresh herbs you have on hand
Instructions
In your salad bowl, whisk the lime juice, olive oil, garlic, jalapeño, salt, and pepper together.

Stir in the chopped herbs.

Add the cubed cucumber and mix in the dressing.

Gently, add the cubed avocado and toss around with 2 forks, ensuring they are well coated.

Season if more is needed.

Cover with cling wrap and refrigerate for at least 2 hours for the flavours to marry.