A pork dish cooked to perfection is the stuff of dreams. This Marinated Pork Belly has a crispy crackling skin and a tender and succulent meat inside, and requires only basic ingredients for the marinade. This recipe is delightfully simple, as once you have left your pork to marinate, the oven will do all the work for you!
Simple Steps, Delectable Results 
The only steps really required to make this pork belly dish are to make the marinade, cover the pork in it, set it in the refrigerator to marinate overnight, and cook in the oven. The marinade is made from simple ingredients such as soya sauce, honey, brown sugar, lemon juice, and grated ginger, crushed garlic, cinnamon, Cajun spice, and chopped red chilis (if you prefer milder food, opt for less chili or leave it out). 
Tender Meat Every Time 
The joy about cooking with pork belly is that it is naturally higher in fat than other cuts. The meat is marbled with fat and surrounded by a fat layer which means that while it cooks the fat will break down and melt into the meat, tenderizing it. The marinated pork is cooked at 2 temperatures; the pork first cooks at a high temperature for a short amount of time, to get that crispy crackling skin coating, and then is cooked at a lower temperature for 1 hour to cook the meat properly inside. It is important to note that in order to achieve the crispy skin you will need to pat down the pork belly before it goes into the oven as any moisture will prevent the skin from getting the desired crispiness. Rubbing the skin with salt will also ensure a crispy crackling skin.
Serve this scrumptious pork belly with some baked potatoes, roasted vegetables, and a fresh salad on the side. As this particular meat dish is, well, not exactly on the lean side, do enjoy in moderation, but do enjoy…this one is definitely not to be slept on!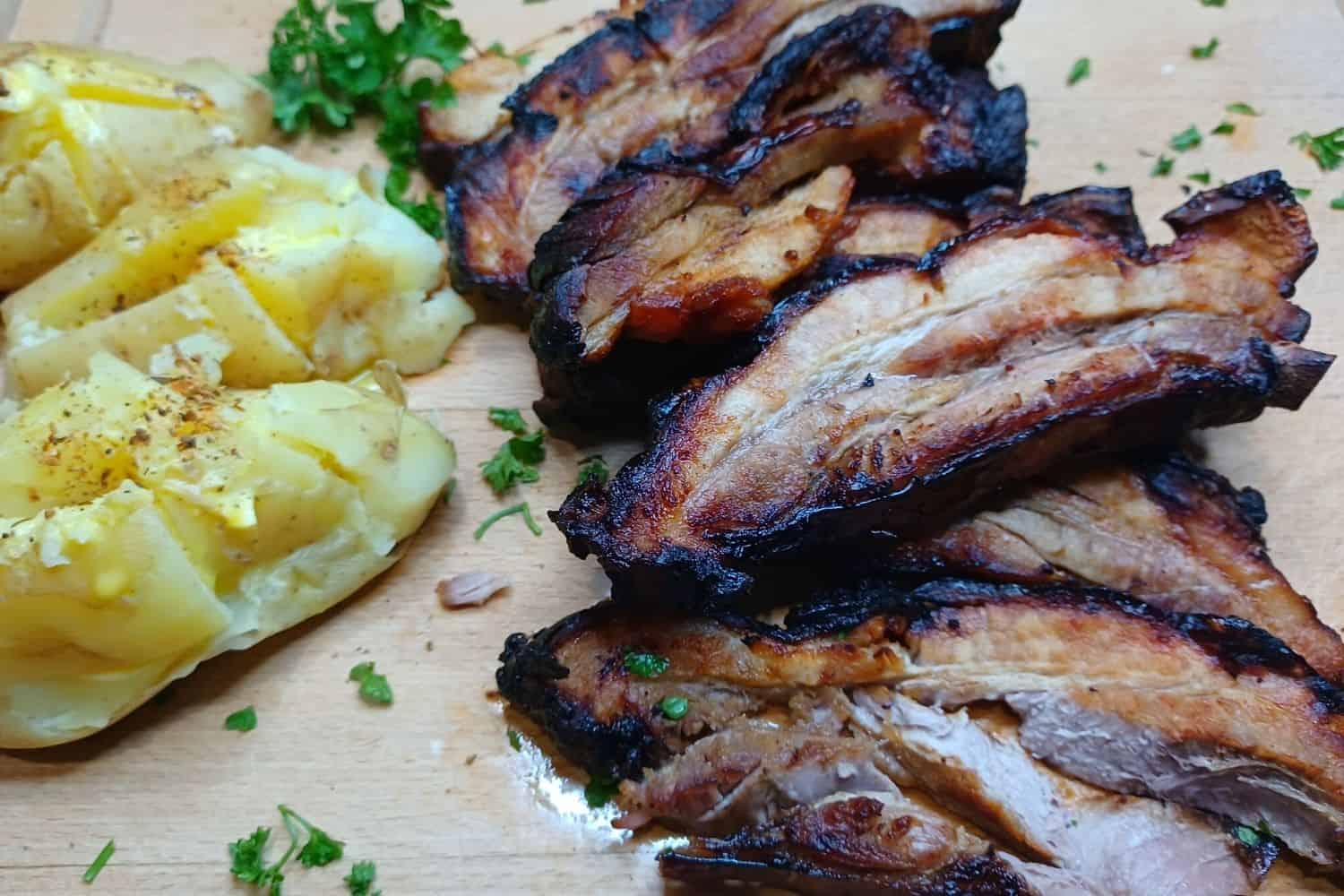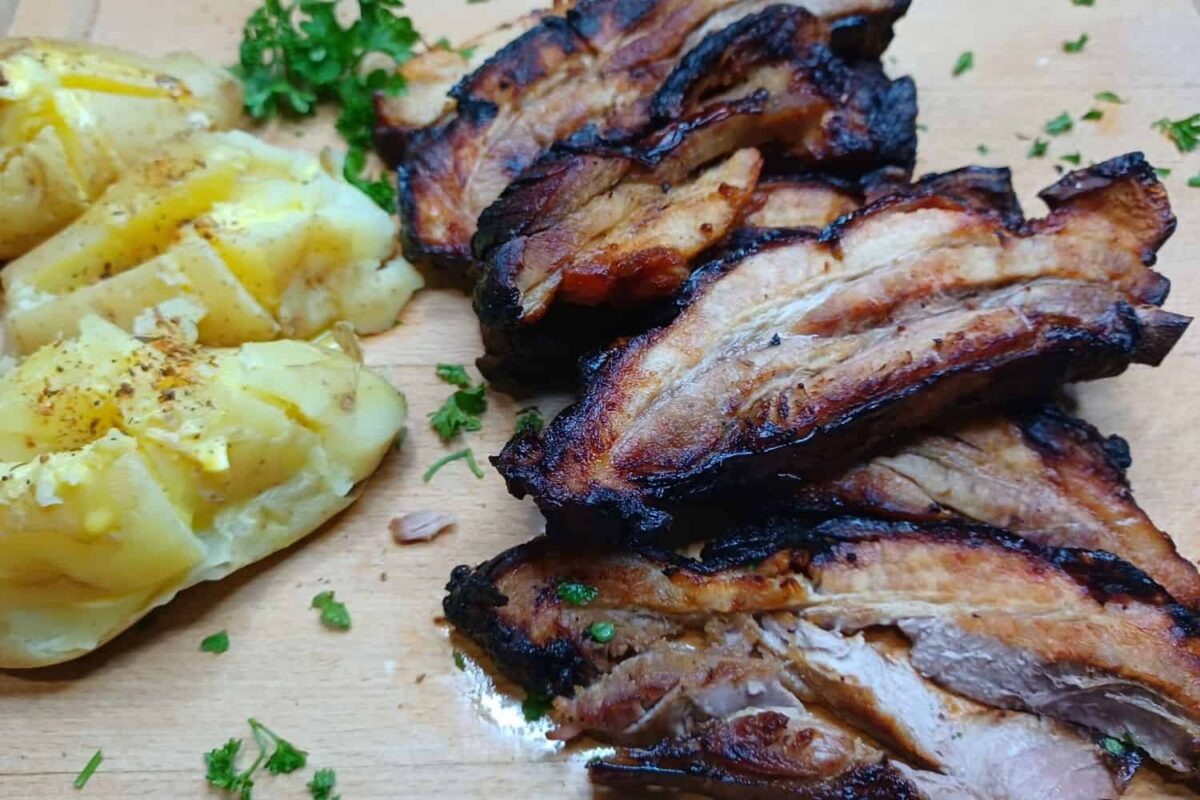 Ingredients
1

kg

pork belly

2

cm

piece of ginger grated

3

cloves garlic, crushed

1 to 2

red chilies, deseeded and finely chopped

5

ml

fine cinnamon

5

ml

cajun spice

125

ml

honey

125

ml

soy sauce

30

ml

brown sugar

juice of 1 lemon
Instructions
Marinade:
Mix all the marinade ingredients.  Place the pork belly in a dish and pour over the marinade.  Set aside in the fridge for a few hours, preferably overnight.
Cooking in convection oven:
When you are ready to cook, remove the pork belly from the marinade, pat dry with a paper towel then rub the fat side with freshly ground salt. Crackling is all about skin and fat. The meat underneath is a question of taste. Pork belly is the safest choice, as the meat is marbled with fat and is harder to overcook. 

Place the pork on the wire rack in the convection oven. Try to get the pork as close to the heating cells of the oven as possible. Turn the oven to 220 degrees C to get the crackling going.  When you are satisfied with the crackling, turn down the oven to 180 degrees C and leave for 1 hour.

Remove from the convection oven, cut in slices and place it back to the rack in the convectional oven if you like it more grilled.  (Optional)