A flavorful chicken dinner that will soon become a family favorite, this Pesto Crusted Chicken is served with Roast Potato, Red Onion, and Chickpea Bake, and is an exciting way to spice up those weeknight dinners!
Uniquely Flavored Chicken
We are always looking for new and exciting chicken dishes, and this one is particularly special. It is flavored with basil pesto, garlic, and dried lemon grass. Basil pesto is a thick, green sauce that is made from a blend of basil leaves, olive oil, garlic, parmesan cheese, and pine nuts. The basil pesto gives the chicken a bright and herby flavor, along with notes of rich cheese and pungent garlic, along with a nuttyness from the pine nuts. If you want to take this dish to the next level, you can make your own basil pesto by combining these ingredients in a food processor! The basil pesto, along with lemon zest, chives, parsley, melted butter, and salt is mixed together with breadcrumbs and pressed into the chicken breasts to form a crust. The chicken breasts are then baked in the oven until they are cooked through and the top is crispy.
Simply Tasty!
This delectable chicken bake is served with a rich and creamy potato bake with simple yet seriously toothsome ingredients. Baby potato halves, along with cream style corn, chickpeas, and wedges of red onion are drizzled with olive oil and vinegar, and spiced with garlic, rosemary, thyme, and dried oregano. This mixture is roasted in the oven in a baking tray for 15 minutes. When they are done, tomatoes and peppadews are added, and the mixture is roasted for another 15 minutes. This is to ensure that the tomatoes and pepperdews don't dry out and burn, as they need less time to cook in the oven than the potatoes and onion. This potato bake is simple to make, and can be prepared within just 30 minutes.  
A flavorsome chicken dish pairs perfectly with the creamy potato bake, and both dishes can be made quickly and with minimal effort. Serve this meal as a weekday lunch dish, or enjoy it with friends and family. The potato bake is especially versatile and can accompany and complement many other meat dishes such as steak or roast pork! Voila! Pesto Crusted Chicken with Roast Potato, Red Onion and Chickpea Bake is served!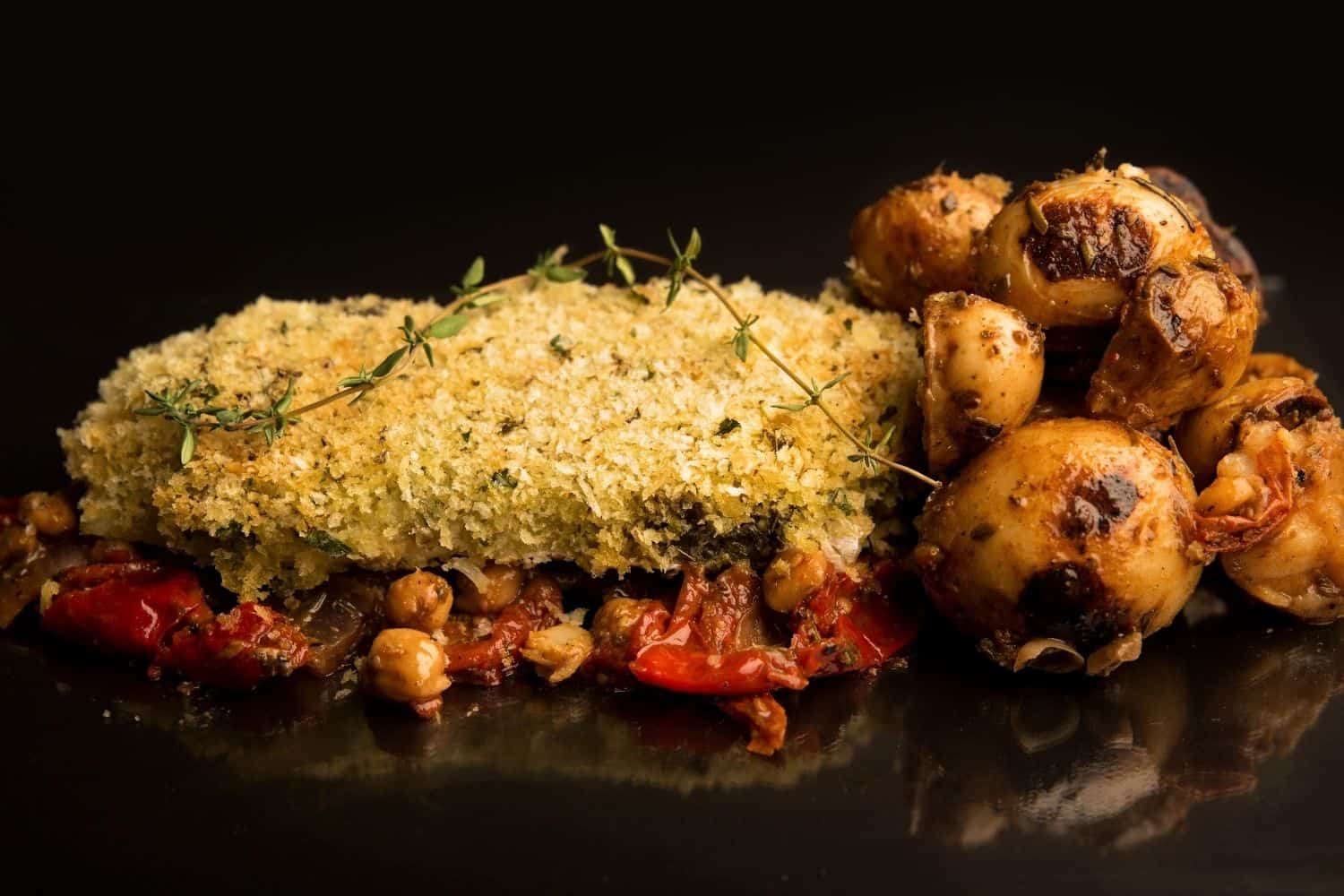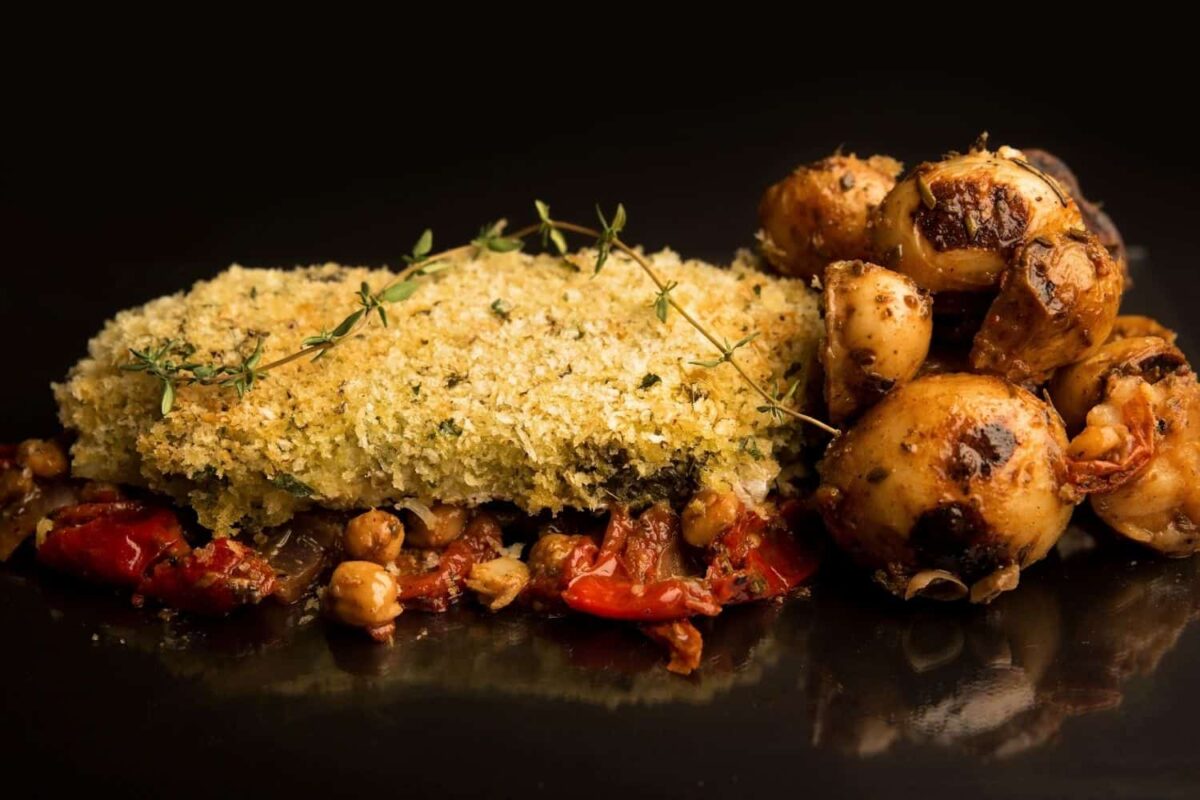 Ingredients
For the Pesto Crusted Chicken
200

g

Chicken Breast

25

g

Breadcrumbs

2

g

Garlic

Chopped

2

g

Chives

Finely chopped

0.5

g

Dried Lemon Grass

2

g

Parsley

Finely chopped

15

g

Basil Pesto

15

g

Butter

2

g

Turmeric
For the Potato Tray Bake
15

ml

Olive Oil

10

ml

Vinegar

150

g

Baby Potato

Halved

80

g

Tin Cream Style Corn

Drained

50

g

Red Onion

Wedges

5

g

Garlic

Chopped

2

g

Rosemary

2

g

Thyme

1

g

Dried Oregano

25

g

Pepperdew

Chopped

30

g

Cherry Tomato

Halved
Instructions
For the Chicken
Mix garlic, lemon zest, chives, parsley, basil pesto, melted butter & salt together to form a crust.

Place chicken on baking sheet, top with crust making sure to cover the entire surface, press down to compact.

Transfer to oven & bake @ 180'C for 15 – 20 minutes until cooked through.
For the Potato Tray Bake
Place all the ingredients in a baking tray, except for the peppadews & tomatoes.

Drizzle with oil, vinegar, herbs & spices & toss to coat all the veg.

Roast, uncovered, @ 200'C for 15 minutes.

Add tomatoes & peppadews & continue roasting for 15 minutes.