A simple yet absolutely scrumptious and tasty potato-based soup that takes just under an hour to make, this Leek and Potato Soup has got your potato and veggie boxes ticked! Enjoy this hearty soup on a cold day when you are craving a rich and creamy soup that is still nutritious.
What Is Potato Leek Soup?
Potato Leek Soup is a classic soup that originally comes from French cuisine. It is an essential base soup that is versatile and can be made unique with loads of different ingredients and vegetables. Traditionally, and for this recipe, the soup consists of leeks, potatoes, vegetable broth, heavy cream, garlic, and spices. The steps for this soup are simple- cook the leeks and garlic, add the potatoes and cook until they are soft, and blend away! Once blended and smooth, add the cream and allow the soup to simmer. This recipe takes just under an hour and is sure to give you a lovely savory flavor, along with a creamy and thick consistency.
Leeks Are Full of Nutritional Value
Leeks are naturally full of vitamins and minerals. They contain flavonoids, which are antioxidants that have anti-inflammatory, anti-diabetic, and anti-cancer properties. Leeks are also rich in vitamin K, which promotes strong bones and aids with conditions such as osteoporosis. Leeks are low in calories and are also full of fiber and water content, which will help keep you fuller for longer.
This soup is served with homemade croutons that are made simply from bread, olive oil, and some spices. These are optional, but we suggest not leaving them out as they add some lovely crunch to the creamy soup.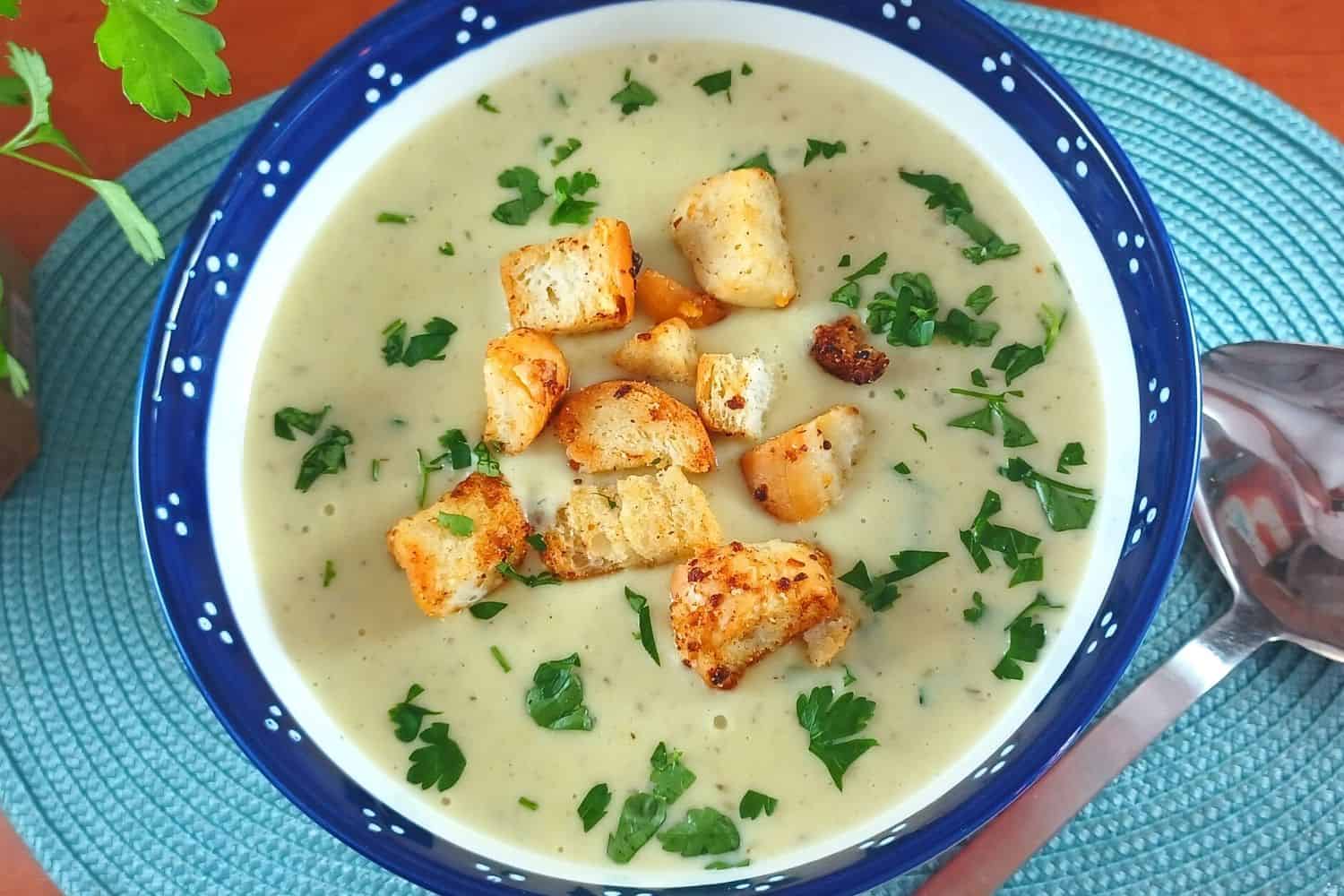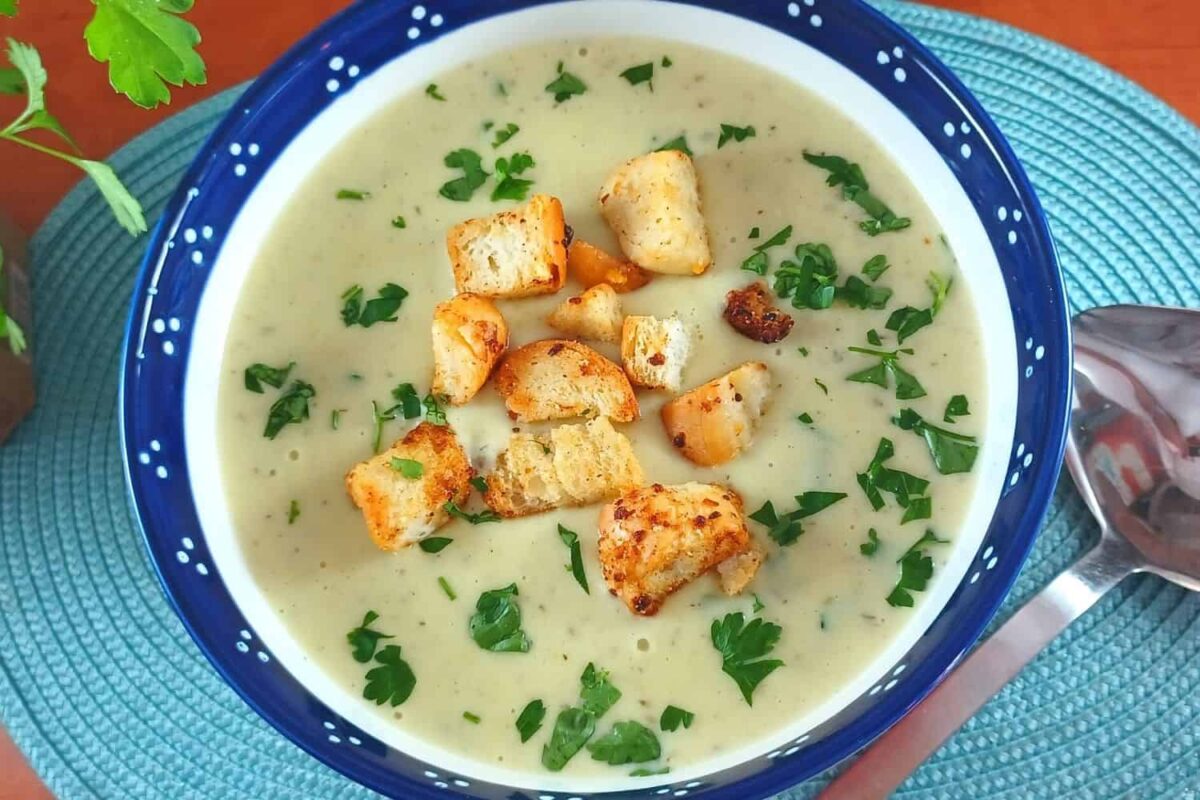 Ingredients
2

cups

onions roughly chopped

4

cups

leeks roughly chopped

2

cups

potatoes diced

3

heads

garlic roughly chopped

2

cups

chicken stock 

2

tbsp

dried thyme

2 – 3

tbsp

flat-leaf parsley roughly chopped

2

tbsp

black pepper crushed

1

cup

cream

3

tbsp

olive oil

salt to taste
croutons
3

slices

bread diced

1

tsp

sea salt

2

tsp

black pepper crushed

2

tbsp

olive oil

Parmesan cheese (optional)
Instructions
Place a heavy-based saucepan on medium heat then add the olive oil and add in the onions, make sure they do not burn.

In another 3-4 minutes add the leeks and wait for them to soften then add garlic,  thyme, and salt to taste.

Give it a good mix, add the stock, and then 4 to 6 cups of hot water, let this simmer over medium heat, until the potatoes are completely cooked.

Insert a stick blender and blend this to a smooth puree and let it gently simmer over medium heat then add the cream, pepper, and parsley.

Cook for 5-6 minutes then remove from heat.
Croutons
Add olive oil in a skillet on medium heat, then add the olive oil and the bread.

Keep sautéing until they are well browned then season with salt and pepper, mix well, sprinkle cheese (optional) and remove from heat.

Serve this delicious, warming Italian garlic soup topped with the croutons,   garnished with some cream, parley, or thyme and pepper.