A French classic that has been loved for literally centuries, this French Onion Soup is a traditional dish that is full of distinctive flavors and is served with a crispy Baguette that is seasoned with Thyme and covered in matured cheddar.
A Brief History of Onion Soup 
French onion soup has been around for centuries, with its origins apparently tracing back to 8000 years ago in Ancient Rome. The soup is considered a national treasure, and is a staple dish that is served in restaurants across France. There are many stories about how the classic soup came to be- one claims that the soup was founded when the French King Louis XV, after a long day of hunting for deer with no luck, found his cupboards bare apart from onions, butter, and champagne, and when stirred up in a pot, created a surprisingly toothsome broth. Another states that the soup was originally called 'the soup of drunkards', after it was found to cover up the smell of a night of heavy drinking on one's breath, when created by Nicholas Appert, food preservationist and the inventor of food canning. His recipe was so impressive that the Duke of Lorraine, Stanislas Leszczynski, just had to learn how to make it for his daughter Queen Marie, the wife of Louis XV. No matter which story is true, we are glad the delicious soup came to be!
Big Flavor, Simple Ingredients 
This soup does not lack in flavor at all- it consists of white onion, tinned butter beans and tinned black beans, butter, olive oil, garlic, flour, and brown sugar. First, the onions are caramelized in brown sugar after they are fried in butter and oil. Flour and garlic are added and stirred in along with white wine and stock. The soup then simmers for 15-20 minutes on a higher heat. Not only is the soup full of pungent onion flavor, but it is also served with a classic French baguette that is seasoned with thyme leaves, and sprinkled with melted matured cheddar. Once the bread loaf has baked in the oven, it is scored and butter is spread on it, along with a stuffing of the matured cheddar cheese and thyme, leaving you with a crispy and crunchy, yet moist and creamy bread, with a lovely fresh fragrance of thyme leaves.
You don't have to be French to enjoy this soup; we would argue that almost anyone would enjoy this dish no matter what their preferred cuisine style is. Prepare a big batch to enjoy over the course of a week, or serve it as a light starter for a dinner party.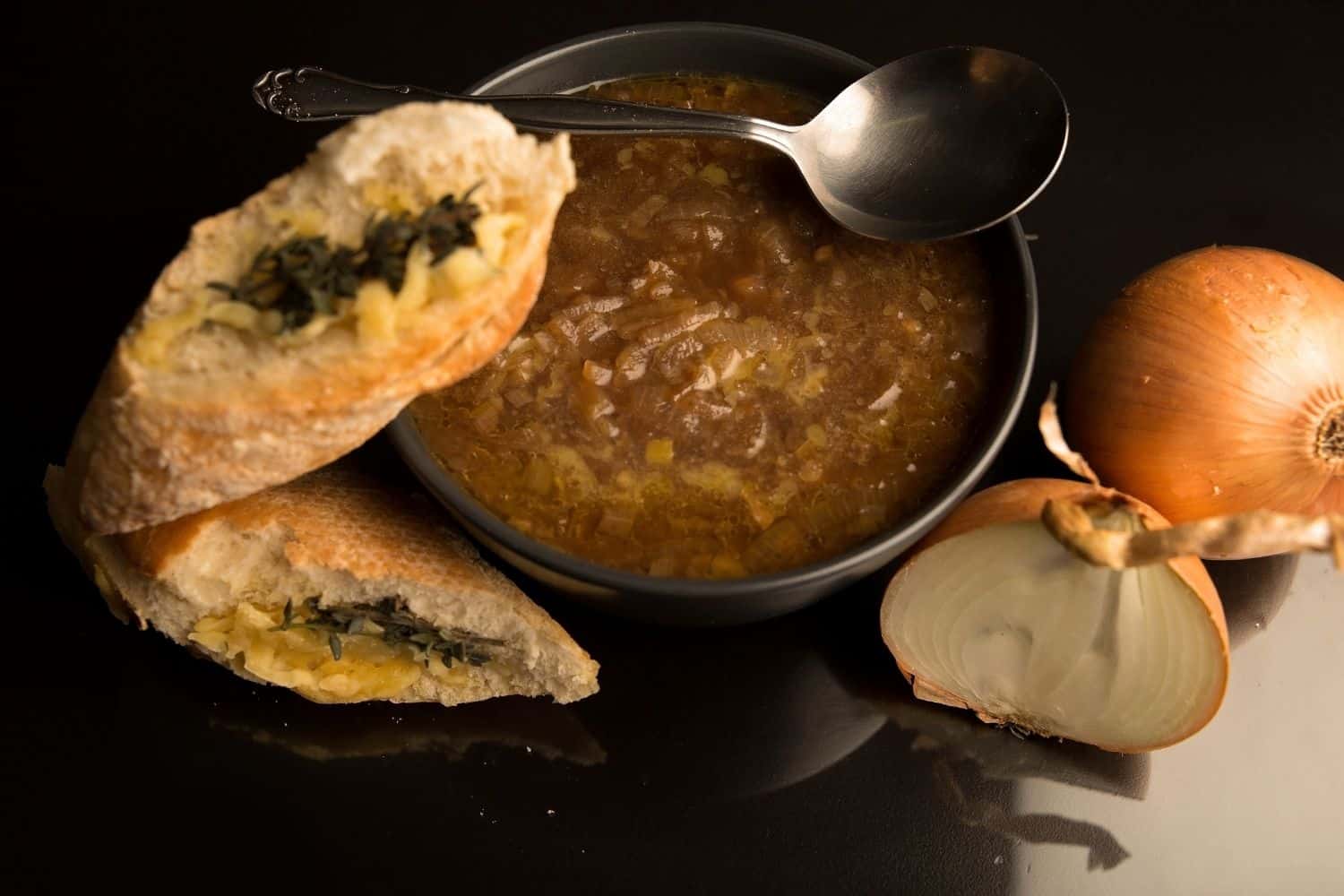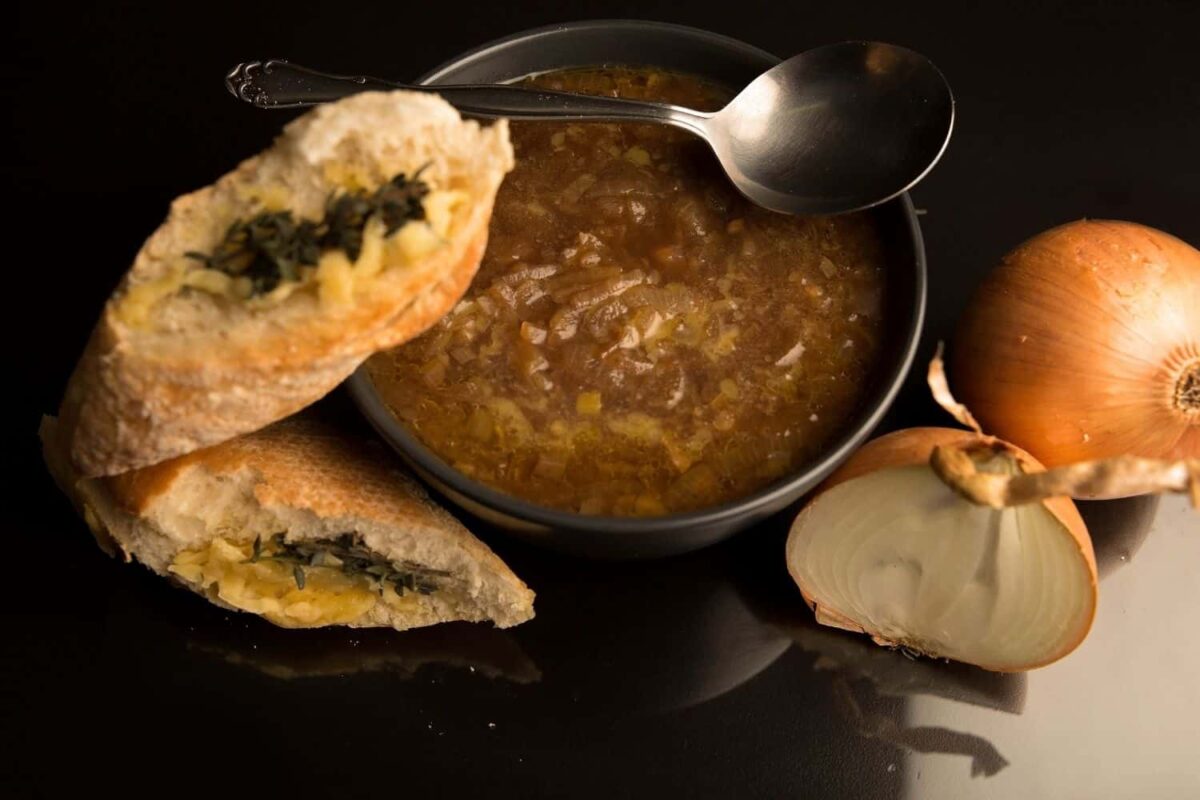 Ingredients
For the Soup
20

g

Butter

10

ml

Olive Oil

250

g

White Onion

2

g

Tin Butter Bean

5

g

Garlic

Chopped

2.5

g

Cake Flour

60

ml

Tin Blackbeans

0.25

g

Brown Sugar
For the Baguette
1

Baguette

30

g

Mature Cheddar

2

g

Thyme
Instructions
For the Soup
Melt butter & olive oil in a large pot over medium heat. Add onions & fry for 10 min with the lid on, until soft.

Sprinkle sugar over & continue cooking for 20 minutes, stirring often, until caramlised. (Golden & tender)

Add garlic & flour. Stir well.

Increase heat & keep stirring while adding wine & stock. Cover & simmer for 15 – 20 minutes.
For the Baguette
Bake baguette according to package instructions.

When baked, score 3 slices (3 quarters through), spread butter on slices then stuff with cheese & thyme.

Put under grill to melt cheese until golden.