This potato and salami soup is the ultimate way to embrace the cold Winter months, featuring the perfect combination of potatoes, cream, and salami. This soup will have you feeling warm and fuzzy inside in no time! 
This dish only takes 60 minutes to make, so if you are in a bit of a crunch for time, this soup will be a delicious yet convenient choice for a lunch or dinner dish. Inspired by Italian cuisine, this soup features flavours such as Italian parsley, parmesan cheese, and salami sticks. The differing flavours and textures in this dish contribute to a satisfying experience for the palate.
This potato and salami soup recipe suggests that you mash only ¾ of the potatoes in order to achieve a lovely chunky texture, however, if you prefer a creamier, smoother soup, we suggest mashing all of the potatoes that the recipe calls for. Croutons pair incredibly well with this soup, and they are so easy to make! All you need is a French bread loaf, garlic, smoked paprika and chilli flakes, olive oil, and butter. Dice the bread slices, and fry until crispy in the melted butter, and you have got yourself some more delicious crunch to add to your already delectable soup.  
Whether you enjoy this dish in Winter or all year round, you are guaranteed a mouthwatering and greatly satisfying taste experience.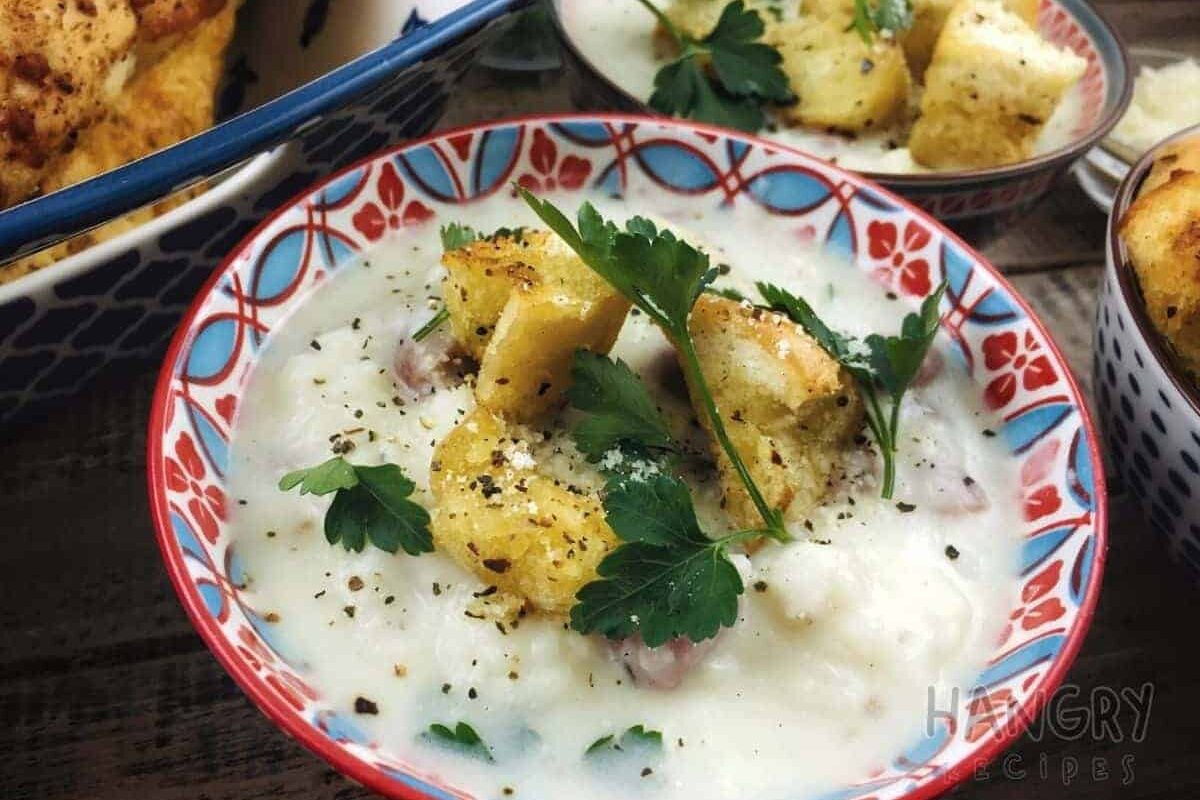 Ingredients
Soup:
300

g

smoked salami sticks

6

medium

potatoes

1

cup

low-fat milk/full cream milk

200

ml

sour cream

1

tbsp

chicken stock

1

l

water

black pepper

to taste

Italian parsley

for garnishing

Finely grated parmesan

for garnishing
Croutons:
1

french loaf 

2

tbsp

dried chilli flakes 

4

tbsp

olive oil

1

tsp

smoked paprika 

1

tbsp

garlic 
Instructions
Soup:
Slice potatoes in quarters, add in saucepan with water and chicken stock.

Place a skillet on high heat, dice the salami sticks, add in the skillet, sauté then drain all excess fat.

Add the salami sticks to the potatoes boil for 30 minutes or until potatoes are soft.

Remove 3/4 of the potatoes, mash and place back into the saucepan with the rest of the potatoes and salami.

Mix well, add the Sour cream and milk, sprinkle with black pepper and a pinch of Italian parsley. 

Let it simmer on low heat for 10 minutes.
Croutons:
Cut a french loaf into slices and dice each slice into quarters.  

Heat 3 tablespoons of olive oil, add garlic, smoked paprika and chilli flakes.

Into the melted butter add the diced bread pieces and fry quickly until crispy.