Looking at this recipe for pork hamburgers you are probably thinking we are crazy to put an apple on a burger! But trust us, this pairing is a classic that is sure to surprise and excite your tastebuds.
These pork hamburgers use the best of traditional and fusion foods to give you a complex flavor profile – for almost no work. Yes, that's right these burgers really only take 15 minutes to prepare and that includes the assembly. With the combination of Asian flavors, these succulent pork patties have a spicy bite that pairs great with some tangy mayonnaise, and crisp cucumber that will certainly get you travelling with your tastebuds.
Chefs Tip for Pork Hamburgers:
To take your recipe through the stratosphere of deliciousness try caramelizing your onions before you add them to your patty mix. It will add a decadent sweetness to your dish that is to die for. 
As an additional way to customise your pork hamburgers you can select from a variety of different bread buns. This recipe advises sesame seed rolls but if you or your guests have seed allergies you can try regular rolls or make your own rolls from scratch! We can also advise on some excellent grain and gluten free rolls to make, but of course this will add quite a bit of time to your meal.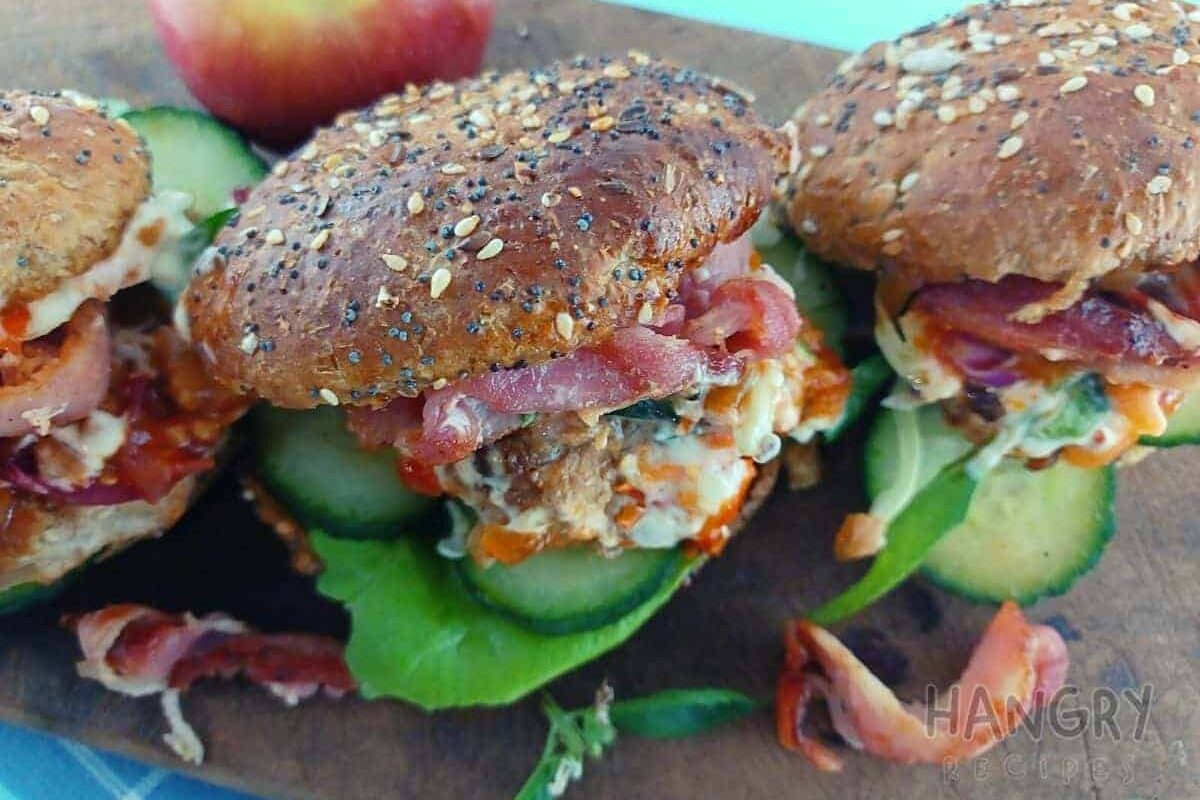 Ingredients
1

kg

pork lean mince

15

ml

olive oil

1

small

red onion

chopped finely

3

stalks

celery

chopped finely

3

cloves

garlic

crushed

2

chilies

green and red

1

tub

mascarpone cheese

15

ml

cajun spice

1

small

apple

grated with the skin

handful soft herbs, basil, or coriander

15

ml

Worcestershire sauce

sunflower oil for frying

15

ml

soy sauce

15

ml

sesame oil

1

tbsp

mixed grounded salt and black pepper
Ingredients to assemble the hamburgers
12

small

hamburger rolls of your choice

Mayonnaise

300

g

bacon strips

fried

Fresh lettuce

Cucumber

Peppadew piquant pepper and ginger relish
Instructions
Place the mince in a clean mixing bowl, add the chopped onion, garlic, herbs, Worcestershire sauce. Cream cheese and apple. 

Mix all the ingredients carefully with a fork, do not overwork it.

Divide the meat equally in 12 balls and gently press down.

Place a skillet on medium heat. Shallow fry 2 to 3 patties in oil until golden brown and well done, basting frequently with the combined soy sauce and sesame sauce.

Continue this method with the rest of the mince.
Serving:
Slice and toast the buns on a skillet grill.

Spread with mayonnaise to taste, add lettuce leaves, few slices of cucumber, patty, bacon, and a dash of mayonnaise (optional) then add peppadew piquant pepper and ginger relish.