Marinated pork is a staple in Asian cuisine, and using a lemongrass marinade is a great way to flavor your pork. Lemongrass has a sharp lemon taste with a touch of mint for freshness, minus the bitterness of lemon. It is great to mix with other flavors as it is light and does not overpower them. This pork boasts a uniquely savory and tangy flavor, along with a juicy and tender texture to create the ulitmate pork belly skewers! 
Why Use Pork? 
Pork is the most common meat used in Asian cooking. In China around 6000 BC, pigs were among the first animals domesticated for food. In Asian culture, pigs are actually a symbol of virility, and are commonly consumed by pregnant women and new mothers to give them strength! The actual flavor of pork itself is another reason why it is so popular- it has a slightly sweeter flavor than other meat that works extremely well with many types of marinades and flavors. 
The Marinade for the Pork Belly Skewers:
Lemongrass, brown sugar, cinnamon bark, along with fish sauce, soy sauce, and sriracha are combined as the marinade for the pork skewers. The lemongrass will add a tang to the sauce, while the fish sauce and soya sauce will act as a brine for the pork and inject a juicy and savory flavor into it. It is essential to allow the pork to marinate for at least 1 hour (and up to 4 hours) in the fridge in order for the flavors to develop and sink into the meat. If you are wanting to use this marinade to create your dipping sauce, do not skip the step of boiling it in a pot after it has finished marinating the pork. This will ensure it is sterilized and safe to eat.
Try these pork belly skewers can be grilled on a barbecue or grill and served straight away! Serve with the sterilized marinade or a dipping sauce of your choice, along with a green side salad to add some freshness.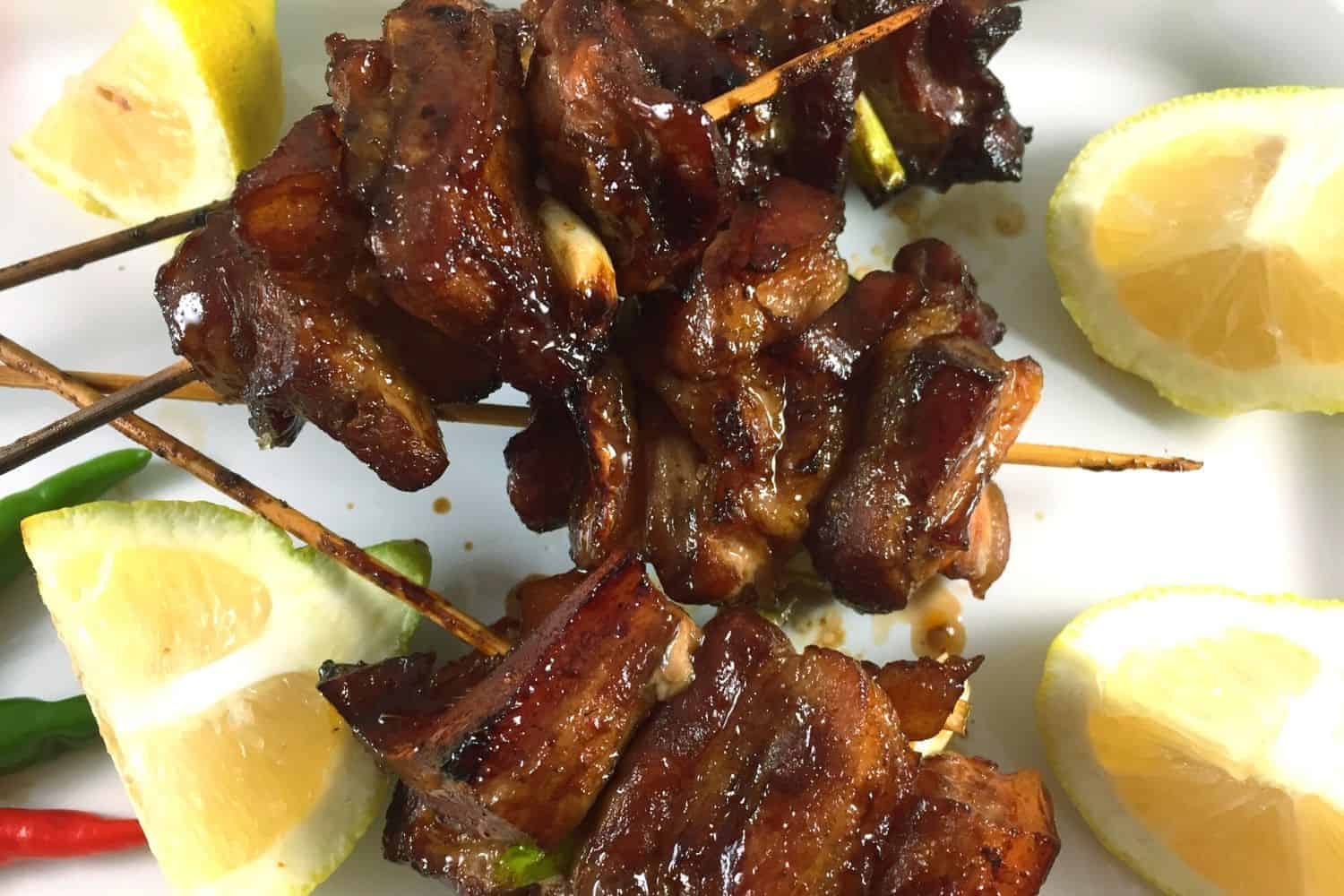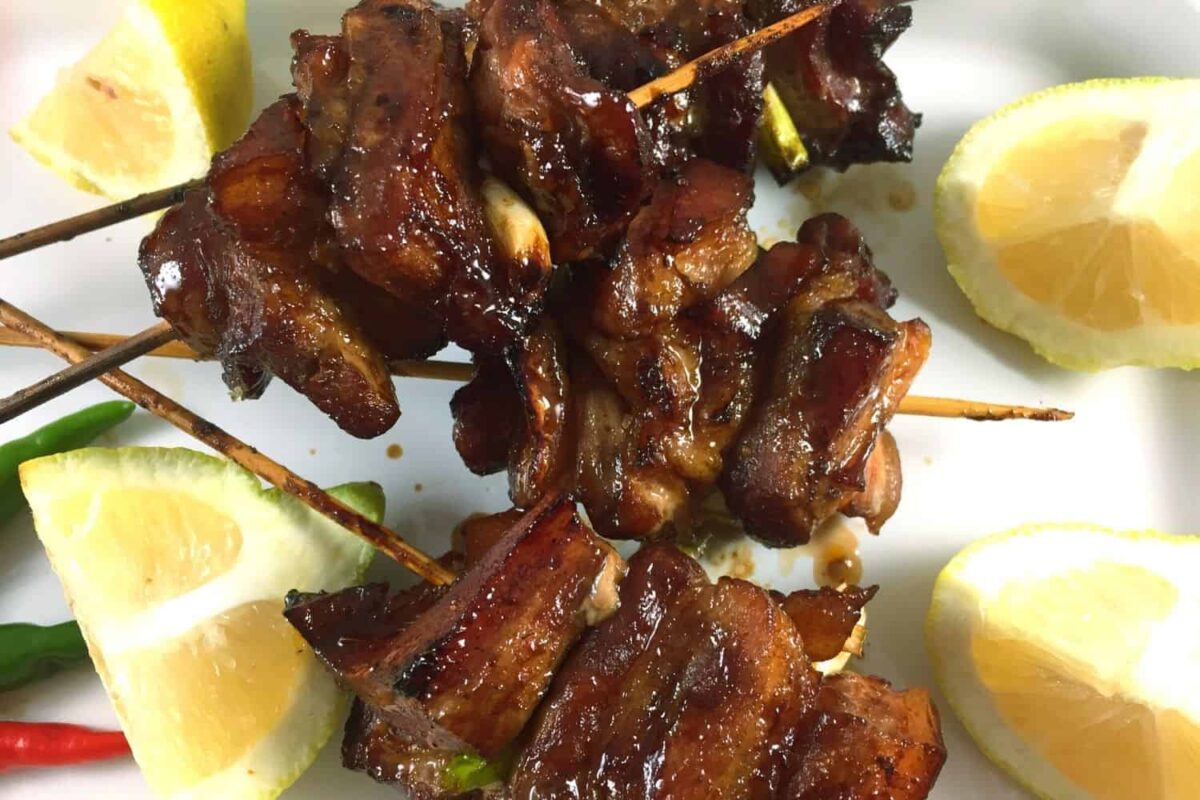 Ingredients
1 ½

kg

pork belly

skin removed

12

green onions

12

bamboo skewers

soaked in water for at least 30 minutes

marinade and dipping sauce

2

cup

water

½

cup

brown sugar

4

stalks

lemongrass

tender parts only chopped

2

cinnamon barks

1

tbsp

black pepper

3

tbsp

soy sauce

4

tbsp

fish sauce

4

tsp

sriracha

4

tbsp

rice wine vinegar
Instructions
Marinade
Combine the lemongrass, sugar, cinnamon bark and water in a small saucepan. Bring to a boil and simmer for 5 minutes.

Strain into a bowl and chill in the deep freeze.

Remove when chilled, add the fish sauce, soy, black pepper and sriracha and stir well.  Set aside.

Slice the pork belly lengthwise into slices then cut the slices in half.

Now cut each slice into cubes, ensuring that you have 3 cubes for each skewer.

Combine the pork with the marinade and refrigerate for 1 to 4 hours or longer.

Remove the pork from the marinade. Set aside.

Pour the marinade into a small saucepan. Bring to a boil. Let simmer for 1 minute. This process is ensuring you sterilize your marinade to make the dipping sauce. Just do not skip this process, this is especially important.  

Strain the marinade into a bowl and stir in the rice vinegar.  Set aside.
Grilled pork skewers
Take your time, as this can be quite tricky, thread a piece of pork onto a skewer, then a piece of green onion, (cut in the same length as the pork cube).  Repeat with another piece of pork and green onion.  Finish with the 3rd piece of pork.  Repeat until skewers are done.   Set aside.

Barbeque the skewers on a clean grill over a hot fire, turning every 30 seconds and basting with the marinate sauce every few minutes for about 10 minutes or more, when you think they need more cooking set them alongside the grill for less heat area to prevent burning.  This will ensure they are super tender.
Notes
Serve with the marinade/dipping sauce.