A hearty Winter warmer perfect as a simple and budget-friendly meal, this Bean Soup is made with either Pork Shank or Eisbein, and can be thrown together in a saucepan or pressure cooker in 30 minutes and left to cook.
Fresh Flavor and Ingredients 
This bean soup is full of fresh flavor and ingredients. It has a base of sautéed onions, carrots, celery, and garlic. The soup consists of fresh bay leaves which add a slightly minty flavor, and oregano, thyme, and parsley for an herby flavor. Lemon juice adds a slightly zesty flavor and even more freshness to the soup. Along with the beans, pork shank or Eisbein is cooked in the soup and then pulled apart and added back in, leaving you with a tender and juicy meaty flavor and texture. Diced and fried bacon is added to the soup, adding a touch of rich indulgence and a savory, meaty flavor. This soup does not include any distinct spices, but feel free to personalize it and add in any you would like, such as a touch of cumin, chili flakes, or paprika for some spice! 
Bean there or Bean Square 
A requirement for this bean soup is to soak the beans the night before. This will allow a moisture build up in the beans, softening them, which will in turn make cooking time a lot quicker. This will also prevent the beans from splitting open when cooking, and allow them to cook evenly. It is also important, as if the beans split open, you will lose the nutritional value inside them as it will be cooked away in the soup liquid. The beans are drained and added to the soup when they are ready.
Serve this hearty bean soup with lemon wedges on the side and some fresh toasted baguette slices for dipping, and enjoy as a tasty and nutritional weeknight dinner.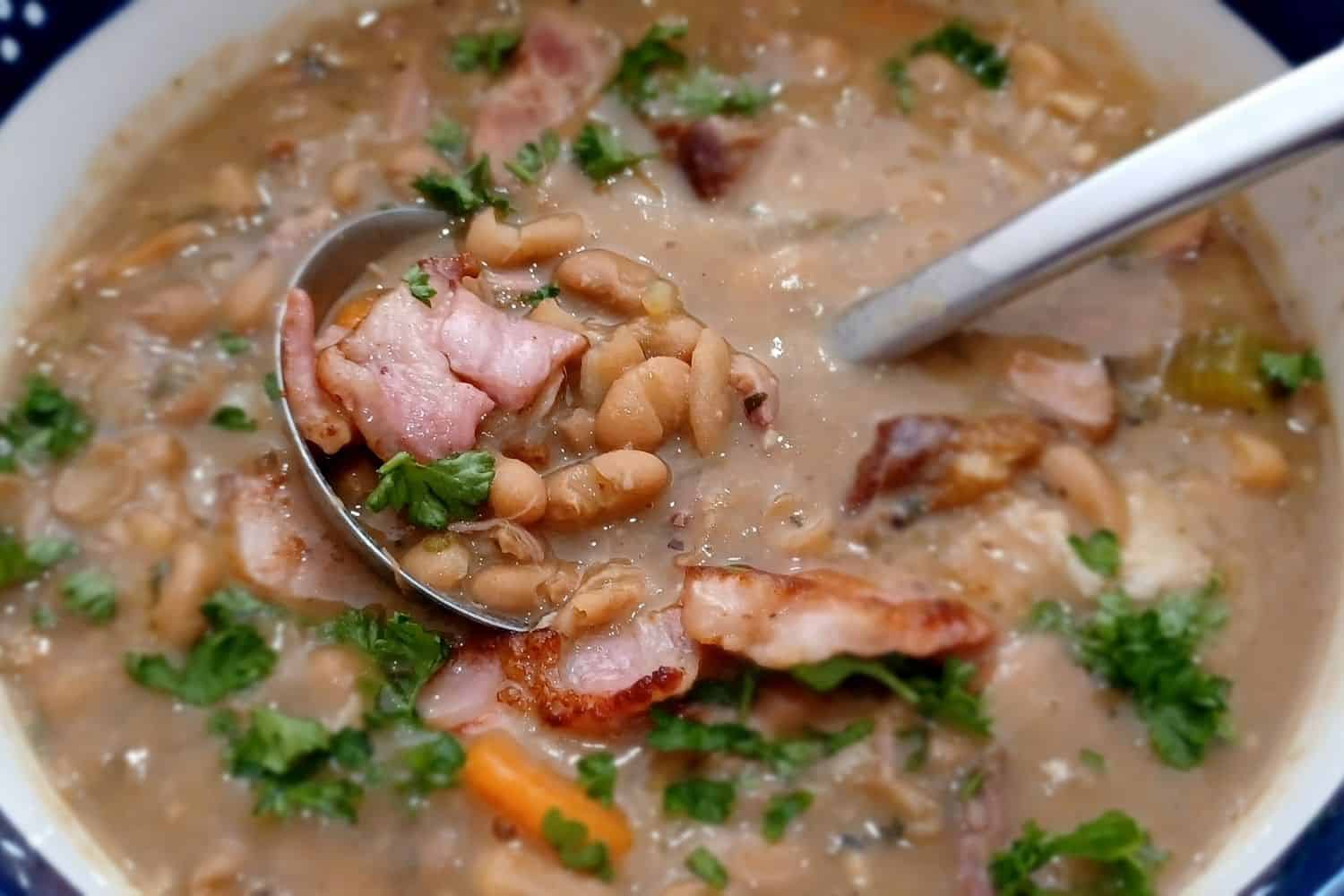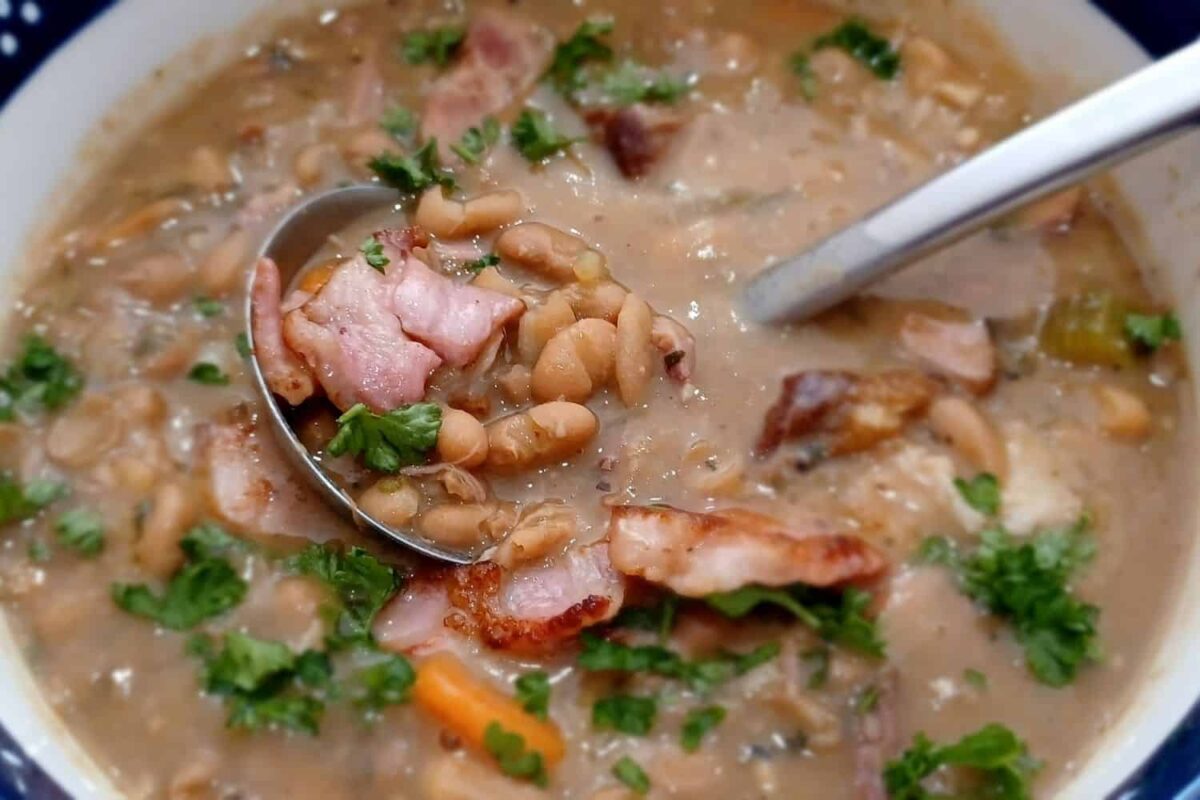 Ingredients
500

g

speckle beans, soaked overnight

30

ml

olive oil

1

onion chopped

1 – 2

carrots, chopped

2

cloves garlic, crushed

2

stalks celery, chopped, with the leaves

1

kg

smoked eisbein or pork shanks

3

bay leaves

1

sprig of fresh oregano

1

sprig of fresh thyme

2

lt

water

80

g

flatleaf parsley

juice of 2 lemons

extra lemon to serve

250

g

diced bacon
Instructions
Heat the oil in a large heavy-based saucepan and saute the onion, carrots, celery, and garlic until soft and glossy.  

Drain the beans, add to the saucepan the eishbein, and all the other ingredients.

Add water, about 2 litres, ensure the meat is completely covered.  

Bring to the boil, and let it simmer on very low heat for about 2 1/2 hours.

Remove the meat fromRemove the fat, and flake the meat, and add it back into the soup along with the parsley, lemon juice,  season to taste. Simmer for 30 minutes and when the soup is soft, let it cool slightly.

Panfry the diced bacon until crunchy before serving.

*Serve with sliced lemon and fresh bread.